Guest Author - Lisa Linnell-Olsen
The bar increase is a pretty simple increase to learn. In stockinette stitch, its bar or what looks like a bar or added purl stitch is often not the most invisible, yet, in ribbing the bar stitch will blend in very well. It does not leave a hole the way many yarn over increases do. Place the increase into the last knit stich of your rib pattern you come to while knitting. For example, in a 1 x 1 rib, you would place the increase in the knit stitch. In a 2 x 2 rib, you would place the increase in the second knit stitch you come to.
To make the bar increase, you knit into the front of the stitch, and then the back of the same stitch. This can be a little confusing the first few times you try it, so the pictures and steps given in this tutorial will help.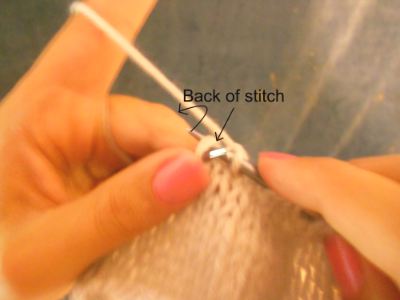 Step 1
Insert the right needle tip into the back of the knit stitch where you would like to make your increase. The back of the stitch is the part of the loop that is in the back, usually the part facing the needle tip first when knitting. Loop the right needle tip around the yarn as you normally would to knit. Keep the stitch on both needles.
Step 2
Loop the right needle to catch the nearest part of the stitch and pull it under the left needle. You are beginning to grab the front of the stitch so you can knit into it.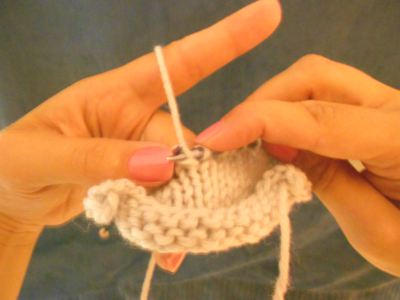 Step 3
Your stitch should now look like the one in the picture. You are now going to pull the front of the stitch (under my left thumb) behind the right needle tip and up toward the yarn. This create the loop for you to knit the front of the stitch.
Step 4
Now loop the tip of the right needle around the yarn.
Step 5
With the right needle tip, pull the yarn through the loop.
Step 6
Withdraw the tip of the right needle. Slightly tip up the left needle to slide the increased stitch onto the left needle. You have completed your bar increase!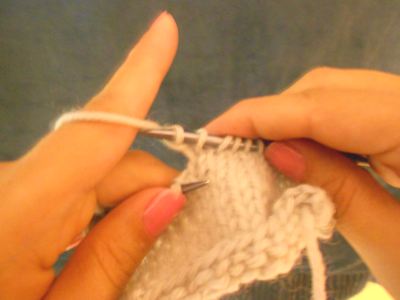 Your freshly made increase will look like this on your needles.
This is how a bar increase looks in stockinette stitch. It looks very much like a purl stitch. This is why it hides so well in ribbing.
Resources:
Montileone, V. (2007). On your way to the masters:ribbing increases. cast-On, (Apr), 66-68.