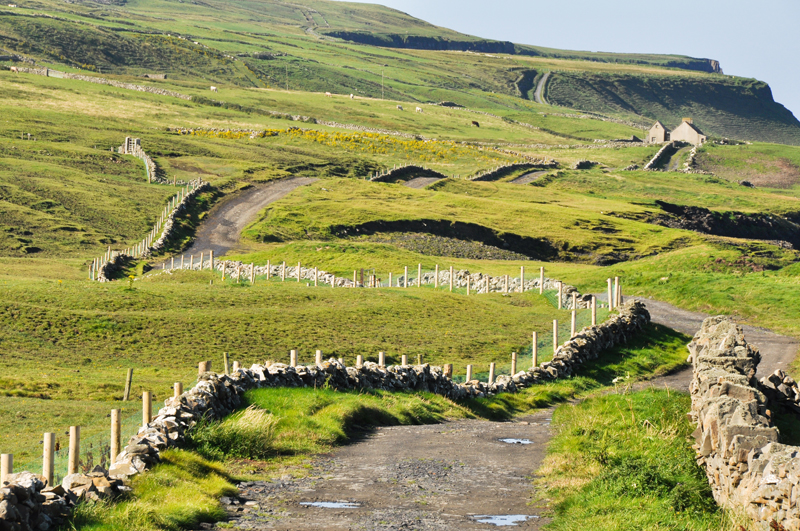 Soda bread is what Americans might consider a 'quick bread.' It is a yeast-free loaf that relies on bicarbonate of soda as its rising agent. The traditional Irish cottage would not have had a brick baking oven. All cooking or baking was done over an open hearth. The daily loaf would have been baked in a cast iron pot over the embers of that open hearth. The round shape of the cast iron pot dictated the loaf's shape.

The traditional soda round loaf is marked with a cross to 'bless' the loaf before baking it. This is still done to this day. The loaf can then easily be cut into quarters. In the old days a quarter loaf could easily be taken in your pocket for a snack while out farming.

I buy my soda loaf from a local restaurant, Clancy's of Glenfarne, which probably is the tastiest soda bread in all Ireland in my opinion. The recipe was given to the proprietors, Jim and Assumpta, by Jim's Aunt Agnes. Many families will have their own favorite version and method of making soda bread. A niece at university in England has emailed me for my own recipe. There is something about a good soda bread that makes you nostalgic for home.

More often than not these days you see soda bread sold or home baked in loaf tins without the traditional cross or its blessing. You can buy soda bread packs in shops, but kitchens where actual cooking or baking occurs should have most of the magic ingredients.

Irish soda bread recipes vary. The recipes for the round loaves require a brief knead on a board. Many of the loaf tin recipes advise you to let the wet mixture to sit a bit to 'work.' But most recipes are made with a combination of white wheat flour and wholemeal or wholewheat flour. One of the reasons that Irish soda bread never tastes the same when baked outside the country is that the gluten content is different from flour sold outside Ireland and Britain.

The other secret ingredient is buttermilk. Even if the flour is similar in Britain, you never find buttermilk that is the same as you get in Ireland. Many recipes say that you may use yoghurt or soured milk, but the result is never quite the same.

Most recipes combine roughly three cups of unsifted flour (half white/half brown)with a teaspoon each of salt and bread soda (baking soda/bicarbonate of soda.) Some recipes call for a teaspoon of sugar but, unlike yeast based bread, you don't need sugar to help the bread to rise.

When the dry ingredients are mixed, you make a well to add your buttermilk and beaten egg. Some recipes have honey in the mix or melted butter. These are variations on the theme - nice ornaments, but not strictly necessary. There are other optional extras like sultanas to make a 'Fruit Soda' or caraway seeds for a special savory loaf. Again, these are all very nice, but would have been considered luxuries by our ancestors.

The idea is to have a soft but not sloppy mixture. The recipe used in my house involves using spelt flour. While I am not gluten intolerant, wheat does not always agree with me. So my loaf is a combination of white and whole spelt flours and oats three ways- porridge oats, oat bran and oat groats. But that recipe is not mine to share!

One of the benefits in finding your own favorite soda bread recipe is that you will never run out of bread. A loaf can be knocked together and put on the table in less than an hour! It is also useful to have in case anyone in the family has candida and needs to remove yeast-based food products from their diet.

The Irish have always had a great baking tradition, bread included. If you would like to immerse yourself in that part of Irish culture then you could do worse than starting with the wisdom of Ballymaloe.





Related Articles
Editor's Picks Articles
Top Ten Articles
Previous Features
Site Map





Content copyright © 2022 by Bee Smith. All rights reserved.
This content was written by Bee Smith. If you wish to use this content in any manner, you need written permission. Contact Bee Smith for details.