Guest Author - Mary Ellen Sweeney
St Patrick's Day
The parade and festivites were showered by sunshine this year as Irish the world over celebrated the High Holiday of the Irish.
To find your local St. Patrick's Day Parade, visit this Amazing site for links to parades all over the world.
St. Pat's Day Parade Links.
"...half a million people watched the bands, floats and Irish pride wave from corner to corner of the crowded down town streets in Dublin. The grand marshall this year was"...and so it goes, from year to year.
Dignitaries and politicans were seated and watched from a viewing platform, as people from around the world took part in the parade and events which took place over the week-long festival.
Though Dublin was not the only parade in Ireland it is the largest, and while other events took place Dublin overshadowed many of these events.
Other locations around Ireland included open air concerts in Belfast and Derry, parades in Galway and Killarney to name just a few.
Just Irish Stuff.com
is your online source for Irish-themed party supplies, fun stuff, and gifts for young and old alike.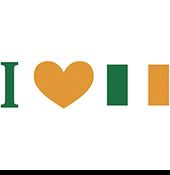 Time for St. Paddy's Day!