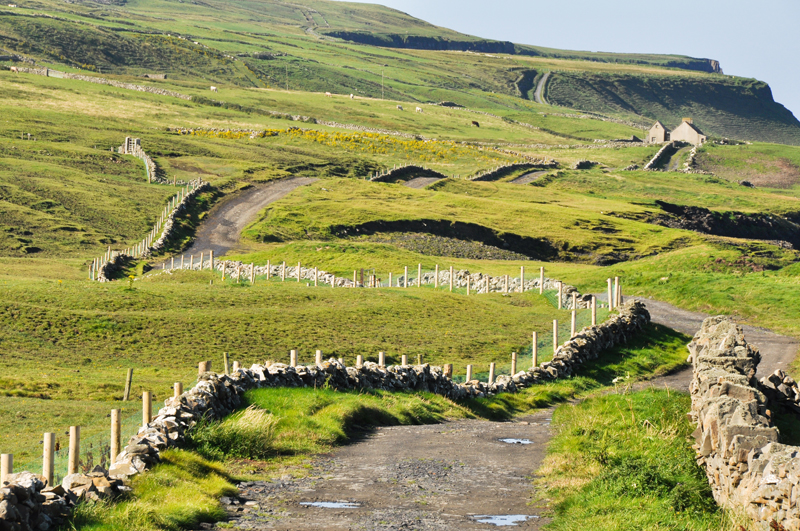 This emigrant remembers, though a long way have I come,
Through miles and years and places, from my home in dear old Drum.
We went to school barefooted and we played the "CLUICHE PEL"
And with homemade ash "COMAINS" we hit the "SLITHER" true and well.
And the smoke curled ever skywards, in dreams I see it still,
When the "droppeen" of the "CHREATURE" was distilled on Glanmore hill.
We rowed along Lough Corrib with the young lads from Benown
And we left them all behind us, at the boat race "Oíche Samhain."
We cut the turf in Gorry in the heather scented air
Serenaded by the skylark, 't was a little heaven there.
And we danced in good old Kielty, at the Maypole and in Moore.
Sure the craic and sport was mighty, we didn't know that we were poor.
Then the days were long and sunny and the flowers were all in bloom
And we courted half the night, the lovely maidens in Kiltoom.
But the wanderlust was on me, but I did mean to come back,
When I'd gather up the money in Aussieland's outback.
The day I sheared three hundred sheep Paddy put the rest to shame
And I scoffed at lesser Shearer's and basked in the acclaim.
The day I heard my loved one died, the shock and shiver's with me yet,
And I prayed and cursed and cried and got drunk just to forget.
So I sheared their smelly sheep amid the grime and sweat and tears
And drank gallons of their whiskey and didn't mind the passing years.
But when my strength began to fail and liver felt all-queer
They put me rolling fleeces, for I could no longer shear.
So I took my little pension and across the world I've come,
To visit my relations, in Clonown, Kiltoom and Drum.
But the young gaze blank upon me, as they sit and drink in bars,
Or blow me off the road, as they flit about in cars.
"Oh where are my lovely friends? They're all old or dead and gone,
Is this where it all ends? Is it time that I passed on?
May the great lord look upon me, may he let me know the truth?
Am I pining for old Ireland? Or just my long lost youth?"
Read more of Pat Watson's work at
.


!001 Things Everyone Should Know About Irish-American History
You Should Also Read:
Original Irish Stories
The Flight of the Earls
MidWest Irish Radio


Related Articles
Editor's Picks Articles
Top Ten Articles
Previous Features
Site Map





Content copyright © 2023 by Pat Watson. All rights reserved.
This content was written by Pat Watson. If you wish to use this content in any manner, you need written permission. Contact Bee Smith for details.