The Hearth in the Irish Home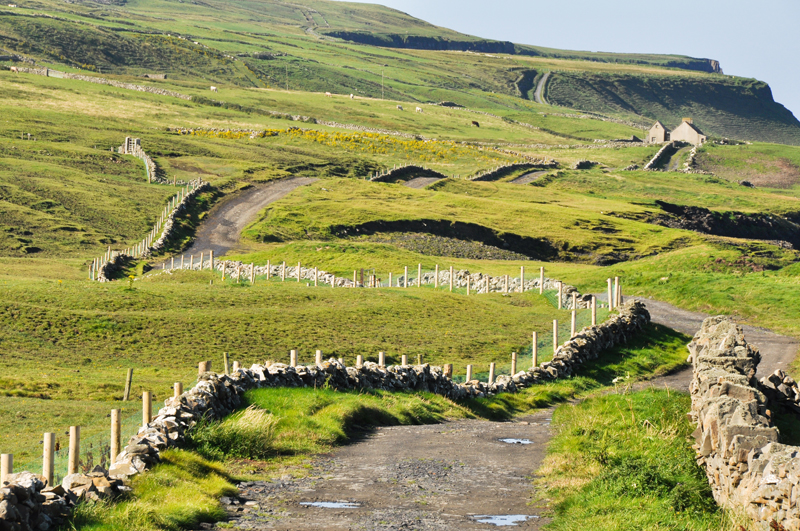 It is rare to find an Irish home, at least one made in a house, that does not have a fireplace, woodstove or solid fuel 'range' in it. While Irish apartment dwellers may not have access to a real fire I cannot say that I have ever entered an Irish house that does not have some way of setting a match to sticks, turf, logs or coal. As Granny Cuckson would say, even in summer, "a fire is cheering."

This summer of 2014 has been unseasonably warm. One friend has noted that they have not needed to light there fire since May. But as we inch towards autumn equinox and a chill wind blows in from the northeast, yesterday found me lighting the fire for the first time in months. Last night I walked down our lane and smelled the familiar blend of turf and coal smoke. My neighbor had lit his fire early, too.

One of the things that is, to me, so distinct about Irish culture is that even with modernization they have retained a close connection to the natural elements. While water may be piped and metered, there is still a reverence for the sacred springs and holy wells that dot the Irish landscape. The earth is celebrated in stories connected with place name. In fact, there is separate Irish word for this - dinnshenchas. Where I live in northwest Ireland it is reckoned that we have the cleanest air in western Europe. Indeed, woodland walks show that the tree lungwort and other fungi drape the branches and trunks, testimony to the clean air supporting their growth. Ireland has had mandatory 'smokeless' coal for many years, which has also helped maintain good air quality.

But the hearth fire is most primal of all. There is still nostalgia for the accoutrements of the cottage hearth. In auction rooms and junk shops you can often find the three-legged cast iron pots that would have been the main family cooking pot in the not so distant past. Likewise, you can find the heavy cast iron kettles that would have heated water for tea, as well as for washing. Less often do you find the 'creel', the iron brackets from which the kettle would be suspended over the flame.

My partner's mother would tell me of how the potatoes would be cooked in the three legged pot. Then, using a wooden beetle, the spuds would be mashed with butter. As she would say, "Chomping the champ!" Mashing the potatoes, in other words. That little pot could also be used to bake a fresh loaf of soda bread each morning, too. Indeed, in Fermanagh, Margaret Gallagher goes into her family's home place cottage each morning, lights the fire, and bakes her daily loaf of 'fadge' the old way – in the three legged iron pot over an open hearth.

The hearth was also the gathering place for family and friends to share stories, spinning yarns, imparting history along with gossip, reciting verses and singing songs. You cannot separate the transmission of Irish culture from fire and the hearth.

Fire was an important part of pagan Irish festivals. It represented purification at Bealtaine, in May, when the cattle were run through two bonfires to fumigate pests. It is said that the very first Bealtaine bonfire was lit on Uisneach and that it blazed for seven years; the flames were great enough to be seen in every Irish province. The tradition is that every single household took an ember from Uisneach Bealtaine fire and, in turn, that ember kindled every Irish hearth down the ages.

For many an emigrant living in a city without an open fire, there is vital element missing from life. Homecoming for many returning emigrants is the pleasure of sitting before the dancing flames with family, drinking tea, and catching up on the news, basking in the warmth of that eternal flame called home.





Related Articles
Editor's Picks Articles
Top Ten Articles
Previous Features
Site Map





Content copyright © 2022 by Bee Smith. All rights reserved.
This content was written by Bee Smith. If you wish to use this content in any manner, you need written permission. Contact Bee Smith for details.