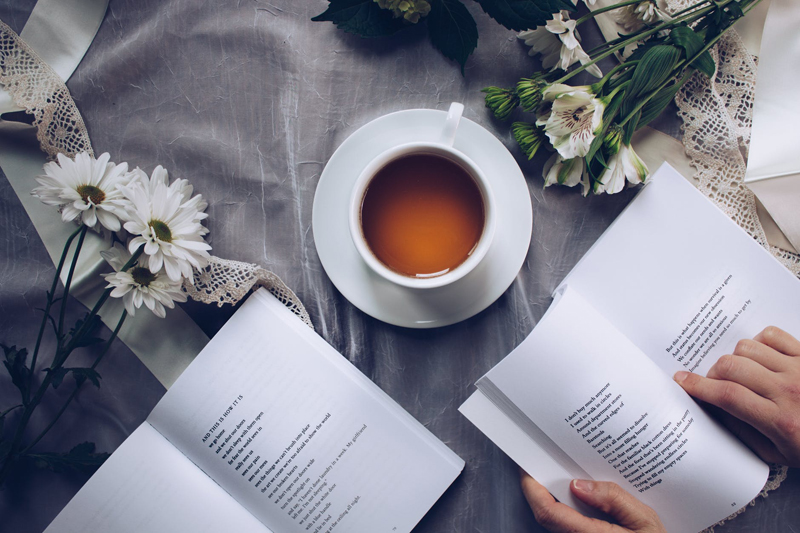 The great bard once said, "brevity is the soul of wit." As with most of his phrases, Shakespeare's words can be taken and applied to a variety of situations. Brevity, as it turns out, is also the friend of poetry. When writing a poem, it is important to make sure that each line, each word, each comma, really means something. In most cases, this means less rather than more.

Editing poetry serves to cut away the extra words and superfluous phrases that might otherwise distract from the true theme. It's not an easy task, however, to take the metaphorical knife to the poem one has so lovingly constructed and sweated over for so long. Here are some steps to take that may help in the editing process.

1. Take a step back
You've worked hard on this poem, ever since that first line tickled inside your brain. You've written and re-written, crossed out lines, re-wrote them, crossed them out again, drawn arrows and circles until your paper looks like a toddler with a pen and a whole passel of pent-up energy got hold of it. Now, it's time to take a step back, relax, and let the poem sit. Come back to it in an hour, a day, a week. Give your brain some time to recover, to think of new things. Then, when you do come back to it, you'll quickly notice the parts that don't work, the ones that need rearranging, and those that are perfect just the way they are.

2. Re-read. Make immediate changes.
OK so it's been a week and you find yourself once again contemplating your poem. Read through it several times and make notes of everything that jumps out at you. If you often write on the computer, it may help to print out a copy that you can write your corrections on. That way you keep the original on the screen, and aren't in danger of deleting anything accidentally. Many writers say that their words look different printed out, and they catch mistakes they hadn't noticed before.

3. Re-read. Out loud.
After the first obvious errors have been corrected, you'll need to dig deeper. Poetry is about aesthetics, and that includes sound. You need to know how your poem sounds when spoken. Find a quiet place, where you are comfortable, and read the poem aloud. If you can, record yourself while reading, and then play it back, with a copy of the poem and a pen in hand. Listen to the rhythm, the tone of your voice. Where does natural flow occur? Are there any places that cause you to stumble, or hesitate? Circle them. See if you can change them to sound more natural. Play around with devices such as alliteration, assonance and rhyme. It's also a good idea to ask someone else to read the poem aloud. Because they haven't written it, and put hours into it, they will be going into it cold, and will therefore read more naturally. It's a great way to catch hitches and stumbles that you had unconsciously accommodated for when reading yourself.

4. Ask somebody else.
Editing must be efficient, ruthless, and sadly, mostly unsentimental. This is why many poets require editors (either close friends or colleagues, or paid professionals) to help them. Fresh eyes may more quickly notice the parts of the poem that drag or move awkwardly. And, more importantly, they won't hesitate to cute those parts away. It may be painful, but it's a necessary process in attaining professional-quality poetry.

5. Try some tricks of the trade
Sometimes, despite a poet's best efforts, they just cannot get a poem to sound the way they'd like. When this happens, it's useful to try a few techniques to look at the poem in a different light. One suggestion is to circle all the verbs in your poem. Verbs are action words, and highlighting them allows you to visually note the direction, physically, that the poem is taking. These are the words that are moving your poem. Make sure they are strong enough, dynamic enough. Another common practice is to read only every other line of the poem. This technique is extremely useful in culling long, unnecessary sentences and in tightening descriptions. It often brings lines together in unexpected and surprising ways, adding to their originality.

Though it may not be as fun as writing, editing is an essential process, and its importance should not be overlooked. Writing groups can make it a more social (and perhaps, more enjoyable) event, in which writers create a supportive and entertaining environment for each other. Yet the work of a poet is never done. To quote the French poet Paul Valery, "A poem is never finished, only abandoned."


Related Articles
Editor's Picks Articles
Top Ten Articles
Previous Features
Site Map





Content copyright © 2022 by Jessica Smith. All rights reserved.
This content was written by Jessica Smith. If you wish to use this content in any manner, you need written permission. Contact Karena Andrusyshyn for details.