Searching for Inspiration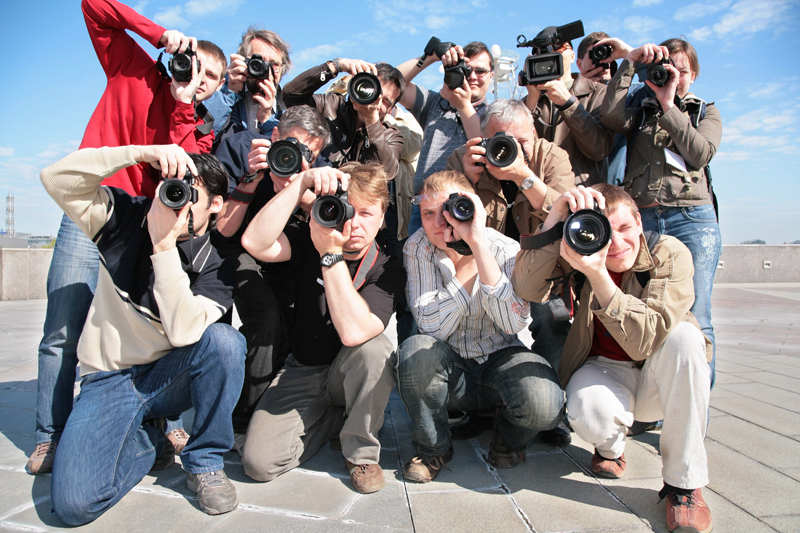 Have you ever sat down to review the photos you have taken that day, only to realize that they all seem similar? Or even resemble your photos from a previous shoot? Have you wandered, looking for anything interesting to shoot, but your camera spent most of your day resting at your side? Don't put that camera away and hope that some time will help. Chase that inspiration!

Where do you find inspiration? A great start is enjoying a photography exhibition. Take your time, and examine things like angles, lines, textures, depth of field, distance from the subject, and use of color or black and white. Think about how using some of these techniques might change some of the photos that you have shot lately. Next time you look through your viewfinder, pause and think about how you could change your original instinct for that composition. Shoot your subject several different ways. Look for symmetry, lines to draw your eye through your photo, and interesting angles that differ from how you normally gaze at your subject.

Spend time being creative with another form of art. Spend time drawing, sculpting or even painting your bedroom. Get your hands dirty while doing some gardening. Cook a new dish you have been interested in trying out. Participating in other activities where you feel creative will distract your mind and allow you to look at things in a new light. Activities that you don't have to think about while doing them allow your mind to wander. Don't actively think about your photography during this other activity, but ponder whatever thoughts jump into your mind.

Take some of your favorite recent photos and try shooting them at a different time of day, or a different time of year. I did this with one of my favorite photographs, a bridge over the Snake River. In this shot, it was late afternoon and the trees and bushes had turned for fall. The whole feeling of the photograph is very warm and colorful. I went back just a couple of weeks later, in the early morning before the sun came up and waited to take pictures in the early light. This time the water was very blue and steaming in the cold. The whole tone was opposite of the photograph I had taken just a couple weeks before. They are the same subject, taken from the same place, with the same lens, but have two very different feelings.

Go to the bookstore or library and browse through photography magazines and books. Notice the difference in the photography for each. Take the time to enjoy the photos of places you have never been. Pick one that you really like and think about how you might shoot that subject if you had the opportunity. Would you pick a different time of day? A different angle? Get closer to the subject? Think about what draws you to this photograph. Is it the color? The depth of field?

Take a field trip, and go someplace nearby that you haven't been to before, or in quite a while. Take a road you don't travel often, and take the time to notice things along the way. Stop often and wander around. Go for a walk and look for interesting subjects. Put some thought into the time of day that you would like to take your photographs. Often early morning and late evening light make for some really interesting photography. Get together with a photography friend and go exploring together. What inspires you to press the shutter button, compared to your friend?

No one gets better at anything by not practicing. Carry your camera with you whenever possible. I don't know how often I have kicked myself for not having mine with me, and have missed some amazing opportunities. Always shoot more than you think you need, especially if you use digital and you can delete as you review. Don't just capture what you are looking at. Spend some more time and see what else you can do with the subject. I remember the last stunning sunset I took a photograph of, I was waiting for the sun to dip down, and a car came screaming up. A guy jumped out with a camera and started shooting like crazy. After a few minutes he got back in his car and left. About five minutes later the sun dropped behind the mountain and cast a shadow across the sunset. It is one of my favorite photographs I have had the opportunity to take. Had the other guy stuck around for a few more minutes, he would have had the same opportunity.


*******************************************************************************
You Should Also Read:
Improve Your iPhone Photography
Photo-A-Day Challenge
Point and Shoot Tips


Related Articles
Editor's Picks Articles
Top Ten Articles
Previous Features
Site Map





Content copyright © 2022 by Janina Webb. All rights reserved.
This content was written by Janina Webb. If you wish to use this content in any manner, you need written permission. Contact Ewa Sapinska for details.