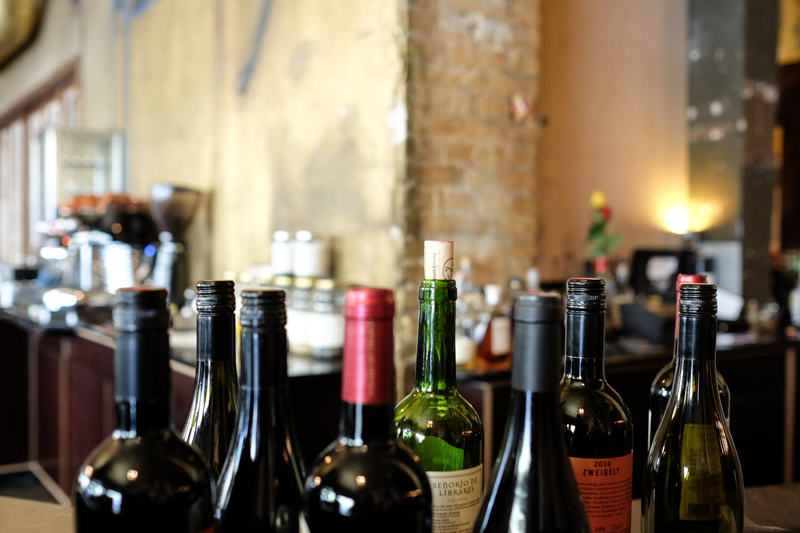 There are eight wine glasses in front of me, I have a bunch of parsley behind my ear and I'm holding an empty glass on my head.
I've come to the offices of The Wine Society, the worlds oldest founded in 1874, for a workshop on matching spicy food with wines. The session is fully booked and I only managed to attend as someone dropped out at the last moment. Around 60 wine lovers are seated at circular tables with nine filled glasses in front of each of them plus a bunch of parsley.
All was explained in the welcome talk which included a history of spices and herbs and their culinary use. Maxims and suggestions from herbalists down the ages are considered including that wearing parsley on your person is a sure way to prevent drunkenness. And so we all adorn ourselves with parsley.
We have six white wines, one pink and two reds, and we will be served with a selection of meat, fish and vegetarian dishes from around the world.
We have a matrix of the nine wines and the ten dishes on which we can record the hits and misses and some wines are recommended for certain dishes.
First to be served is a Thai Red Vegetable Curry. The suggested matches were a New Zealand Sauvignon Blanc, German Riesling and a French Rose. It's clear there is no consensus on our table. The rose is just horrible, the Riesling makes no impact, the Sauvignon doesn't work. Best for me is a red Beaujolais.
Next is Onion Bhaji and Daal, with recommended matches of sweet Vouvray (French Chenin Blanc), dry Austrian Pinot Gris and a full bodies Australian Chardonnay. Hmm, to my surprise the Vouvray works well, but I couldn't see myself drinking this sweet wine all meal long and again prefer Beaujolais. But my partner thinks the two dry whites are good matches, others on the table have different ideas and when the organiser tries to get a consensus from the room it's clear there isn't one.
As the session continues with Tiger Prawns in Lime on a bed of chopped mango, Fish Pakora and a dipping sauce of ginger in soy sauce it's becoming obvious that the dishes are not as we expected. Often 'spicy' is used to mean chilli hot, but none of the dishes have any heat discernible to a table are all enthusiasts for chilli. The tasting's definition of spice includes all those found in your spice cabinet, plus lemon, limes, lemon grass etc.
The initial Thai curry had a slight aftertaste of chilli, but the Chilli con Carne was more Carne
sans
Chilli.
Sweeter wines were recommended to ameliorate the effect of chilli heat but why, I wondered, would you want to? Those that don't like chilli hot dishes don't order them.
It appeared at the workshop that white wine drinkers found white wines made the best match and that red wine drinkers found red wines made the best match. Riesling lovers preferred Rieslings with spicy food, and those who don't like Riesling didn't.
In other words, it seemed to me that people preferred to drink wines they know they like with the food they like.
But we had to taste a lot of different matches so when we emptied a glass we were instructed to place it on our head to signal a refill was needed.
It was a fun event with enjoyable food, but I'm not sure I learned anything much other than, for me, Beaujolais seemed to go with everything.
The wines were:
1) Three Terraces Marlborough Sauvignon Blanc 2014
2) von Kesselstatt Saar Riesling 2013
3) Howard Park Great Southern Riesling 2010
4) Vouvray Moelleux 'Noyer de Cent' 2002
5) Leon Beyer Pinot Gris 2012
6) Heggies Eden Valley Chardonnay 2013
7) Cotes de Provence, Domaine Houchert Roase, 2014
8) Beaujolais Domain du Conteau del la Ronze 2013
9) Peachy Canyon Paso Robles Zinfandel 2012
The dishes, with recommended wines followed by my matches in brackets
Thai Red Vegetable Curry 1,2,7 (8)
Daal 4,5,6 (4,8)
Onion Bhaji 4,5,6 (4,8)
Tiger Prawns with Mango and Lime 1,2,3,4 (8)
Fish Pakora 1,2,3 (5,9)
Kedgeree 5,6,7 (8)
Thai Fragrant Chicken 2,4,5,7 (8,9)
Chicken Satay with Spicy Peanut Sauce 6,7,8 (8,9)
Lamb Tagine 8 (8)
Chilli Con Carne 9 (8,9)
Talk about wine on our
forum
.
Peter F May is the author of
Marilyn Merlot and the Naked Grape: Odd Wines from Around the World
which features more than 100 wine labels and the stories behind them, and
PINOTAGE: Behind the Legends of South Africa's Own Wine
which tells the story behind the Pinotage wine and grape.


Related Articles
Editor's Picks Articles
Top Ten Articles
Previous Features
Site Map





Content copyright © 2023 by Peter F May. All rights reserved.
This content was written by Peter F May. If you wish to use this content in any manner, you need written permission. Contact Peter F May for details.