Cabernet labrusco - Making a New Grape Variety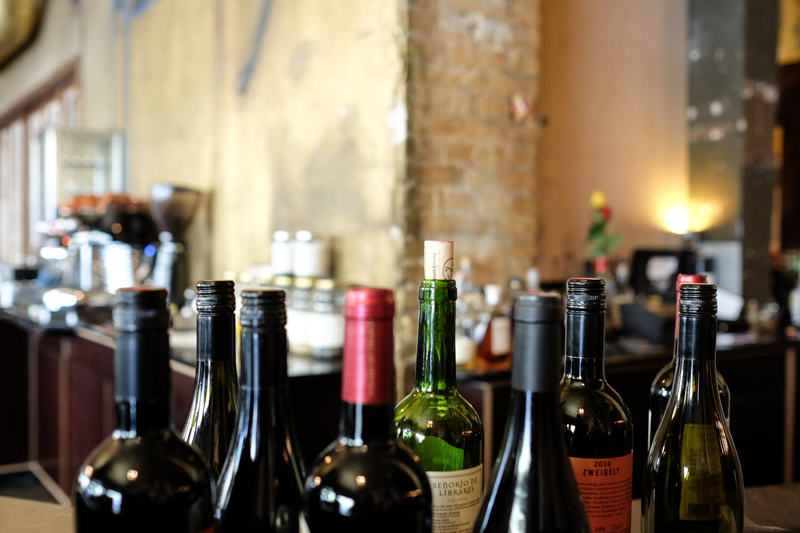 Jerry Rodrigues celebrated the culmination of his twenty-year long project with a glass of ruby-red wine. Not any wine, but the first vintage of a completely new grape variety named Cabernet Labrusco that he had created.
In 1994 Jerry took pollen from an obscure variety called Danugue* to fertilise the flowers of a Cabernet Sauvignon vine growing in his father's garden in Plumstead, a suburb of Cape Town South Africa.
When resulting bunch of grapes ripened early the following year he harvested the seeds the plant in spring of 1995, later that year.
Jerry told me "I actually planted 44 seeds. This represented all the berries that I obtained from one single bunch of grapes that I manually pollinated.
The resulting new seedling vines were left to their own devices in plastic pots. As the years progressed, many of the seedlings just died off. This is how natural selection operates. When just ten were left I personally grafted them onto resistant rootstocks, but by 19 years after propagation only two vigorous seedlings survived, namely, seedlings number 2 and 7.
Seedling number 7 showed leaf characteristics identical to that of the seed parent Cabernet sauvignon, so it was probably a self-pollinated individual, however it died off in the 20th year.
Seedling number 2, now known as Cabernet labrusco, survived as a result its perfect adaptation to the climate of the Western Cape and its vigour was apparent at an early stage of its propagation."
In 2013 Jerry registered the new variety with South Africa's Department of Agriculture, Forestry and Fisheries naming it Cabernet labrusco,
I asked him about the name which sits confusingly between Lambrusco, an northern Italian variety cultivated in Emilia-Romagna, that enjoys little favour with wine lovers, and the American species Labrusca that enjoys no favour at all with wine lovers. Jerry says it's because the wine looks like Lambrusco and the DNA shows it has a disease-resistance gene also found in Labrusca.
Jerry explains "I noticed certain similarities in some of the microsatellite DNA markers (also known as Simple Sequence Repeats or SSRs). One of the microsatellite loci present in Cabernet labrusco, known as VVMD7, is 234 base pairs long. This short VVMD7 is also present in some Italian 'Lambrusco' accessions as well as in some American varieties, specifically those derived from Vitis labrusca (e.g. Catawba, Concord etc). It is noteworthy that both the Lambrusco cultivars and the Vitis labrusca are thought to have inherited disease-resistance genes from their wild parent counterparts. In the first case, wild genes from a species of Vitis vinifera subspecies sylvestris has introgressed into the Lambrusco genome.
In the second case, it is well-known that the wild American Vitis labrusca species harbour certain disease-resistance genes. So, hopefully, a VVMD7 of 234 bp may turn out to be an interesting disease-resistance marker. As is now well known, from the many Microsatellite SSR databases, a VVMD7 with a DNA size of about 234 base pairs occurs to an extent of less than 5%, when all of the commercial Vitis vinifera cultivars are taken into account.
So, because of this uncanny similarity in some SSRs and also because the resulting ruby-red wine looks like Lambrusco, I decided to keep a similar-sounding, and appealing, name for my new variety, namely, 'labrusco'.
What I have tasted in my wine so far, and I am not an expert, is that this deep ruby-red wine is full of red berry flavours. I have also done some laboratory tests to determine the sugar content of the must (Brix) and also the titratable acids (TA) and they were 23˚ Brix and a TA of approximately 8.3 g per litre. The TA is slightly higher than most ordinary wine musts, so it seems that it is a good wine to mature on oak, for a short while, before being used."
Jerry is hoping that his appealing ruby-red wine producing variety will be adopted by commercial wineries.
See photos of the Cabernet labrusco and its wine
here.
Talk about wine on our
forum
.
Peter F May is the author of
Marilyn Merlot and the Naked Grape: Odd Wines from Around the World
which features more than 100 wine labels and the stories behind them, and
PINOTAGE: Behind the Legends of South Africa's Own Wine
which tells the story behind the Pinotage wine and grape.
* Danugue is also knowns as Gros Guillaume, Black Barbarossa, and Barbarossa. It was widely grown in the 19th Century as a table grape, and was a favourite in British greenhouses.
You Should Also Read:
The Grape Detective - Tracing Danugue


Related Articles
Editor's Picks Articles
Top Ten Articles
Previous Features
Site Map





Content copyright © 2022 by Peter F May. All rights reserved.
This content was written by Peter F May. If you wish to use this content in any manner, you need written permission. Contact Peter F May for details.