The Grape Detective - Tracing Danugue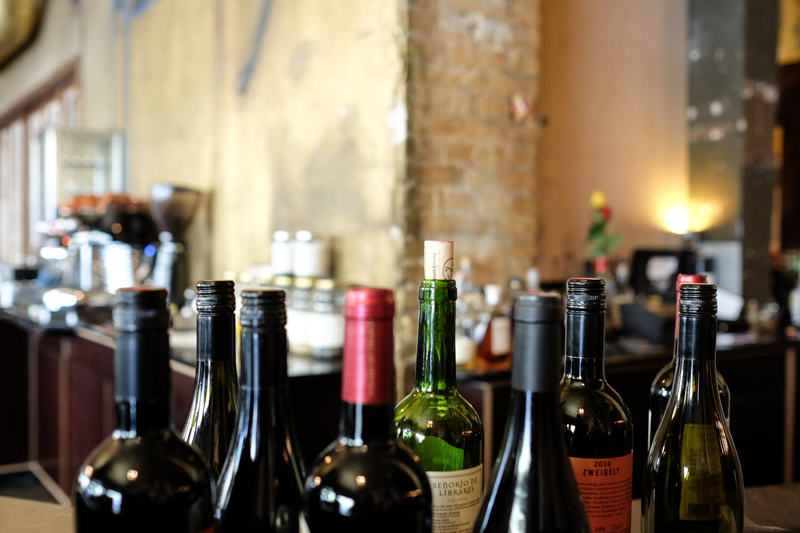 Jerry Rodrigues created a completely new grape variety named Cabernet Labrusco by crossing Cabernet Sauvignon with an obscure variety called variously Danugue, Gros Guillaume, Black Barbarossa, or Barbarossa. It was widely grown in the 19th Century as a table grape, and was a favourite in British greenhouses.
When
I wrote
about Cabernet Labrusco I was intrigued why Jerry chose Danugue. He warned me that it was complicated.
"Up till I made the wine at the beginning of 2015," Jerry told me, "I did not definitely know the name of that old, old grapevine which my father had planted way back in 1960 and whose pollen I used to fertilise the Cabernet sauvignon. I couldn't ask my father for he passed away in 1988.
When I took its pollen in 1994 that vine was already 34 years old.
However, my father's property was sold to a private family in 2004 and the new owners needed the space taken by that old vine, and they uprooted it. By then it had become infected by dead-arm fungus. It was 44 years old and had never been sprayed with fungicides apart from occasional dusting with sulphur.
The complication continued because now I did not have the original pollen parent grapevine. My first breakthrough came when I decided to visit an old bookshop where I found a 1960's fruit trees catalogue from a company called Pickstone's Nurseries which operated in Cape Town at that time. I reasoned that my father would have bought his half a dozen or so grapevine varieties which he planted in his backyard in 1960 from such a well-known Nursery. The characteristics of the old grapevine very closely matched the description of the Barbarossa grapevine in that 1960's fruit catalogue.
I was still not convinced, however, that my father's old vine was actually Barbarossa. I even went so far to initially identify it with another cultivar called Grenache noir, but when the preliminary Microsatellite Simple Sequence Repeats (SSRs) data came through I quickly changed the name to Lambrusco because the preliminary SSR data that I received, was similar to that of published Lambrusco marani accession from the Emilia-Romagna region in northern Italy.
I then contacted an Agricultural Institute in Turin, Italy, and they agreed to collaborate with me in order to positively identify the pollen parent of my new grapevine offspring.
They analysed the DNA of my new grapevine cultivar by determining a much larger number of SSRs and in total, I managed to obtain 19 SSRs. To my surprise the data was a perfect fit to that of the French Danugue noir which was published in 2015 for the first time in the Vitis International Variety Catalogue (VIVC) SSR Database. It was really a stroke of luck, when you realise that there are still literally hundreds of SSR for many cultivated Vitis vinifera cultivars which have yet to be uploaded onto SSR Databases around the world.
So, with the help of our famous Stellenbosch Professor Abraham Perold, who had previously identified the table grape, Barbarossa, as being none other than Danugue, also known as Gros Guillaume, I knew for sure that my father had actually bought a Barbarossa grapevine, probably from Pickstone's Nurseries, and that it was the pollen from that named grapevine that I had used in my grapevine crossing experiment.
One of the main reasons why I decided to do that experiment at the time was precisely because I knew that my father's grapevine, what I now know is Danugue, was very old and so it followed that it ought to have had some inherent disease-resistance to have survived so long. Another obvious reason was that I noticed that its bunches of grapes were very, very large. Since I knew that Cabernet sauvignon was a shy bearer of grapes in the Western Cape's climatic conditions and the bunches are very much small than they are in Europe, it made some sense to try out a cross-pollination experiment.
This was not unlike a similar experiment performed by Perold way back in 1924 when he created Pinotage. My reasoning was very similar to his reasoning. If you look at the similarities, namely, that Pinot noir is a very shy bearer and an obviously 'noble' cultivar. However, Hermitage (actually, Cinsaut) was also originally used in France as both a wine grape and a table grape and was considered to have some disease resistance and also produced greater yields than Pinot noir."
See photos of the Cabernet labrusco and its wine
here.
Talk about wine on our
forum
.
Peter F May is the author of
Marilyn Merlot and the Naked Grape: Odd Wines from Around the World
which features more than 100 wine labels and the stories behind them, and
PINOTAGE: Behind the Legends of South Africa's Own Wine
which tells the story behind the Pinotage wine and grape.
You Should Also Read:
Cabernet labrusco - Making a New Grape Variety


Related Articles
Editor's Picks Articles
Top Ten Articles
Previous Features
Site Map





Content copyright © 2023 by Peter F May. All rights reserved.
This content was written by Peter F May. If you wish to use this content in any manner, you need written permission. Contact Peter F May for details.