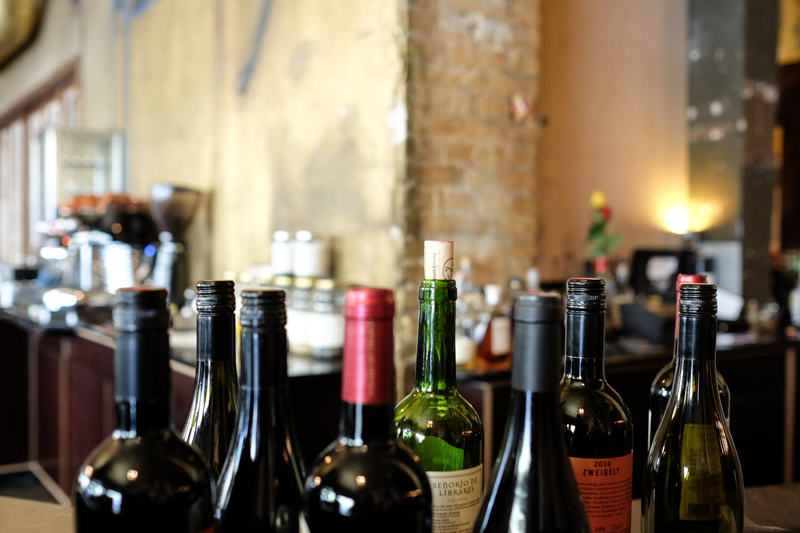 If you're wondering what foods to serve at a wine tasting you should perhaps first consider what type of tasting it will be. Food tasted together with wine can affect one's impression of a wine. Some foods are famous for making wine appear better while others do the opposite.
There is a well known wine trade saying that you 'sell on cheese and buy on apple'. As cheese can enhance wine vintners serve it with wines they are selling*, but when merchants choose wines one to stock one that still tastes good after a mouth full of crisp acidic apple must be worth buying. For these reason food is not served at professional tastings and wine judging events. The only exception may be small cubes of plain bread or plain crackers used to cleanse the palate.
Food and wine tastings that wish to demonstrate the effect of various foods on wine would line up some extreme samples. As well as cheese and apple have very salty crackers, a spicy chilli dip, an olive and a wedge of lemon for example. Then take a bite of one before tasting a wine, then taste the same wine after eating the next food, and so on. Does the chilli dip destroy the taste of the wine? What happens if you then try a sweeter wine?
Experiments like this, by looking at individual component tastes and their effects, help with designing menus and choosing wines to sympathetically match.
If the wine tasting is to be a fun event where wine is to be enjoyed then you'll want crowd pleasers that provide a sympathetic background to the wines.
At my local wine club, after a tutored tasting, we enjoy communal platters of cheeses, pate and cold meats with olives, coleslaw and hunks of French-bread with butter to eat with the wines we've previously been tasting. It seems appropriate also to have bunches of grapes. It's interesting how often our opinion of a wine changes for the better when we re-taste it with food. A wine that perhaps tasted a little austere maybe blossoms when paired with salami.
We often manage to match the foods with the region whose wines we've tasted, serving Italian cheeses, sausages and meats with Italian wines, for instance. If you're a foodie it can be fun searching out appropriate foods, but it's not always possible and not really worth worrying about.
The important thing is to let the wine shine and enable your guests to enjoy the event.
*You didn't think winery tasting rooms and wine shop tastings offer cheese out of the goodness of their hearts, did you?
Join in our discussions on the
wine forum
.
---

Cheese Tray with Cracker Well

Cheese and wine are the perfect match. Serve cheeses at your tastings on this smart board with its integral stainless cheese slicer. There's a useful semi-circular recess to hold crackers.




Pinotage
A wine detective story. Come with me as I try to find out the truth behind South Africa's own variety.



Related Articles
Editor's Picks Articles
Top Ten Articles
Previous Features
Site Map





Content copyright © 2019 by Peter F May. All rights reserved.
This content was written by Peter F May. If you wish to use this content in any manner, you need written permission. Contact Peter F May for details.