Wine Terms from Bin to Brix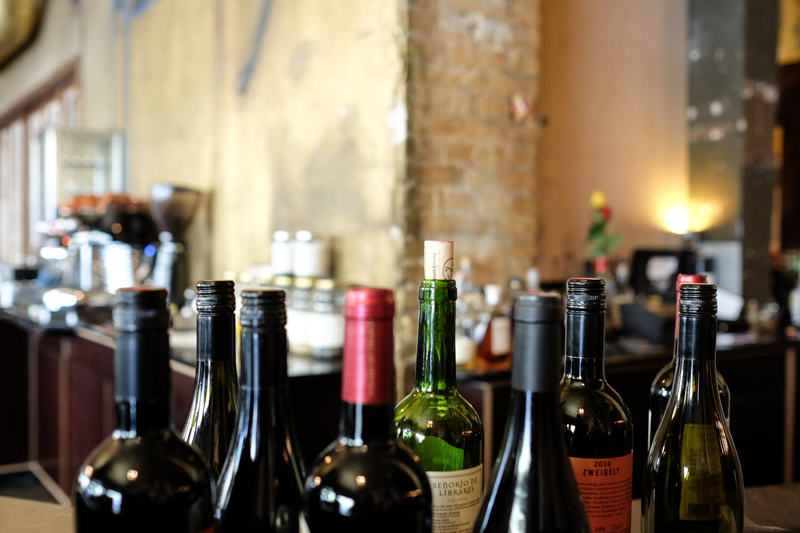 Wine, like many interests and business, has a language of its own. The following glossary explains terms in common usage at tastings and winery visits.
If you have any requests for explanations to be added to the glossary, please ask.
Bin: A small section of a wine storage cellar. Found on restaurant wine lists to identify where the wine is stored. Used by some wineries to identify a particular blend.
Bleeding: To remove some of a red wine while it is still fermenting to increase the ration of grape skins to liquid in the remaining wines, thus achieving a deeper coloured and flavoured wine. The extracted pale pink juice can then be made in to a pink, or blush, wine.
Blend: The mix of wines brought together to make a harmonious finished wine. The blend is often a mix of wines made from different varieties, but even a single varietal wine is a blend of wines from different parts of the vineyard, different barrels and maybe different clones of the same variety.
Blush: A pale pink wine, lighter in colour than a rosé. Originally used in the USA for 'White Zinfandel' made by Bleeding.
Bordeaux Blend: A wine made in the style of Bordeaux, where red wines are a blend of some or all of Merlot, Cabernet Sauvignon, Cabernet Franc, Malbec with sometimes Petite Verdot and Carménère. Not so often used for white blends which would be primarily Sauvignon Blanc and Semillon.
Bottle Fermented: Seen on the labels of sparkling wine, meaning the second – bubble producing– fermentation took place in the bottle. However, unless it specifically states that it was fermented in 'this' bottle then the finished wine was probably poured via a filter (to remove the Lees) into the bottle that the label is affixed to.
Bottle Variation: Term used in tastings when two supposedly identical wines taste differently.
Bourgogne: The French name for what is better known as Burgundy.
Brett: An abbreviation that is, for obvious reasons, more often used than Brettanomyces. Brett is a form of wild yeast that affects the taste of the finished wine. The effect of Brett is a matter of dispute among wine lovers, with some saying that it adds complexity at low levels while others are certain that its presence at any level is a fault.
Brix: A scale indicating the amount of sugar in a grape from which can be calculated the alcohol it is capable of producing. Almost the same as Balling, and similar to Oeschle.
If you have any acronyms or words you'd like to be to be added to the glossary, please ask by email or on the
wine forum
.
---

The Wine Slinger Chronicles
Let Russ Kane take you on the Texas wine trails to visit the people behind Texan wines. Reading Russ is like sitting with him by the trail camp fire, holding a plate of beans and a glass of wine while he weaves stories about the places he's been, wines he's tasted and the people who made them.


Pinotage
A wine detective story. Come with me as I try to find out the truth behind South Africa's own variety.



Related Articles
Editor's Picks Articles
Top Ten Articles
Previous Features
Site Map





Content copyright © 2019 by Peter F May. All rights reserved.
This content was written by Peter F May. If you wish to use this content in any manner, you need written permission. Contact Peter F May for details.