Winery Dining with Rest and Tranquillity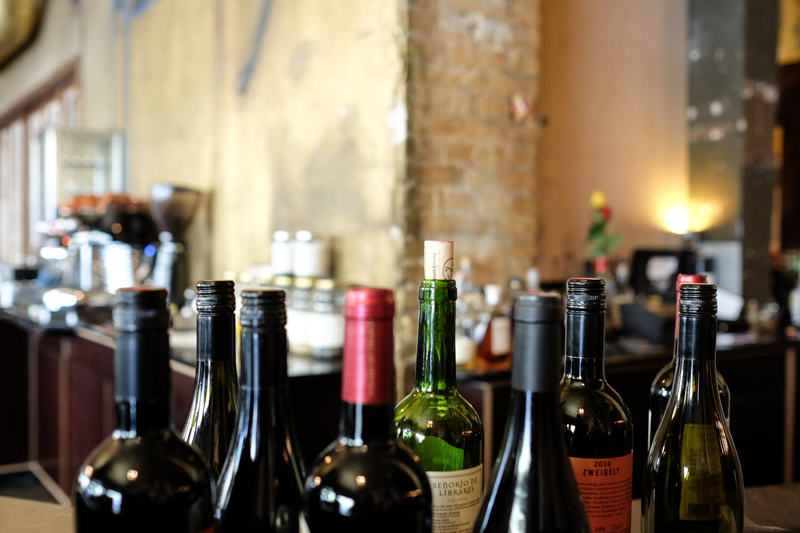 Having read in Sunday's newspaper that the restaurant at Rust en Vrede winery had been judged third best in Africa and first for service at the same time as winning a wine tourism award we decided to head there for lunch and to see for ourselves.
This report by my companion Elizabeth May:
The South African Press laud Rust and Vrede as their number one culinary winery experience. Rust and Vrede translates to Rest and Tranquillity and a more apt description of the peaceful tree shaded luncheon area would be hard to find. You'll find the winery between Somerset West and Stellenbosch in the Western Cape. A friendly courteous sentry opens the gate for you to drive up a brown brick road negotiating returning executive mini-buses with keen wine tourists on your way, past rose edged ordered ranks of vines, to the tree lined parking lot.
The winery lies amid undulating hills, exceptionally green, following an unusually wet spring. Walking from your car you enter the wine tasting room to be immediately welcomed by smartly dressed staff. How can they help you? Would you like a wine tasting or are you here for lunch? Of course you could have a wine tasting with lunch.
Choosing the last option you are led to a courtyard shaded by gnarled old oak trees. Seated on concrete circular garden furniture you relax as you are given a tasting of the winery's merlot, cabernet sauvignon, Shiraz and estate blends while you wait for the set meal of Sirloin steak, French fries and garden salad. They market the meal as lunch with the winemakers and you won't be surprised to see two gum booted young men in shorts enjoying a break from their work alongside you.
It would be hard to fault the wines or meal presented. Maybe you'll find a touch of stalkiness on the merlot and vanilla oak still evident on the young cabernet sauvignon. The quality of the wines reflects the three centuries of wine making in the site.
The meal itself comes with a glass of their estate red blend. It is succulent and full of red berry fruits and perfectly complements the sirloin steak which comes from cattle reared to the chalmar method which emphasis gentle handling to produce a calm animal to match the ethos of the winery.
Credit for the food must go to Chef David Higgs who will be happy to demonstrate his wider skills in the formal restaurant which stands at the back of the courtyard. This offers four or six course nouveaux cuisine meals in the evening where you can sit in full view of the open kitchen and watch the masterpieces being created.
Elizabeth May is a historian. Her novel Roman Sunset tells of the turbulent times when the Roman Empire suddenly withdrew from Britain and violent marauders invaded to plunder.
Disclosure: The authors paid for all food, wine and services consumed as described above. Lunch including wine cost 150 rand per person, about $24 including tax
---
Peter F May is the author of
Marilyn Merlot and the Naked Grape: Odd Wines from Around the World
which features more than 100 wine labels and the stories behind them, and
PINOTAGE: Behind the Legends of South Africa's Own Wine
which tells the story behind the Pinotage wine and grape.
---

Too Cork or Not to Cork
Even the most jaded wine lover will enjoy and learn from this well written, easy reading yarn about that essential but disposable closure that must be removed before we can enjoy our favourite drink. If you're thinking of a present for a wine-lover, this book will not disappoint. ighly recommended.





Roman Sunset
by guest writer Elizabeth May. It was a time when a civilization that had survived for 350 years suddenly collapsed, almost overnight. Trade, government, education and the rule of law ceased. This was Britain at the beginning of the fifth century. Roman legions left to fight the Emperor's wars in Europe and raiders invaded Britain, devastating the land, burning crops, slaughtering young and old alike and taking the rest as slaves. Retired soldiers and their families find safety in an old cavalry fort after their farms have been destroyed. They take in refugees including a village elder and a brewer and his daughter escaping from a sacked city. They all know the raiders will return. To survive, they must resolve their differences, work together and fight back against their enemies.








Related Articles
Editor's Picks Articles
Top Ten Articles
Previous Features
Site Map





Content copyright © 2019 by Peter F May. All rights reserved.
This content was written by Peter F May. If you wish to use this content in any manner, you need written permission. Contact Peter F May for details.