Napoleon & Josephine - Part I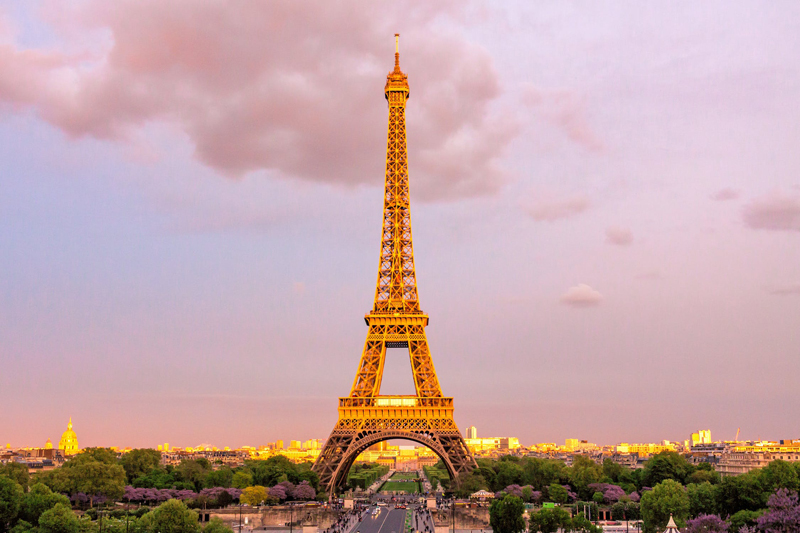 Napoleon Bonaparte was already a rising star in the French military when he met Josephine, whose real name was Marie Joseph Rose Tascher de la Pagerie. Born in Martinique in 1763 to a French plantation owner, she was known as Rose until she met Napoleon, who quickly christened her his "Josephine."

Josephine was first married at 17 to a well-known lady's man named Alexandre de Beauharnais who was originally her sister's fiance. (Her sister had died unexpectedly and her father didn't want to loose the advantageous arranged marriage.) The union was an unhappy one, but it did bring her two children whom she adored: her daughter, Hortense, and son, Eugene.

Shortly after the French Revolution, Alexandre faced the guillotine as a result of his association with the French monarchy, and Josephine was imprisoned and scheduled for beheading as well. However, her life was spared when Robespierre was himself executed, and the Reign of Terror ended.

Josephine entered Parisian society and became friendly with many influential men and women. It was through these acquaintances that she met Napoleon.

Napoleon, an ambitious workaholic, was at that time a Major-General in the French Army. He'd been involved in the defense of the post-revolutionary government and duly rewarded with a promotion. He was swiftly growing into one of the country's most respected military men, and as such felt he needed a wife. In 1795, he and Josephine became lovers, and by December of that year, he was writing to her of his impassioned desires:

"I awake full of you. Your image and the memory of last night's intoxicating pleasures has left no rest to my senses.

Sweet, incomparable Josephine, what a strange effect you have on my heart...there is no rest for your lover...I yield to this passion that rules me and drink a burning flame from your lips and your heart.

My sweet love, a thousand kisses; but do not give me any, for they set my blood on fire."

He proposed in January, 1796, and although she was hesitant to marry him, they were wed on March 9, whereupon he also adopted her two children. His wedding gift to her was a gold medallion with the inscription: "To Destiny."

Days after their wedding he left to command the French army near Milan, and begged her to join him for a honeymoon:

"Come soon; I warn you, if you delay, you will find me ill. Fatigue and your absence are too much. You are coming, aren't you? You are going to be here beside me, in my arms, on my breast, on my mouth? Take wing and come, come!

A kiss on your heart, and one much lower down, much lower!"

By mid-summer of that year, he was still begging Josephine for the pleasure of her company, and making clear his continued desires:

"Since I left you, I have been constantly depressed. My happiness is to be near you. Incessantly I live over in my memory your caresses, your tears, your affectionate solicitude. The charms of the incomparable Josephine kindle continually a burning and a glowing flame in my heart. When, free from all solicitude, all harassing care, shall I be able to pass all my time with you, having only to love you, and to think only of the happiness of so saying, and of proving it to you? I thought that I loved you months ago, but since my separation from you I feel that I love you a thousand fold more.

Ah! I entreat you to permit me to see some of your faults. Be less beautiful, less gracious, less affectionate, less good.

Come and join me, that at least, before death, we may be able to say, 'We were many days happy.'"

Though the nights were filled with passionate letter-writing to his wife, Napoleon was also quite busy during the daylight hours turning the disgruntled French army into a victorious force that swept through Austria, showcasing him as the bright star of the new republic. And by the end of 1796, he returned from the front a popular and triumphant man.

But there were rumors that Josephine was being unfaithful to him, having an affair with an army officer named Hippolyte Charles. Napoleon arrived at her apartment in Milan, only to find she'd left for Genoa, spurring him to call her "vile, mean, beastly" and promising to "cover her with a million hot kisses, burning like the equator."

Finally confronting her with his suspicions, Josephine angrily denied them all, suggesting a divorce if he truly believed them. But the relationship must have been more than she dared admit to her husband, as this correspondence to Hippolyte implies:

"I'm going to the country, my dear Hippolyte...Yes, my Hippolyte, my life is a constant torment! Only you can restore me to happiness. Tell me that you love me, that you love only me!...Adieu, I send you a thousand tender kisses...and I am yours, all yours."

Josephine later referred to the confrontation with her husband as the "day of the catastrophe." But whether it was because her husband forbid her to see any more of Hippolyte, or because Napoleon now doubted her fidelity, one thing was clear: the relationship between husband and wife had changed, and the passionate desire that once flowed from his body and into his letters was forever altered.
You Should Also Read:
Visit an Exhibit Devoted to the Empress Josephine
Napoleon & Josephine - Part II


Related Articles
Editor's Picks Articles
Top Ten Articles
Previous Features
Site Map





Content copyright © 2021 by Erin Caslavka. All rights reserved.
This content was written by Erin Caslavka. If you wish to use this content in any manner, you need written permission. Contact Melissa Demiguel for details.