Official Name:
People's Democratic Republic of Algeria
Alternate Name(s):
Algeria
Capital City:
Algiers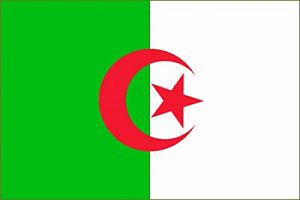 This flag can be purchased at AfricaImports.com
Flag:
Two equal vertical bands of green (hoist side) and white; a red, five-pointed star within a red crescent centered over the two-color boundary; the crescent, star, and color green are traditional symbols of Islam (the state religion)
Date of Independence:
July 5, 1962 (from France)
National Anthem:
Qassaman
(The Pledge)
Population:
32,818,500 people
Size/Area:
2,381,740 sq km slightly less than 3.5 times the size of Texas
Land Locked:
No
Coastline:
998 km
Bordering Countries:
Libya, Niger, Mali, Mauritania, Morocco, Tunisia, Western Sahara
Administrative Divisions:
48 provinces - Adrar, Ain Defla, Ain Temouchent, Alger, Annaba, Batna, Bechar, Bejaia, Biskra, Blida, Bordj Bou Arreridj, Bouira, Boumerdes, Chlef, Constantine, Djelfa, El Bayadh, El Oued, El Tarf, Ghardaia, Guelma, Illizi, Jijel, Khenchela, Laghouat, Mascara, Medea, Mila, Mostaganem, M'Sila, Naama, Oran, Ouargla, Oum el Bouaghi, Relizane, Saida, Setif, Sidi Bel Abbes, Skikda, Souk Ahras, Tamanghasset, Tebessa, Tiaret, Tindouf, Tipaza, Tissemsilt, Tizi Ouzou, Tlemcen
Major Cities:
Annâbah, Bâtnah, al-Jazâ´ir, Jilfah, Qustantînah, Satîf, Sîdî ban-al-´Abbas, Tibissah, Wahrân
Languages:
Arabic (official), French, Berber dialects
Religions:
Sunni Muslim (state religion) 99%, Christian and Jewish 1%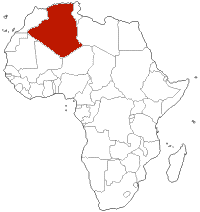 Major Holidays:
Independence Day
, July 5. Anniversary of independence from France in 1962.
Revolution Day
, November 1. Commemorates the first well coordinated attacks on Nov 1, 1954, begun by the National Liberation Front, against French-operated military installations, public utilities, and communications facilities.
National Day
, June 19. Anniversary of the overthrow of Mohammed Ben Bella in a bloodless coup d'état in 1965.
New Year's Day
,
Leilat al-Meiraj
,
first day of Ramadan
,
Id al-Fitr
,
Labor Day
(May 1),
Id al-Adha
,
Islamic New Year
,
Ashora
,
Mouloud
.
Currency:
Dinar
Currency Code:
DZD
Highest Point:
Tahat 3,003 m
Lowest Point:
Chott Melrhir -40 m
Bordering Bodies of Water:
Mediterranean Sea
Climate:
Arid to semiarid; mild, wet winters with hot, dry summers along coast; drier with cold winters and hot summers on high plateau; sirocco is a hot, dust/sand-laden wind especially common in summer
Major Industries:
Petroleum, natural gas, light industries, mining, electrical, petrochemical, food processing
Major Agricultural Products:
Wheat, barley, oats, grapes, olives, citrus fruits, sheep, cattle
Natural Resources:
Petroleum, natural gas, iron ore, phosphates, uranium, lead, zinc
Native Animals:
Barbary lion, wild mouflons, Barbary deer, wild boars, Barbary apes, storks, flamingos, gazelles, fennecs, hyenas, and jackals, gerbils, desert hare, scorpions
Native Plants:
holm oak, cork oak, conifers, juniper, cedar, laurel, rosemary, thyme, gorse, lavender, sage, esparto grass, Barbary fig, date palm, drinn, cram-cram, ethels, acacia, jujube trees

Tribes of Africa eBook
This eBook is the most complete listing of African tribes available on the internet. The first section of this book is the tribes sorted alphabetically by country. The second section is the tribes sorted alphabetically by tribe name.
This site needs an editor - click to learn more!

You Should Also Read:
More About Northern Africa
Tribes of Africa from Algeria through Congo (DRC)
Tribes of Africa eBook




Related Articles
Editor's Picks Articles
Top Ten Articles
Previous Features
Site Map





Content copyright © 2021 by Jeanne Egbosiuba Ukwendu. All rights reserved.
This content was written by Jeanne Egbosiuba Ukwendu. If you wish to use this content in any manner, you need written permission. Contact BellaOnline Administration for details.