Official Name:
Republic of Zimbabwe
Alternate Names:
Zimbabwe
Former Names:
Southern Rhodesia, Rhodesia
Capital City:
Harare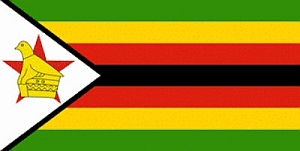 This flag can be purchased
at AfricaImports.com
Flag:
Seven equal horizontal bands of green, yellow, red, black, red, yellow, and green with a white isosceles triangle edged in black with its base on the hoist side; a yellow Zimbabwe bird representing the long history of the country is superimposed on a red five-pointed star in the center of the triangle, which symbolizes peace; green symbolizes agriculture, yellow - mineral wealth, red - blood shed to achieve independence, and black stands for the native people
Date of Independence:
April 18, 1980 (from UK)
National Anthem:
Kalibusiswe Ilizwe leZimbabwe (Blessed be the Land of Zimbabwe)
Population:
12,576,742
Size/Area:
390,580 sq km slightly larger than Montana
Land Locked:
Yes
Bordering Countries:
Botswana, Mozambique, South Africa, Zambia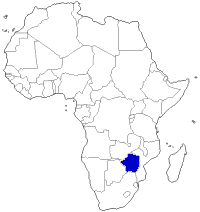 Administrative Divisions:
8 provinces and 2 cities* with provincial status; Bulawayo*, Harare*, Manicaland, Mashonaland Central, Mashonaland East, Mashonaland West, Masvingo, Matabeleland North, Matabeleland South, Midlands
Major Cities:
Harare, Bulawayo, Chitungwiza, and Mutare
Languages:
English (official), Shona, Sindebele (the language of the Ndebele, sometimes called Ndebele), numerous but minor tribal dialects
Religions:
Syncretic (part Christian, part indigenous beliefs) 50%, Christian 25%, indigenous beliefs 24%, Muslim and other 1%
Major Holidays:
Africa Day
, May 25. Anniversary of the formation of the Organization of African Unity in 1963.
Independence Day
, April 18. Independent since April 18, 1980.
New Year's Day
,
Easter
,
Workers' Day
(May 1),
Heroes' Days
(Aug 11-12),
Christmas
.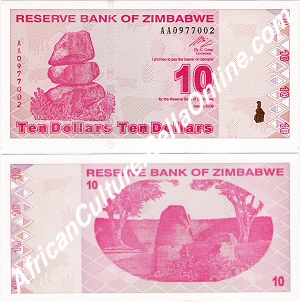 Currency:
Zimbabwean Dollar
Currency Code:
ZWD
Highest Point:
Inyangani 2,592 m
Lowest Point:
Junction of the Runde and Save rivers 162 m
Bordering Bodies of Water:
Lake Kariba, Zambezi River, Limpopo River
Bodies of Water:
Mazoe River, Runda River, Save River
Climate:
Winters (July - October) are often dry and cool. The summer rainy season (November - April) is quite hot with the heaviest rains falling in the eastern mountain forests. The far south is arid with very little rainfall.
Major Industries:
Mining (coal, gold, copper, nickel, tin, clay, numerous metallic and nonmetallic ores), steel, wood products, cement, chemicals, fertilizer, clothing and footwear, foodstuffs, beverages
Major Agricultural Products:
Corn, cotton, tobacco, wheat, coffee, sugarcane, peanuts; cattle, sheep, goats, pigs
Natural Resources:
Coal, chromium ore, asbestos, gold, nickel, copper, iron ore, vanadium, lithium, tin, platinum group metals
Native Animals:
elephants, buffaloes, rhinoceroses, 400 bird species, and many other animal species.
Native Plants:
The vegetation in Zimbabwe consists mainly of grassland and some forest, where acacias, lianas, figs, and numerous other plants grow abundantly.

Tribes of Africa eBook
This eBook is the most complete listing of African tribes available on the internet. The first section of this book is the tribes sorted alphabetically by country. The second section is the tribes sorted alphabetically by tribe name.
This site needs an editor - click to learn more!

You Should Also Read:
More About Southern Africa
Tribes of Africa from Reunion through Zimbabwe
Tribes of Africa eBook




Related Articles
Editor's Picks Articles
Top Ten Articles
Previous Features
Site Map





Content copyright © 2021 by Jeanne Egbosiuba Ukwendu. All rights reserved.
This content was written by Jeanne Egbosiuba Ukwendu. If you wish to use this content in any manner, you need written permission. Contact BellaOnline Administration for details.