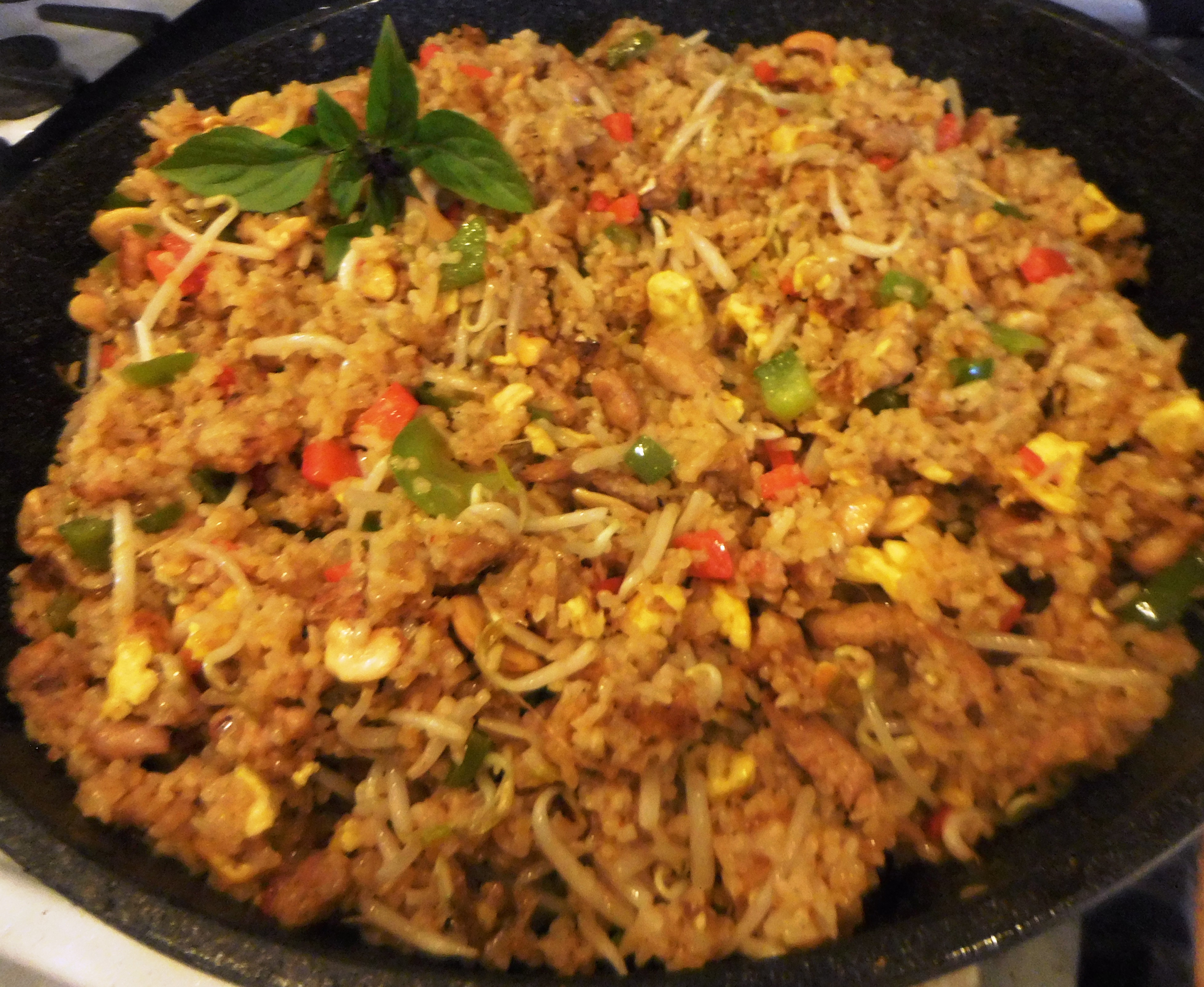 Whenever I cook rice for a meal, I double or triple the amount I'll need so I have plenty of leftover rice for something else. If stored in a tightly sealed container or a Ziploc bag, rice will keep in the fridge for several days; it may also be frozen.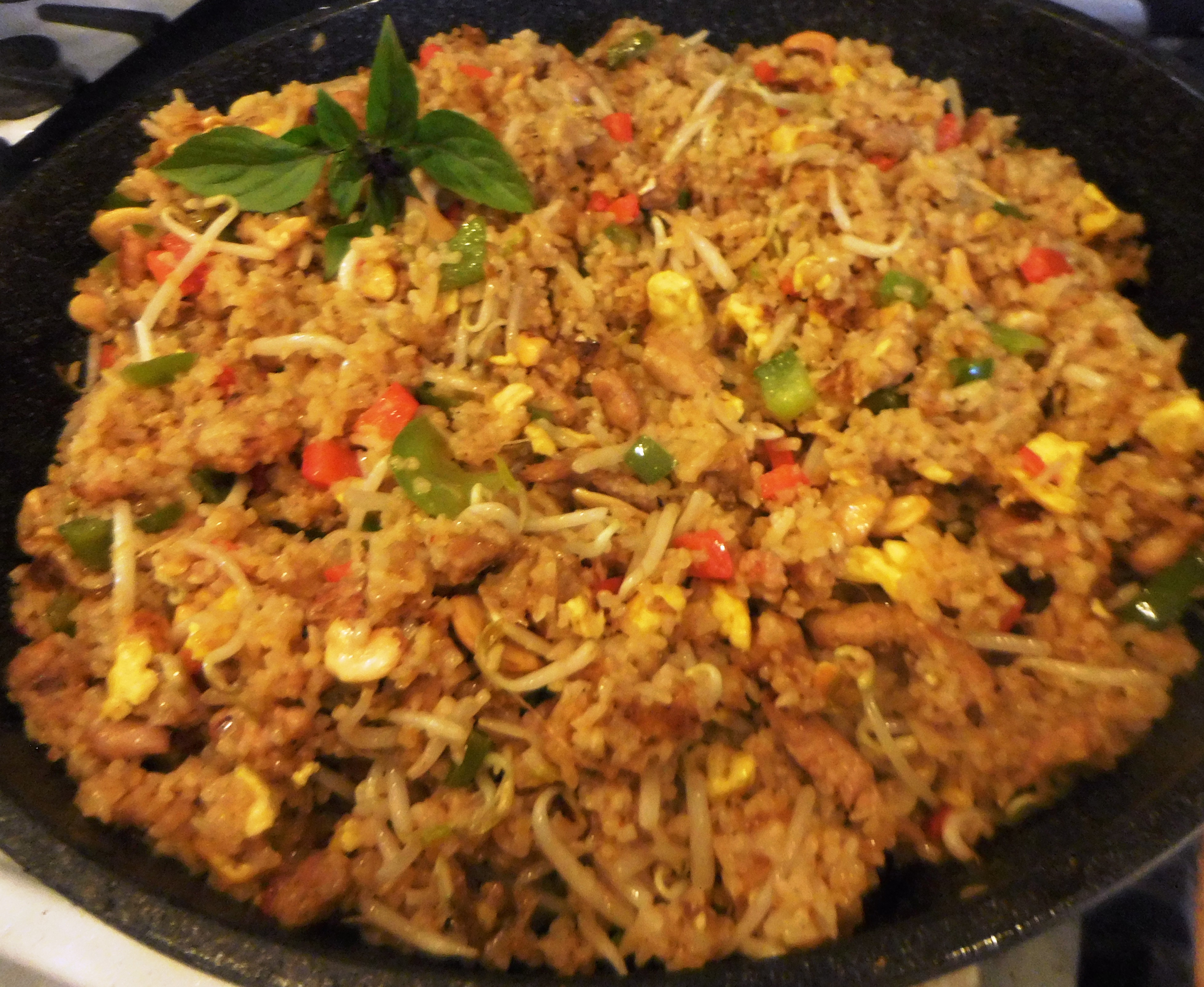 Freezers are great for storing ingredients that we often use for quick meals. Whenever I chop onions for a recipe, I try to do more than I need and store them in the freezer so that when I'm in a hurry the onions are ready; I always have shredded pork from the Basic Pork Module (link at the bottom of this page), and this fried rice is one of my family's favorite dishes to make from it.
Since I love to cook Chinese food, I always keep Chinese ingredients in my fridge; most sauces like oyster sauce, hoisin sauce, soy, black bean sauce, etc. will keep almost indefinitely if refrigerated. I've found another time saver is the chopped garlic that comes in jars.
I love the spices in the classic Chinese appetizer Cha Shu Pork (Chinese Roast Pork), and it just takes a couple of minutes to season the shredded pork so that it takes on that distinctive flavor.
Don't let the number of ingredients fool you; if you have a Chinese ingredient stash in your fridge, it will take you 10 minutes or less to assemble the sauce for the pork. If you don't have a stash, you may substitute one of Yoshida's or other Chinese sauces such as teriyaki, that you especially like.
8 Servings
Marinade
2 tablespoons sugar
1 clove garlic, finely minced
1 tablespoons finely minced fresh ginger
2 tablespoons soy sauce
1 tablespoons black bean sauce
1 tablespoons oyster sauce
1 tablespoons hoisin sauce
1 tablespoons dry sherry
1 teaspoon sesame oil
Few drops red food color
2 cups shredded pork (from Basic Pork Module)
7 tablespoons vegetable oil
3 eggs, beaten
1 cup onions, coarsely chopped
2 cups bean sprouts, chopped
8 cups cooked rice
3 tablespoons soy sauce, or to taste
1 cup frozen peas, or frozen peas and carrots
salt and freshly ground pepper, to taste
Mix the marinade ingredients and stir the mixture into the pork; set aside.
Heat 1 tablespoon vegetable oil in a large wok or frying pan and add the beaten eggs; swirl them so that they make a pancake, turning once to cook the other side. Remove from pan and dice; set aside.
Add 1 tablespoon oil to the wok and add the pork and onion. Stir fry until the onions are tender, 2-3 minutes; add the bean sprouts and fry for a minute or two to warm. Remove from the wok and set aside.
Add 4 tablespoons oil to the wok and add the rice; stir fry until it smells good and is hot. Add the soy sauce, the eggs, and the pork mixture; stir to mix. Add the peas or peas and carrots and taste for seasoning. Serve immediately.
Note: if you like your rice to be more compact, add a couple of beaten eggs at the end and stir to cook the eggs.
Basic Pork Module


Related Articles
Editor's Picks Articles
Top Ten Articles
Previous Features
Site Map





Content copyright © 2023 by Karen Hancock. All rights reserved.
This content was written by Karen Hancock. If you wish to use this content in any manner, you need written permission. Contact Karen Hancock for details.