Official Name:
Zambia
Alternate Names:
The Republic of Zambia
Former Names:
North-Western Rhodesia, North-Eastern Rhodesia, Northen Rhodesia
Capital City:
Lusaka
Flag:
The flag has a green field with a panel of three vertical bands of red (hoist side), black, and orange below a soaring orange eagle, on the outer edge of the flag.
Date of Independence:
October 24, 1964 from Britian
National Anthem:
"Lumbanyeni Zambia" (Stand and Sing of Zambia, Proud and Free)
Population:
11,669,534
Size/Area:
290,587 square miles, slightly larger than Texas.
Land Locked:
Yes
Coastline:
None
Bordering Countries:
Democratic Republic of the Congo, Tanzania, Malawi, Mozambique, Zimbabwe, Botswana, Namibia, and Angola.
Administrative Divisions:
9 provinces; Central, Copperbelt, Eastern, Luapula, Lusaka, Northern, North-Western, Southern, Western.
Major Cities:
Lusaka, Chingola, Kabwe, Kitwe, Ndola
Languages:
English, major vernaculars - Bemba, Kaonda, Lozi, Lunda, Luvale, Nyanja, Tonga, and about 70 other indigenous languages
Religions:
Christian 50%-75%, Muslim and Hindu 24%-49%, indigenous beliefs 1%
Major Holidays:
January 1 - New Year's Day
March 12 - Labour Day
Good Friday
Holy Saturday
Holy Monday
May 1 - Labor Day
May 25 - Africa Freedom Day
First Monday of July - Heroes Day
First Tuesday of July - Unity Day
First Monday of August - Farmer's Day
October 24 - Independence Day
December 25 - Christmas Day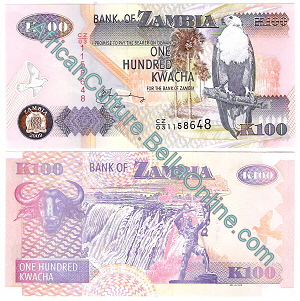 Currency:
Zambian Kwacha
Currency Code:
ZMK
Highest Point:
an unamed location in Mafinga Hills
Lowest Point:
Zambezi river
Bordering Bodies of Water:
Zambezi River with Zimbabwe, Lake Kariba with Zimbabwe, Lake Mweru with The Democratic Republic of the Congo.
Bodies of Water:
Zambezi River (includes Victoria Falls), Lake Kariba, Lake Mweru
Climate:
Zambia has a tropical climate that is modified by elevation and a rainy season that occurs from April through October.
Major Industries:
copper mining and processing, construction, foodstuffs, beverages, chemicals, textiles, fertilizer, horticulture.
Major Agricultural Products:
corn, sorghum, rice, peanuts, sunflower seed, vegetables, flowers, tobacco, cotton, sugarcane, cassava (tapioca), coffee, cattle, goats, pigs, poultry, milk, eggs, animal hides
Natural Resources:
copper, cobalt, zinc, lead, coal, emeralds, gold, silver, uranium, hydropower
Time Zone:
UTC+2
This site needs an editor - click to learn more!

You Should Also Read:
Zimbabwe Country Facts
Tanzania Country Facts
Tribes of Africa from Reunion through Zimbabwe




Related Articles
Editor's Picks Articles
Top Ten Articles
Previous Features
Site Map





Content copyright © 2021 by Jeanne Egbosiuba Ukwendu. All rights reserved.
This content was written by Jeanne Egbosiuba Ukwendu. If you wish to use this content in any manner, you need written permission. Contact BellaOnline Administration for details.