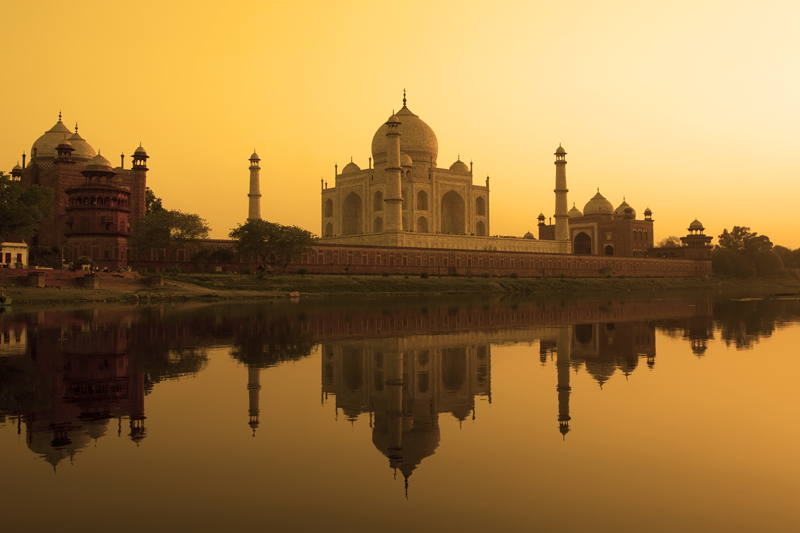 Pita is type of light & airy pocket bread commonly eaten throughout the Middle East & also the Mediterranean region. As this type of bread cooks, the internal steam creates a "pocket" as the bread cools – making it just perfect for stuffing with your favorite ingredients ☺.
Making your own pita bread at home is much easier than you think, don't be intimidated by it! Now traditionally, pita bread is made using all-purpose flour (maida) but you can just as easily make it with whole wheat flour (atta), bread flour, oat bran flour or also a combination of various flours. Bread flour is made from hard wheat and has a much higher gluten content making it perfect for bread making, especially if you like your bread with a slightly chewy texture. You can use any variety of bread flour such as multi-grain bread flour or oat bran bread flour. Plain bread flour can easily be found in any large grocery store but the specialty bread flours are usually available in mainly organic & health food markets. Now I have tried all the various types of flours & the all-purpose flour worked best for maximum rising during baking but the other flours all had a great taste.
The key to great pita bread is evenly rolling them out (so they will rise & puff up during baking) and also baking them at a high temperature. Like all breads, pita is a good source of dietary fiber especially if made with wheat or multi-grain flours. So try making some for your family today ☺.
HOME MADE PITA BREAD
Ingredients:
1 packet active dry of yeast

1¼ cups warm water

1 tsp sugar (or honey)
3 cups sifted flour, more if needed
1½ tsp salt, to taste
1 tsp oil (olive, vegetable or canola)
METHOD:
In a small mixing bowl, dissolve the sugar in the warm water & add the yeast. Set aside for about 10-15 minutes, if you see bubbles – you're in business!
Using an electric kitchen stand mixer (with the dough hook attachment), combine half of the sifted flour (1½ cups) & the salt. Mix to combine & then add in the remaining flour along with the yeast mixture until a batter starts to form. Keep mixing/kneading until the dough comes together & has a smooth elastic consistency (about 6-8 minutes). If the dough is too sticky, just add a little more flour as needed. Alternatively, you could also knead the dough by hand – it will take about 10-12 minutes & it's a great workout! But do not over knead the dough by mixer or by hand, just knead it until it is no longer sticky!
Now shape the dough into a large ball, lightly oil the dough & place it in a bowl. Cover the bowl with a damp tea towel, place it in a warm area in your kitchen & allow it to rise for about 2 hours or until (this depends a lot on the local temperature & humidity in your area) the dough will have doubled in size.
Now transfer the dough to a lightly floured work surface & divide it into 8-10 equal size portions. If you prefer larger pitas, simply divide the dough into 5-6 equal size portions. Lightly cover the dough portions with a slightly damp tea towel & let them rest for about 15-20 minutes.
In the meantime, preheat the oven to 450 degrees F. Make sure the oven rack on the bottom of the oven is available for baking. In the last 5 minutes of preheating, slip in your baking tray. A pizza stone also works great for making pita breads, so if you have one – by all means, use it!
Next, shape each dough portion into a round ball and then flatten into a disc shape. Then using a lightly floured rolling pin, roll out each disc evenly into flatbreads (about ¼" thick in size and about 5-6" in diameter) – using a little flour as needed to prevent any sticking.
Then with the help of a long spatula, flip the pita rounds upside down on the hot baking tray & bake for about 5-6 minutes or until the pitas rise & puff up. Then carefully flip the pitas over & bake for another 3-4 minutes on the other side until lightly browned. You can bake about 2-3 at a time & may have to do this in batches. If your pitas are not rising well, just add a little bit of water (about ½ cup or so ) in an oven safe pie pan. Place this in your oven to create steam & help keep the dough moist. You may also brush the pitas with a little olive oil if you like during baking. Remove the pitas from the oven & keep them cool under a slightly damp tea towel. Let cool completely & store in a re-sealable plastic bag. Stuff with your favorite ingredients & enjoy!
NEWSLETTER
: I invite you to subscribe to our free weekly newsletter. This gives you all of the updates for the Indian Food site. Sometimes, this newsletter has additional information on recipes that are not in the articles. Fill in the blank just below the article with your email address -
which is never passed on beyond this site. We will never sell or trade your personal information
.
You Should Also Read:
Naan Recipe
Kulcha Recipe


Related Articles
Editor's Picks Articles
Top Ten Articles
Previous Features
Site Map



Follow @SadhanaGinde
Tweet



Content copyright © 2022 by Sadhana Ginde. All rights reserved.
This content was written by Sadhana Ginde. If you wish to use this content in any manner, you need written permission. Contact Sadhana Ginde for details.