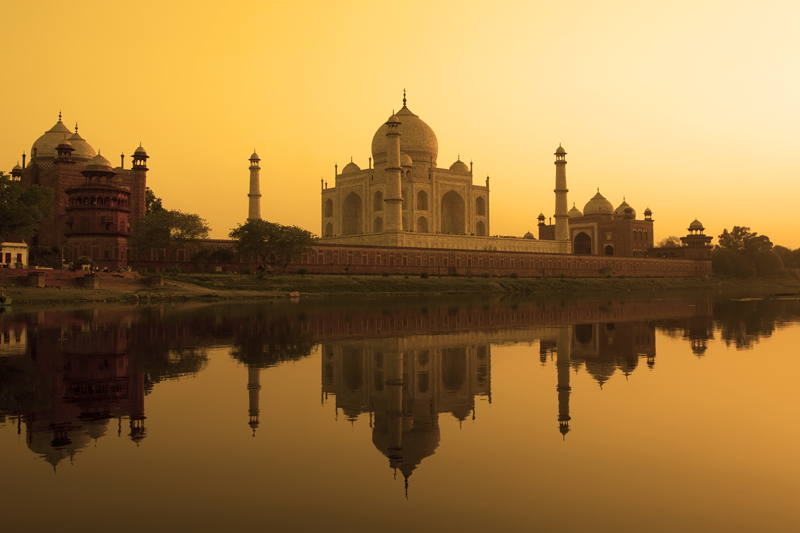 Naans are delicious North Indian flatbreads that are traditionally baked in a tandoor or clay oven. Tandoor ovens operate at very high temperatures (up to 900 degrees F!) and are able to turn out naans in just a matter of minutes. If you are lucky enough to have a tandoor oven in your house, then you are truly blessed!
I have been working on a traditional home made naan recipe that works well in either an oven or on the grill. This basic naan recipe is super simple and the results are absolutely delicious! The key to soft naan lies in the kneading. You must knead the dough properly until it becomes soft and pliable; until you can actually physically feel a change in the texture of the dough. Trust me, it makes all the yummy difference in the world. My freshly baked home made naans are truly out of this world.
NAAN (Baked Indian Flatbread)
Ingredients:
2 cups all purpose flour (maida), sifted
½ tsp baking powder
pinch of baking soda
½ tsp salt to taste
1 tsp sugar, to taste
2+ tbsp oil (vegetable or canola), you can use melted butter or ghee of you prefer
4 tbsp yogurt
½ cup of milk, warmed
a little melted butter or ghee
METHOD:
In a large mixing bowl, combine the sifted flour along with the other dry ingredients (baking powder, baking soda, salt & sugar). Stir well to combine all of the ingredients & set aside until needed.
Now in a smaller mixing bowl, combine the wet ingredients together (milk, oil & yogurt). Mix well & set aside until needed.
Now in the dry ingredients mixing bowl, make a small well in the center & slowly add the wet ingredients while incorporating the flour from the sides of the well. Your clean hands are the best tools for this job, keep mixing until the dough comes together. Sometimes the dough may seem to have a mind of its own and can be affected by such factors as high altitude, dryness or humidity. So use your culinary instincts & judgment – if your dough seems too "wet" or sticky, just add a little flour as needed. If it's a little too dry, just add a little milk as needed. You basically just need the dough to come together so it can be kneaded.
The easiest way to do this is on a clean countertop with a little sprinkling of flour so the dough will not stick. So now transfer the dough from the bowl to your work surface. Start kneading the dough until it becomes soft & pliable. This may take anywhere from 10-12 minutes. Next place the dough in a well-oiled bowl and cover with a damp cloth or towel for at least 15-20 minutes. Keep the bowl in a warm place, do not refrigerate. The dough should rise slightly.
In the meantime, preheat your oven to 500 degrees F, making sure the oven rack is set in the middle or the center of your oven. Don't forget to also lightly oil your baking sheet as well. If you have a pizza stone, that works really well for this task. The naans bake up rather quickly, so you must be present & also vigilant while they are in the oven. Keep the baking sheet (or pizza stone) in your oven, I put it in just a few minutes ahead of use. Alternatively, this could be done outside on a well-oiled grill. You can make the naan directly on a well-oiled grill grate.
Now out of your dough, you can easily make 5-6 smaller balls of dough. Knead the dough ball for just another minute or so before rolling it out. Make sure to keep the rest of the dough balls covered with a damp cloth or towel so they don't dry out. Using a floured rolling pin on a well floured surface, start rolling out your dough balls into thin flat circles. Traditionally, naans are made using a pear shape, this is done by simply rolling the naan into a 6-7" circle and then basically pulling or stretching out one side of it to form a characteristic "pear" shape.
Now very carefully, slide out your oven rack & slap your naan onto the hot baking sheet or pizza stone. Slide it back in and let the naan bake for just 1-2 minutes. The naan should be lightly golden brown, brush it with melted butter or ghee when it comes out of the oven and serve immediately.
VARIATIONS:
For crispier naans, poke a few holes in the naan using a fork before sliding it into the oven.
For super soft naans, add a little melted ghee or butter to the dough.
You could also make naan using whole wheat flour (atta) or multi-grain flour if you like.
To make Jeera Naan, sprinkle a few cumin seeds onto the naan & gently press them into the naan just before sliding the naan into the oven.
*You can also add nigella seeds, poppy seeds, sesame seeds, fennel seeds, onion seeds (kalonji), carom seeds (ajwain), caraway seeds or even crushed red chili flakes if you prefer.
To make Herbed Naan, add a little finely minced cilantro leaves or your favorite herbs into the dough during the kneading process just before rolling the dough out. Fresh herbs such as rosemary, garlic chives, dill, mint, and any variety of basil… will all work very well.
To make Methi Naan, just add some freshly chopped methi leaves or even Kasuri methi (dried methi) into the dough during the kneading process just before rolling the dough out.
To make Paneer Naan, add some finely grated paneer into the dough during the kneading process just before rolling the dough out. You can also add some freshly grated ginger, finely minced green chilies and some finely minced onion.
To make Onion Naan, lightly sauté some finely minced onions or shallots. Allow to cool and then add into the dough during the kneading process just before rolling the dough out. Personally, I like the flavor of shallots so I use them in place of the onions. You can also add a few crumbles of goat cheese on top as soon as the hot naans come out of the oven.
To make Garlic Naan, lightly sauté some finely minced garlic. Allow the garlic to cool & then add it into the dough during the kneading process just before rolling the dough out. You could also add some freshly minced herbs as well.
To make Peshawari or Kashmiri Naan, add your favorite pieces of dried fruits & chopped nuts. Just sprinkle them on & gently press into the naan prior to baking. You can soak the dry fruits in a little warm water (or even orange juice) for about 10-15 minutes, drain very well before use. A little orange zest will also add a lovely subtle flavor to your naan. You can also drizzle the naan with a little honey just before serving.
You Should Also Read:
Kulcha Recipe
Pita Bread Recipe


Related Articles
Editor's Picks Articles
Top Ten Articles
Previous Features
Site Map



Follow @SadhanaGinde
Tweet



Content copyright © 2023 by Sadhana Ginde. All rights reserved.
This content was written by Sadhana Ginde. If you wish to use this content in any manner, you need written permission. Contact Sadhana Ginde for details.