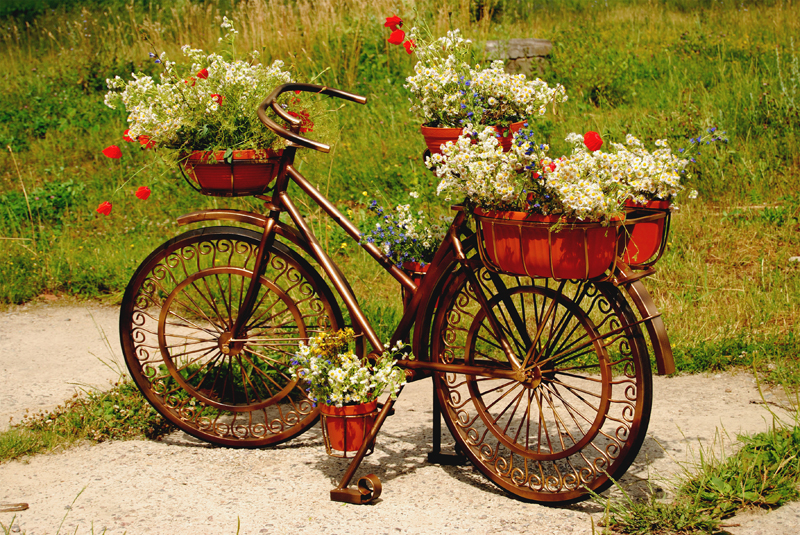 Poinsettias are to Christmas what Easter lilies are to Easter and Pesach (my friends tell me) – a well recognised plant as a floral symbol of beauty, hope, life, purity and new beginnings ... and with these cherished celebrations approaching fast, why not treat yourself to the splendour of this lovely plant?

Do you ever buy yourself a present – you know, from you to you? I do, and I love using my garden as an excuse for doing so ... "I really need this don't I?" is something I ask often when it comes to my containers!

Of course you may get a gift of an Easter Lily (or any lily in a pot for that matter) yourself or you may want to buy one for the season for someone else as they make great gifts for Moms and Grannies and Hostesses who share their hot cross bun recipes with you! And then after the holidays when the blooms are spent, don't throw them away as many do, thinking that it's the end of a beautiful if brief friendship ... rather plant them out into a container, where with care, they will bloom again and again for you.

Choose your plant:

When you go to the plant centre to buy your plant, watch out for a few things.

• Firstly, I would go personally to the nursery and look at the state of their stock. If it is to your liking in general, then I would place an order for collection a few days or less before you need to give them away as your gift. These are very popular plants and it could be that if you leave it too late there may not be any left, or those that are there may not be suitable. See, the plants that you see in full bloom are really beautiful, and you may be tempted to buy them, but the blooms will be spent before you give them away. You want to choose (or order) a plant with blooms that are only just beginning to open – that way you will get the best out of the plant in bloom for the occasion.

• Secondly, choose a plant that is at around twice as tall as the pot it is in. This is a healthy balance – a plant that is taller and/or in a smaller pot may have root stress or be 'old' stock. Also, make sure your plant has leaves all the way down to the soil level and that they are full, healthy and a glossy green.

• Thirdly, look out for signs of disease. Wilted, spotted, crinkly leaves means poor care, watering problems or weak bulb stock as it were. Also look for any signs of pests, eggs, spider webbing or chewed leaves. Avoid these, not even if they are at a special price, do not be tempted, just do not buy them.

Care for your plant:

Okay, let's assume you bought yourself or were given a plant, yay! Besides the tips below being for a plant in a pot, they will also help you stretch your enjoyment of fresh cut blooms as well.

* If the plant is wrapped in decorative or cellophane paper and ribbon, remove it as it will 'suffocate' your plant and the lilies won't last as long as they could.

* Do not place your plant/flowers in bright light or direct sun or next to or touching a window. Natural daytime light is fine. Your room should be cool say around 65°F and keep it out of draughts and away from appliances like heaters and humidifiers.

* Keep the soil moist/water fresh while the plant is blooming, check it daily, give pots a sound watering but let all the water drain out and away, Easter lilies do not like wet soil.

* When your flowers are in full bloom, snip out the yellow anthers before they start to shed pollen. This way your blooms remain white and their life is extended. I must say that I am in two minds about doing this, and I have used this trick before. It does prolong the life of the flowers, but half the joy for me is their yellow pollen centres. Still, you are the piper so you can play the tune.

* Anyway, make sure your soil in your pot is nutrient rich and drains well. Funny as it may seem, lilies like their feet in the shade and their heads in the warm sunshine – so use a mulch to protect and shade the roots. Feed your plant twice a month, a liquid fertiliser is good and will promote healthy new foliage. You can use a living mulch too – alyssum is a nice complementary one or miniature ivy is another – they look good and will keep your roots cool.

* When your flowers start to drop petals and fade, cut them off (don't tear or try to break) and when all are gone, then it is time to consider moving the plant to your patio. Let the stems die back and you may see a second blooming this season if you are lucky. Sometimes your store-bought blooming plant has been forced to bloom and it may take a year to get back into sync – so do not be disappointed if it does not bloom the next year; please be patient, it will perform if you care for it.

* Once the stems turn all brown, cut the plant back to the soil line, do not disturb the roots or displace the bulb but add a handful of bonemeal or bulb fertiliser (not both) and mix it gently into the soil.

Choose a lily – they will add grace, fragrance, beauty and charm to your container garden for a long time!

P.S Lilium longiflorum the Easter lily should not be confused with Lilium formosanum, aka the St. Joseph's lily. They do look very similar, both beautiful, but sadly the St. Joseph's lily is considered an invader plant in South Africa and may not be planted in our gardens.

P.P.S. PLEASE BE CAREFUL if you are a cat owner – many species of lilies, including the Easter lily, are POISONOUS to cats, they are toxic and if they happen to ingest anything, call the vet immediately though it is likely your pet will die of kidney failure.

What do you want your container garden to do?

................................................................................

Are you a CASUAL VISITOR … and just browsing? Why not sign up to the Container Garden newsletter? It won't matter what gardening space or how many pots you have or even how much time you have to spend in your container garden; what will matter is that you get our reminders hot off the press and get good advice and ideas all in one interesting read.

Join now, it's easy and your privacy is guaranteed.


You Should Also Read:
30 Tips for Container Gardeners
A White Moon Container Garden
Green Thumb Gardening


Related Articles
Editor's Picks Articles
Top Ten Articles
Previous Features
Site Map





Content copyright © 2022 by Lestie Mulholland. All rights reserved.
This content was written by Lestie Mulholland. If you wish to use this content in any manner, you need written permission. Contact Lestie Mulholland for details.