30 Tips for Container Gardeners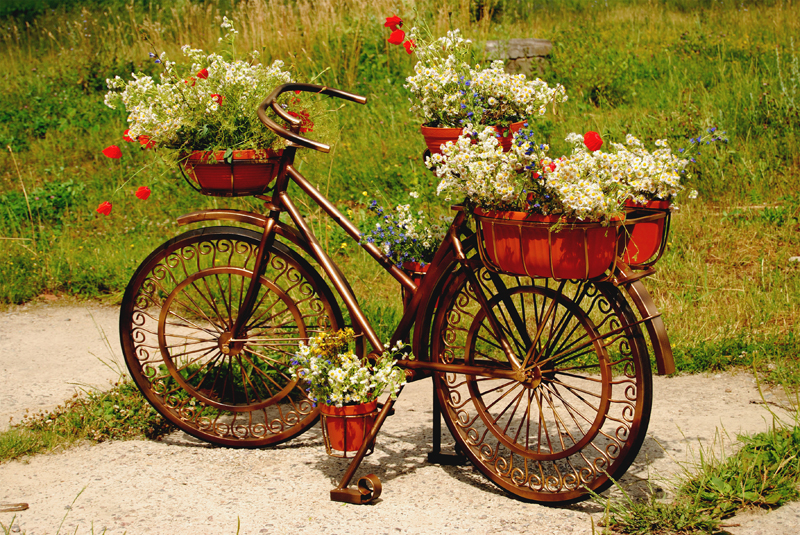 How do you eat an elephant? Slowly and slice by slice! That's what many of us have learnt over the years of attending time management training sessions, you know, do some of the little jobs that further and chivvy the project along. And based on this sound advice, I thought it would be useful to summarise some of the many tasks that can be broken up into little ones for our container gardens; those that get us going, sorting, fixing, planting and enjoying once more.

Some jobs might take the full time allocation if the chore that has been left a long time but that will depend on the job. Still, I really hope you do not see these tasks as chores. Such a heavy word that … chore, it even says heavy!

Now some of these jobs are small ones but if they are on this list they are important, so do not pass them over for too much longer; just do something, one thing, anything to push ahead. A combination of jobs is your choice too, mix and match the tasks; work from left to right or clockwise or however but work methodically. That way you will save time.

Do you have any eager little hands that want to know what Mum or Dad is doing? Get them to follow you about and tell you why they like the flowers and other pants they see. It's likely to distract you from any tedium. Are you playing some nice music as you work? I hear containers respond very well to Mozart and flute and gentle piano. No Wagner or 1812 overtures! Arrival of the Queen of Sheba is good as a starter.

Ready to go? Got all the gear like gloves, bucket and spade, hat, and so on?
Okay, today's 'to do' list could include (in no specific order):

oDeadheading
oTrimming vines, retying climbers and other creepers and scragglies.
oWiping down pots and emptying full drip trays after watering.
oTidying up mulches (how many pots do you have?)
oPicking some of the cut flowers to renew, freshen or replace the vases in your home.
oRemoving all dead and yellowing leaves.
oRe-placing the protective cardboard bases you used for pots on cold concrete floors (especially if it's springtime in your rockies).
oSitting down with a cuppa on the balcony, critically surveying what you see, and with your gardening notebook in hand, review your progress and plot your way forward.
oChanging some of the pots around if they are not too heavy to move by yourself.
oCutting slips to root for the upcoming swap meet. Or planting cuttings from Geraniums and similar; water, feed, plant, label and place in your 'nursery.' Make your notebook entry and date your actions. Don't rely on memory, no matter how good you think it is.
oCalling suppliers to check on their stocks of what you need; like acid compost, specialist plants, herb seedlings, heirloom tomato seeds, tools, fertilisers and plant food - your list may be different or longer.
oMaking some garlic and chillie spray for tomorrow. Darn, the aphids are back!
o25 minutes of weed-watch means more nutrients for the chaps that should get them, you know, the ones that will flower for you or spice up your cooking … herbs and edibles and others.
oDusting off the smooth broad leaves to allow for breathing and sunlight. Dusty plants go into fuss mode quickly. Dust hairy leaves with a paint brush.
oTurning those pots that need to be turned to orientate them to the sunlight to ensure even growth.
oPicking, gathering and not eating delicious tomatoes, strawberries and other veges, for supper tonight.
oChecking all things watery, cleaning out the butterfly water dish, the birdbath, renewing your water feature, checking the pump and fittings, soaking all decorative stones in vinegar water for cleaning.
oGluing and clamping together that broken bit of trellis, or that snapped hanging basket wire.
oTidying the stores cupboard so you know what you have in stock and what you need to buy at the centre/supermarket this upcoming weekend.
oRemoving protective newspaper and bubble wrap protection from the pots because it's warm enough now and the last frosts have passed.
oRe-labelling your plants, renewing faded labels, replacing those missing.
oChecking and sorting and trimming and harvesting jobs. Do a taste test on strawberries and cherry tomatoes to maintain strict quality control and high standards. Be sure to leave enough for family supper. This is known as responsible gardening.
oLooking for and finding some earthworms to make sure they are still in your employ – they really do things to your container soil that keeps your plants healthy wealthy and wise. The older kids like those between ages 10 and 60 enjoy this job if they don't mind wormy mates. If you have just watered the worms are likely to come to the top of the pots.

Carpe diem! Seize the day! Today or tomorrow will do, but tomorrow does come.

What do you want your container garden to do?




You Should Also Read:
Snippets, Tips and Tricks
Safety in the Garden
Glossary of Terms 1


Related Articles
Editor's Picks Articles
Top Ten Articles
Previous Features
Site Map





Content copyright © 2022 by Lestie Mulholland. All rights reserved.
This content was written by Lestie Mulholland. If you wish to use this content in any manner, you need written permission. Contact Lestie Mulholland for details.