Phalaenopsis Orchids - A Primer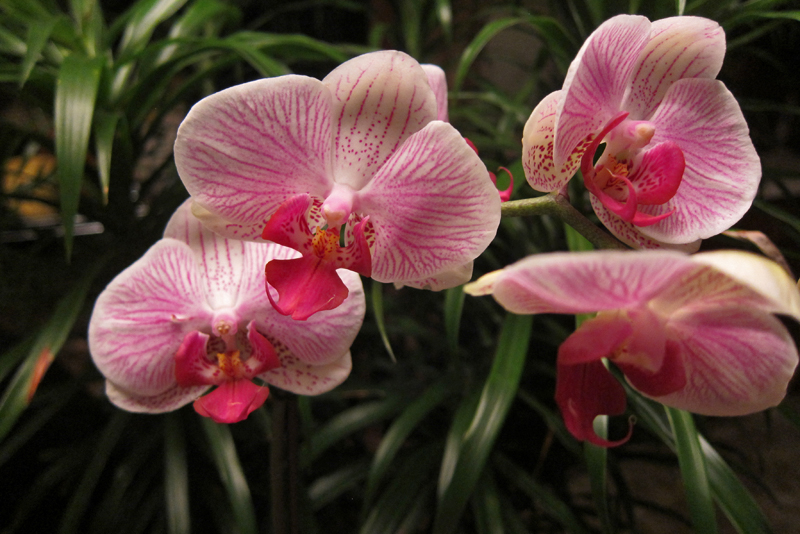 The Phalaenopsis orchid or Moth Orchid is the most common orchid available today. They can be purchased in grocery stores, hardware stores and nurseries. Coming in a variety of different colors for any decorating scheme, they are a wonderful first orchid for most people. The long arching inflorescence (flower stem) holds the flowers which can last for three months or longer.

The genus Phalaenopsis consists of about 50 species with distribution throughout tropical Asia, Southern India, Nepal, Papua New Guinea and tropical Australia. The Philippines in particular has a high population of Phalaenopsis species.

Phalaenopsis require fairly low light levels and like temperatures that closely resemble household conditions. A bright spot without any direct sunlight is more than enough for the plants. The main problem in most houses is low humidity and this is fairly easily taken care of by growing the plant on a tray with rocks. Water is kept in the rocks, just below the surface to allow evaporation to increase humidity for the orchid. The plant must NOT be sitting in the water, but above the water level.

As Phalaenopsis lack any means of storing water, they should always be kept lightly moist. The condition of the root tips indicates whether water is sufficient or not. Green root tips indicate sufficient water, while white root tips indicate a need for more water. Phalaenopsis roots are the plants only means of water storage and should never be allowed to shrivel. Daily misting of the roots in the morning is a good idea, especially during active growth periods.

There are differing attitudes toward spraying Phalaenopsis leaves…some experts advocate spraying daily to keep humidity high; others discourage misting because it can encourage crown rot. I think the second alternative is a better one for the majority of in-home growers. Unless you have very good air circulation the chance of crown rot is rather high. And unless you catch the rot as soon as it starts, you will probably lose the plant. Growing the plants on humidity trays should give them enough humidity for good growth. Watering early in the morning allows foliage to dry before night.

Fertilize your orchid weekly with a fertilizer designed for orchids. These fertilizers can normally be purchased at the same location as you found your orchid. A small bag will go a long way. Most experts recommend that you cut back the amount you use from the recommended amount by about half. First run water through the pot at the kitchen sink and then fertilize. Once the water has stopped dripping, return the plant to its spot.


You Should Also Read:
Phalaenopsis—Pick out a good one
Phalaenopsis—What Next?


Editor's Picks Articles
Top Ten Articles
Previous Features
Site Map





Content copyright © 2021 by Susan Taylor. All rights reserved.
This content was written by Susan Taylor. If you wish to use this content in any manner, you need written permission. Contact Anu Dharmani for details.