Edwige Renaudin - La Frivolité aux Navettes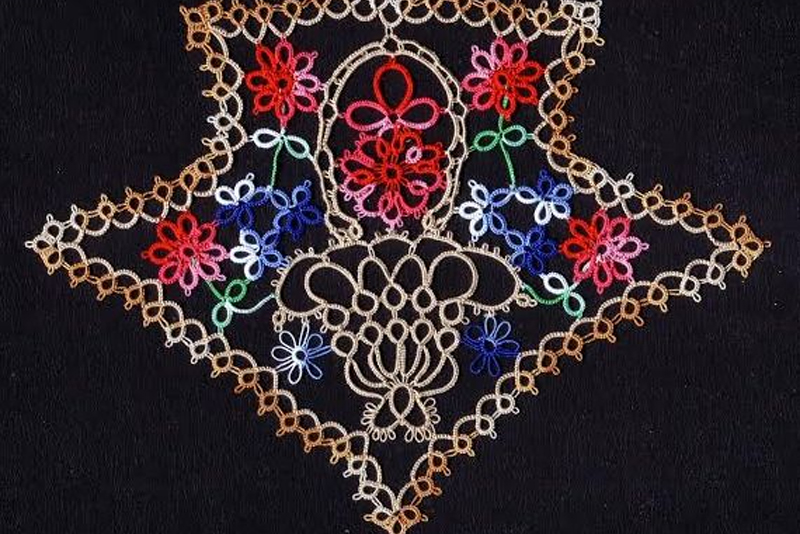 Edwige Renaudin, "La Frivolité aux Navettes, Les Bases Fondamentales Perfectionnées Vol. 1" published by éditions didier carpentier, 2012, HB, more than 1000 photos and illustrations, 92 pages in full color.
Although the text of this book is all in French, the photos, diagrams and illustrations make this book a true treasure for tatters, tatting historians, tatted lace designers and tatting teachers. It is the most comprehensive book about tatting I have encountered in more than 33 years of tatting. It begins with a history of tatted lace with a detailed list of tatting terms and abbreviations. Then it continues with an examination of the tools of tatting and the use of the shuttle. The double stitch, the element which is the foundation of tatting lace is presented in a comparison study between the true tatted double stitch and the wrapped double stitch (also called a lark's head knot.)


style of patterns






style of tutorials





I am almost at a loss for words to describe the immense value of this book. Each movement of the hand and thread is dissected, photographed and diagrammed. The effect of opposing movements of the thread is shown. The proper placement of a picot, using the width of a double stitch as the measurement of a picot and the difference in appearance of the picot on the front as opposed to the back of the work are all discussed and illustrated in color photos. Joins are presented in a manner to let us understand fully their construction and the effect on the appearance of the lace.





Edwige Renaudin is a well-known master tatter in Europe. Her lace has been featured at the Horstmar Lace Exhibition in Germany for nearly two decades. A member of the Ring of Tatters, Dentelles en France, Deutschen Occhi-Ringes and many other lace guilds, her tatting makes a powerful impression. For example, please study this tapestry-like or manuscript-like piece which she created. Here she illustrated the story of Sir Yvain, one of King Arthur's Knights of the Round Table, rescuing the proverbial damsel in distress, https://www.ringoftatters.org.uk/gallery/lacegld04/edwige.html, ... a stunning masterpiece in tatted lace.






Edwige, with the help of Mr. Sylvain Le Guen, both members of the Cercle de l' Éventail, also created a wonderful fan in tatting. A step-by-step presentation of the making of the fan is posted online: https://www.lecurieux.com/Frivolite/frivolite.htm. And, here is a photo of Edwige at work making a tatted cluny-style tally: https://www.georgiaseitz.com/2007/edwigerenaudincluny.jpg.



(Here are some photos from a Horstmar exhibition: https://www.iristatting.com/HORSTMAR.html).

It is a marvelous book and I am so delighted to have acquired it for my personal tatting book reference library. G. Seitz

You Should Also Read:
Building a Tatting Library -Techniques
French Tatting Terms


Related Articles
Editor's Picks Articles
Top Ten Articles
Previous Features
Site Map





Content copyright © 2023 by Georgia Seitz. All rights reserved.
This content was written by Georgia Seitz. If you wish to use this content in any manner, you need written permission. Contact Georgia Seitz for details.