Tea and History on Campobello Island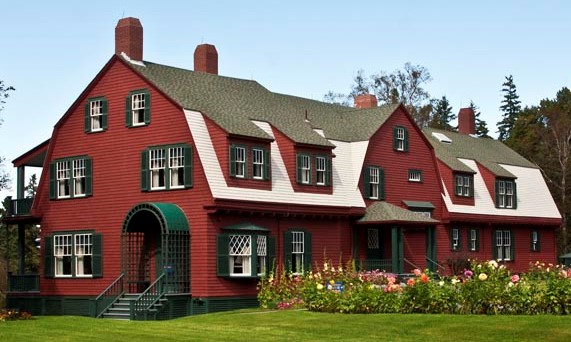 President Franklin Roosevelt had spent his summers on Campobello Island since childhood, a tradition he continued with Eleanor and their children (one of whom was born here) from 1909 until 1921. While vacationing there that last summer, Franklin was stricken with polio, ending the annual visits, although they did return several times after he became president.
Today the Roosevelts' 34-room cottage is the centerpiece of Roosevelt Campobello International Park, a 2,600-acre area that serves as a memorial to Roosevelt and preserves an example of the era's summer lifestyle for wealthy families like his. This lifestyle and the Roosevelt family are remembered in photos and exhibits inside the visitor center, where we began by seeing Beloved Island, an excellent 15-minute film about the family's summers on Campobello. We also made reservations for Tea with Eleanor that afternoon.
Beautiful gardens line the walkway to the shingled wooden cottage, whose bungalow-style architecture reflects the rustic simplicity of the then-popular Arts and Crafts Movement. Although big – the family was a large one and they arrived with their staff each summer – it is far from pretentious. The furniture is rustic wood, wicker and typical "cottage" style, and the cottage had no electricity or telephone when they lived here.
Touring the house brings this family, one of the most important in America's 20th-century history, to life as real people enjoying a family vacation away from the everyday business of life. We could almost see Eleanor using the big bullhorn to summon the children to tea.
Tea time had been sacred to Eleanor since childhood, and she wasn't about to let a summer vacation interrupt that. She served it promptly at 3 pm each afternoon they were at Campobello. The tradition lives again, and we joined it in the Hubbard Cottage, a neighboring (and far more sumptuous) summer home a short walk away, past the ice house. We were welcomed to Campobello's Tea with Eleanor by two staff members who have learned everything they could about Eleanor and her life here, and whose boundless enthusiasm for their subject was soon obvious.
Over tea (in china cups, of course) and tasty cookies we soon caught their contagious enthusiasm as we heard glimpses of her wit, her determination and her courage. Most of all, we left feeling as though we had known her, even if only a little bit. The lively commentary was aided by the memorabilia decorating the room where tea is served – Eleanor's knitting needles and examples of socks she knit for servicemen during World War II.
Along with the two cottages and gardens to tour, the grounds of
Roosevelt Campobello International Park
are networked by walking trails that lead along the shore and to raised heath-covered bogs. I find bogs and the unusual plants that thrive there fascinating, so I was pleased to find a brochure, The Bogs of Roosevelt Campobello International Park, free at the visitors' center and showing their locations and access.
I also found there another booklet, Birds of Campobello, from which I learned that the island lies on the Atlantic flyway, and its habitats of bogs, salt and fresh water marshes, open fields, forests, thickets, cliffs and ponds host resident songbirds and, especially during October migrations, considerable waterbird activity. The booklet has a map and descriptions of the habitats and observation points, and a checklist of bird species.
Visiting Campobello
Tea with Eleanor takes place daily, and like admission to the park and house, tickets are free, issued to the first visitors request them each day. They are limited, so a good plan is to arrive when the Visitors Center opens at 10 am. There is plenty to see on the island while waiting for tea to begin, including East Quoddy Head Lighthouse, eastern Canada's most photographed lighthouse. Whales are commonly spotted from the high cliffs of East Quoddy Head. Owen House a short drive away in Welshpool,
Owen House
is a hospitable B&B in an 1830s house filled with art and antiques.
Campobello Island is in
New Brunswick
, Canada, reached by regular car ferry from mainland New Brunswick, and by bridge from Lubec,
Maine
.
You Should Also Read:
Maine's Admiral Peary Inn
Acadia National Park Maine
Maine's Inn by the Sea


Related Articles
Editor's Picks Articles
Top Ten Articles
Previous Features
Site Map





Content copyright © 2022 by Barbara Radcliffe Rogers. All rights reserved.
This content was written by Barbara Radcliffe Rogers. If you wish to use this content in any manner, you need written permission. Contact Barbara Radcliffe Rogers for details.