Porter - History of Beer and Imagination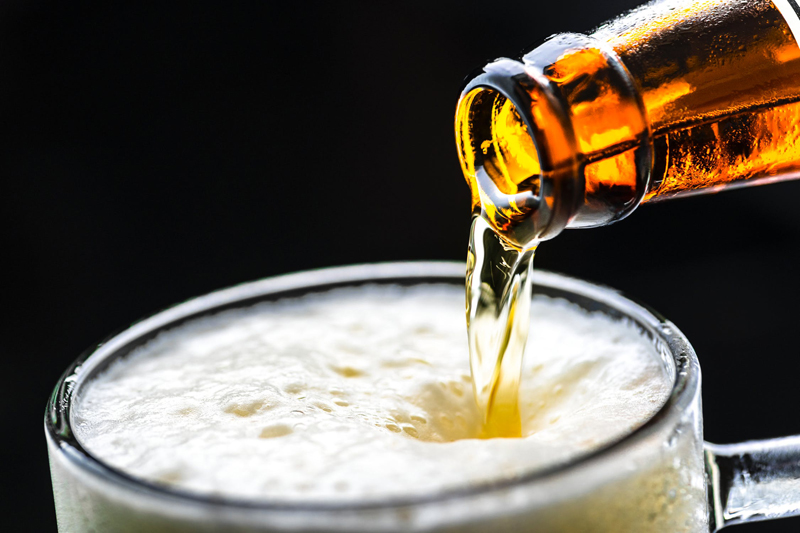 As a beer lover, you know and understand the joy of drinking "liquid bread," those porters that give rise to a satisfaction beyond the mere quenching of thirst. Legend has it that this style was first developed as a happy accidental blending of soured ale, brown ale, and weak ale. The soured ale gave the porter a classic "bite" that was celebrated among men with a matured taste for this unusual blend.

Porter became the fad of the day in the 1700's around jolly old England. It initially gained popularity among the transport workers in Central London, those brawny common folks who would endure hard labor with no more than a few pints of porter and a few pounds of bread per day. The endurance of the laboring class did not go without recognition, and before long, porter gained credit as the catalyst for this endurance. As a result, the well-bred and distinguished citizens embraced this beverage as well, igniting an explosion within the brewing industry. Porter became so popular, in fact, that brewers who could adapt to a grand scale were able to make comfortable fortunes producing this one style of beer.

Grand became grandiose, and it soon became necessary to construct huge wooden vats for the fermentation and aging of the finest porters. This aging process could take up to a year for the more desirable of these brews, so these fermentation vessels became a feat in strength and engineering. The largest vat in the world was built by the Meux Brewery in London with the ability to hold 860,000 gallons. Before these vats were used, huge celebratory dinners were held inside them, a practice that served as "market branding" in the development of emotional bonds between the patrons and their premier brewers.

Notwithstanding the tight bond between these people, October of 1814 went down in history for an event that crushed the dreams of scores of London porter lovers. One of the most grandiose vats at the Meux Brewery gave way, sending a tsunami of porter through the streets. Homes crushed like toothpicks under the force of the brew. A human being didn't stand a chance! In fact, eight folks lost their lives in the debacle, through drowning, drunken poisoning, or injuries beyond the limitations of the medical community of the time.

When the Revolutionary War broke out in the American colonies, trade with England ceased, and brewing porter was left in the hands of the colonists. George Washington was famous for his love of this fine "food." He believed it to be a wholesome and nutritious beverage, necessary for good health and satisfying to the thirst of his field officers. As a man with revolutionary ideas, Washington regularly ordered abundant supplies of a porter brewed by Robert Hare of Philadelphia, Pa. This was delivered to the presidential mansion through the efforts of beverage agent, Clement Biddle. Washington was also known to raise a few glasses of this fine porter with prominent Philadelphia citizens and foreign dignitaries at City Tavern, the unofficial meeting place for the First Continental Congress of 1774.

America was a tapestry of cultures since it's very beginnings, and waves of German immigrants brought changing styles. These masters of brewing created a hybrid style of porter employing bottom-fermenting yeasts, those typically used in the lager style of brewing to which they had become accustomed.

Public tastes change over time. Porters eventually lost their popularity in America and nearly had their demise, when the "Age of the Microbrewery" hit with full force. Craft brewers with a dedication to the art emerged with enthusiasm to produce some of the finest porters in the world. These are generally deep mahogany in color, with roasted smoky flavors and a shade of chocolate subtlety.

Not only is porter a satisfying beverage, but it is also an extraordinary ingredient in gourmet beer cookery. This is where a porter can dance on the wind! By merging classic cookery with 200 years of tradition, the world of fine cuisine presents itself to both the gourmet chef and the beer enthusiast. The robust roundness of porter blends particularly well in veal and sausage dishes. Moist cakes, chocolate or spiced, play symphonies when merged with the body of a strong porter.

If you have never tried the best of the best in porter, you may wish to enliven your taste-buds with a bit of Snipes Porter (Robust Porter) from Snipes Mountain Brewing, Inc., Sunnyside, WA, or Pete Brown Tribute Ale (Brown Porter), Bear Republic Brewing Company, Inc., Healdsburg, CA, both Gold Medal Winners at the Great American Beer Festival 2004.

Other top-shelf porters upon which you might wish to hone your taste-buds:
•Black Sand Porter, Kona Brewing Company, Kailua-Kona, HI;
•Edmund Fitzgerald, Great Lakes Brewing Company, Cleveland, OH;
•St. Charles Porter, Blackstone Restaurant & Brewery, Nashville, TN;
•Pyramid Porter, Pyramid Ales & Lagers, Seattle, WA;
•Alaskan Smoked Porter, Alaskan Brewing Company, Juneau, AK;
•Anchor Porter, Anchor Brewing Company, San Francisco, CA;
•Sierra Nevada Porter, Sierra Nevada Brewing Company, Chico, CA;
•Exodus Porter, Sweetwater Brewing Company, Atlanta, GA.

These lively brews release a tantalizing sweet maltiness, balanced by the bitter aromatics of the hops, flavors that are likened to the complexity of a seductive evening with a new lover. Enjoy! The treat is worth the leap!






Editor's Picks Articles
Top Ten Articles
Previous Features
Site Map





Content copyright © 2022 by Carolyn Smagalski. All rights reserved.
This content was written by Carolyn Smagalski. If you wish to use this content in any manner, you need written permission. Contact Carolyn Smagalski for details.