The Art of Breadmaking with Beer - The Basics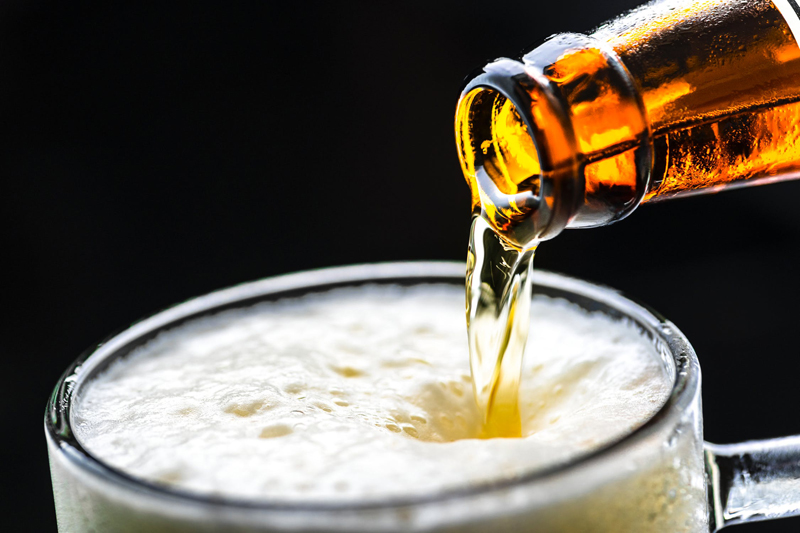 Consider the time-honored art of bread-making. If you've never experienced the joy of making bread, grab your feather pillow and join me in the kitchen. What better way to learn about kneading bread, than to practice the motions before the event?

You may wish to plan a field trip to your local beer market, too. Take along a sizable basket, gathering crisp Wheat Beers and Hefeweisens along the way. No properly trained bread chef would consider crafting a loaf without the yeasty boldness of a well-blended brew.

Wheat beers produce crisp, light flavors in bread. They add a moist richness not found in mass-produced loaves. The alchemy between beer and bakers' ingredients continue to develop additional flavors for two or three days after baking, if your loaf lasts that long.

Wheat and Hefeweisen styles of beer are ideal for premier breadmaking. These beers are pale straw to deep sunset in color. Many are unfiltered, producing a misty sunrise glow due to the high protein content in the wheat. The head is characteristically creamy and long-lasting, like a seductive night in dreamland. They whisper with the delicacy of citrus esters and cloves. The German style Weissbier may have soft hints of banana. A fluffy mouth-feel is followed by a surprisingly crisp finish. This style is so light to moderately hopped that the usual bitterness found in other styles of beer is non-existent in the wheats.

Since wheat beer is full of gums and glutens, it creates bread with a dense, elastic texture, whereas beer made without a hefty proportion of wheat may produce bread of a dry, crumbly quality. The enormously refreshing quality of wheat beer lingers in the air throughout the kneading and baking process.

Wheat beer was originally developed in Europe as a quenching alternative for the warm summer months. Although the German Hefeweisen or Weissbier, Belgian Witbier and American Wheat styles differ in the yeasts and spices used, they all tend to have the consistent fresh qualities of slight tartness and are crisply brisk.

The yeast in the beer will help the bread to rise, but the addition of active dry yeast is still necessary. When making your bread, you will want to combine a small portion of flour with sugar, salt and dry yeast before adding any warmed liquid. Yeast is delicate and needs to be protected from sudden or extreme temperatures. This "insulation" within the flour and sugar mixture will serve as ample protection.

Your recipe will have various liquids that need to be blended and warmed between 120 and 130 degrees. These liquids may include combinations of wheat beer, milk and butter - or variations of these with the additions of cottage cheese, corn syrup or molasses. You will then need to beat this blend with an electric mixer for 2 minutes to activate the gluten, giving your bread body and elasticity. The remaining flour is stirred in by hand.

Your next step in this traditional process is kneading the dough. If you practice with your pillow, you will firmly grasp the edges and draw them into the center, pressing with your knuckles or the heel of your hands. Continue to turn the pillow a quarter of the way, manipulating and fluffing until it is well puffed. When you feel comfortable with your technique, place the dough on a clean, floured surface and knead in the same manner that you used on your pillow, dusting the dough with flour as necessary to prevent any sticking. The recipe will usually specify how long to knead, varying from 4 to 10 minutes.

Now place the dough in a well-greased bowl, lightly grease the top of the dough, cover with a linen towel, and let rise in an 80 to 85 degree area until doubled in size. If quick-rising yeast is used, this will generally take from 1 to 1-1/2 hours. Punch down the dough and shape as desired. Cover and let rise or about 45 minutes. Bake for the specified time until a golden brown. Meanwhile, relax with a sparkling glass of Hefeweisen, knowing that it is well deserved.

During this process you will experience the joy of aromatic yeasts and sparkling wheat beer filling the air. The wonder of this old-world process will bring your family and visitors to the kitchen in curious parade. They will linger about, unconsciously inhaling the sweet aromas, excited anticipation painted upon their faces. Bread-making by hand is so rare a talent, that the wonder of such an artful event will be remembered long after the loaves have been consumed.




Related Articles
Editor's Picks Articles
Top Ten Articles
Previous Features
Site Map





Content copyright © 2022 by Carolyn Smagalski. All rights reserved.
This content was written by Carolyn Smagalski. If you wish to use this content in any manner, you need written permission. Contact Carolyn Smagalski for details.