Winter Warmers with Heat and Spice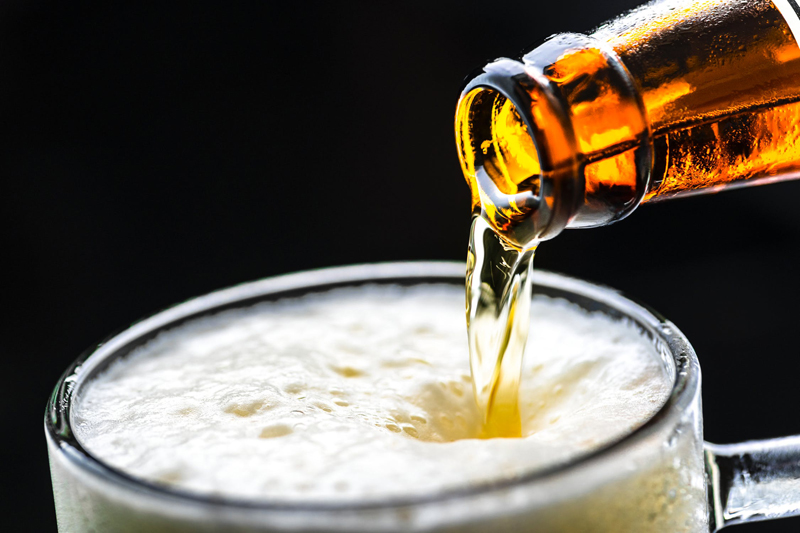 As the next winter storm rolls in with words like cold, crisp, dark and intense, my mind can't help wandering into the land of the loaded sugarplum fairies. This is that special place where all is at peace, down those winding stairs, into the depths of darkness, where Christmas Ales and Winter Warmers linger, awaiting their turn at Party Hour Central. You may want to call my cache a Beer Cellar, but it is so much more. This is where holiday magic begins; where generosity and sharing leap from the hands of the givers; and where dreams for the New Year take wing.

The Grinch may scream out, "I don't like dark beer!" but those of us who are open to love and adventure recognize the folly in that way of thinking. It shuts us out of the grandstands, closes us in a box, and negates our power of choice.

If your idea of beer is limited by "the most interesting man in the world" style thinking, it's time to put on a new hairstyle, exchange your old trainers for hot silver stilettoes, and stretch into the realm of chocolate, fruit, and a touch of boozy pleasure. The holiday sack has never been so stuffed with goodies for the adult table.

Some may wish to categorize their beer by color or style; but for fun purposes, I prefer a slightly different approach with my winter warmers. Let's categorize by beers to savor, sweetness for the palate, boozy brews, and meaty monsters.

Beers to Savor

French Country Christmas Ale – Southampton Brewing Company, Southampton, New York – Biere de Garde of 6.6% ABV: The fruits have it – pear, peaches, orange peel – as they swim in a bold, holiday spiciness and herbal symphony. Despite the wet stickiness of flavor, it remains soft and pillowy on the tongue.

Boucanier Christmas – Brouwerij van Steenberge, Ertvelde, Belgium – Belgian Strong Pale Ale of 9.0% ABV: Light and sticky, this beautiful body/creamy head combo presents aromas of pale fruits – peaches, apples and green grapes – drenched in spice and honey-painted challah.

Zwarte Piet's Christmas Ale – Church Works Brewery, Pittsburgh, Pennsylvania – Belgian Dark Ale of 7.3% ABV: Zwarte Piet knows how to fill up a room with winter spice, roaring like a fire that never diminishes. This savory brew touches the noes and the palate with sweet toffee, loaded caramel, dark-brown sugar and bittersweet chocolate, while leaving a residual hint of ginger, raisins, orange peel and star anise. Spalter Select adds an herbal note to a perfectly done winter warmer.

Sweetness for the Palate

Sweet Baby Jesus – DuClaw Brewing Company, Baltimore, Maryland – American Porter of 6.5% ABV: Dark and roasty malts merge with cocoa and subtle peanut butter sweetness that emerges big and full with each subsequent gulp. Effervescence scrubs the sweetness from the tongue and allows the bitter finish to clean the palate so it's ready for the next go-around.

Gingerbread Jesus – Collaboration Brew from Reverend Kirk Berlenbach of St. Timothy's Episcopal Church of Roxborough, Philadelphia, PA and Barren Hill Tavern & Brewery, Lafayette Hill, Pennsylvania – Belgian Dubbel of 9% ABV: Molasses, cinnamon, dark fruits, nutmeg, and lots and lots of ginger make this gingerbread boy in a glass one of the most pleasurable holiday comestibles. Hints of spice cake add a distinctive malt backbone.

Boozy Brews

He'Brew Hanukkah, Chanukah: Pass The Beer – Schmaltz Brewing Company, Clifton Park, New York – Winter Warmer at 8.0% ABV: As with so many of the "Schmaltzy" beers, boozy notes emerge in every mouthful, singing of winter and warming the throat. Filled with toasty and roasty caramel notes, Chanukah beer is crafted with 8 malts, 8 hops and 8% alcohol, celebrating the 8 days of Chanukah in style. Tiny bubbles dance on the tongue, but allow the light nuttiness and natural spiciness to pleasure the palate.

Warmer Winter Winter Warmer – Cigar City Brewing, Tampa, Florida – Old Ale of 11% ABV: Demand presentation in a brandy snifter to savor every bit of booziness from this bold brewsky. Full of the aromas of Greek figs, chewy red raisins, and dark stone fruits, this strolls across the tongue with fruitiness, toffee, and rich chocolate, while emergent heat never lets you forget the true meaning of "winter warmer."

Meaty Monsters

Santa's Little Helper 2014 – Mikkeller ApS, København, Denmark – Belgian Strong Dark Ale of 10.9% ABV: Such goodness in a bottle! Dark cherries, raisins, plums, milk chocolate, cinnamon, nutmeg and vanilla waft through the air, inviting you to indulge in a bit of naughtiness. Santa's full bodied brew invites foodies to sidle-up with a hearty rib roast or do a double-hit with pecan pie and ice cream.

Frostnipper Winter Warmer – Aviator Brewing Company, Fuquay-Varina, North Carolina – Winter Warmer of 8.5% ABV: Delight in the darkness of this ruby-esque, mahogany brew, as it fills the mouth with light malts, touched with ash, while caramel and toffee blend with earthy hops. Creamy as silk in the mouth, the sweetness is followed by nutmeg, cinnamon and light licorice notes, making the winter experience one that one hopes will last until spring.

Not-to-miss Winter Warmers in two brief words (almost):

Fireside Chat – 21st Amendment Brewing Company, San Francisco, California – Winter Warmer of 7.9% ABV: Spicy Classic

Hoppy Christmas – BrewDog, Frasreburg, Scotland, UK – American IPA of 7.2% ABV: Tangy Green

Mahr's Christmas Bock – Mahr's-Brau, Bamberg, Germany – Bock of 6.0% ABV: Walnut-Cream Cake

So This is Christmas – Funky Buddha Brewery, Oakland Park, Florida – Winter Warmer of 9.4% ABV: Peppermint Spicecake

Serafijn Christmas Angel – Microbrowerij Achilles, Itegem, Belgium – Belgian Strong Pale Ale of 8.0% ABV: Honey Crisp

Chocolate Crush Imperial Porter – Conshohocken Brewing Company, Conshohocken, Pennsylvania – American Porter of 7.6% ABV: Mahogany Chocolate

Bourbon-Barrel Aged Santa's Little Helper – Port Brewing Company, San Marcos, California – American Double/ Imperial Stout of 10.0% ABV: Sexy-hot-mocha-coffee-drenched-in-vanilla-and-booze Dreamer

Santa's Private Reserve Ale – Rogue Ales, Newport, Oregon – American Amber of 5.3% ABV: Crispy C-Sipper

Upslope Christmas Ale – Upslope Brewing Company, Boulder, Colorado – Belgian Strong Dark Ale of 8.3% ABV: Cinnamon-Spice Dubbel (but so much more!)

Cuvee Angelique – KleinBrouwerij De Glazen Toren, Erpe-Mere, Belgium – Belgian Strong Dark Ale of 8.3% ABV: Multi-climactic Enticement

Bad Attitude Rudolph – Birrificio Ticinese, Stabio, Switzerland – Winter Warmer of 8.34% ABV: Spice-drenched fruits

Evil Twin Even More Jesus – Evil Twin Brewing Company, København, Denmark – American Double/Imperial Stout of 12% ABV: Golden Indulgence

Samuel Smith's Winter Welcome Ale – Samuel Smith's Old Brewery (Tadcaster) – Tadcaster, England, UK – Winter Warmer of 6.0% ABV: Liquid Fruitcake

Nutcracker Ale – Boulevard Brewing Company, Kansas City, Missouri – Winter Warmer of 7.8% ABV: Star-stuck Achievement

Jubelale – Deschutes Brewing Company, Bend, Oregon – winter Warmer of 6.7% ABV: Espresso Excellence

A Deal with the Devil – Anchorage Brewing Company, Anchorage, Alaska – American Barleywine of 17.3% ABV: Synergistic Stimulation

What more is there? All you need is a long, long winter to explore the joys of the season of darkness.

Cheers!


You Should Also Read:
Mad Elves and Bad Elves
Winter Warmers for the Discriminating Beer Drinker
Holiday Seasonal Beer & Party Snackers


Related Articles
Editor's Picks Articles
Top Ten Articles
Previous Features
Site Map





Content copyright © 2023 by Carolyn Smagalski. All rights reserved.
This content was written by Carolyn Smagalski. If you wish to use this content in any manner, you need written permission. Contact Carolyn Smagalski for details.