3 Cozy Mysteries for Light Summer Reading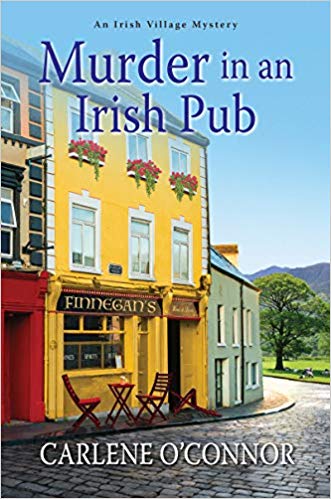 Summer is the perfect time to read light cozy mysteries. They're perfect for the beach, or for a long ride on an airplane. While cozies have no graphic sex, violence, or language, they often have plenty of suspense that builds throughout. Cozies come in dozens of sub-genres, such as culinary mysteries (a favorite since most contain recipes), cozies about pets, and cozies about almost every hobby imaginable such as quilting, scrapbooking, etc. Some have large followings and are bestsellers, such as JoAnne Fluke's Hannah Swenson series and Diane Mott Davidson's (who was one of the first to write a culinary mystery with recipes) Goldy Schulz series. Others are just breaking into the genre and aren't so well-known, but are good reading just the same. For those who like light reading with a bit of suspense and a good mystery, these fun books will be perfect for leisure summer reading.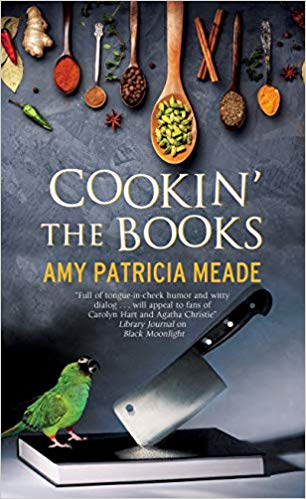 In the first of a new series,
Cookin' the Books
, by Amy Patricia Meade, introduces Tish Tarragon and her new restaurant to Hobson Glen. Her first catering job is for Binnie Broderick, a woman who is not only difficult to work with, but who has offended almost everyone in town. Tish is contracted to feed library patrons at a formal fundraising dinner, and Binnie is murdered at the dinner. Tish and her food is blamed, of course, and she must not only get her business in order, but also find the murderer to save her reputation.
Meade is a good storyteller (this is not her first series, and she is the author of several mystery novels), and this novel is easy to follow. Her characters are well-developed and seem like real people. The small town where this series takes place is an idyllic small town with a nice atmosphere – a place that readers will want to escape to.
While there are dozens of food references, this novel, unfortunately, doesn't contain any formal recipes. However, throughout the novel some of the dishes are mouthwatering enough to tempt the reader to duplicate them just from their description.
Cookin' the Books
is a short, easy read.
---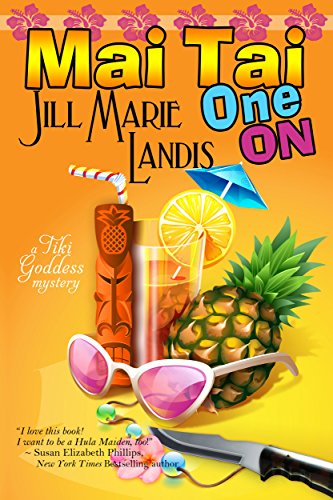 Jill Marie Landis writes The Tiki Goddess Series, and Mai Tai One On is the first in the series. Rather than dwell on the food (although there are lots of food references), this series focuses on cocktails served at a rundown bar on the North Shore of Kauai called The Tiki Goddess. Em Johnson, a divorcee who has escaped from her former life, runs the bar, and discovers the body of a neighbor who was a troublemaker, in her Goddess luau pit. With the help of some elderly has-been dancers, Em tries to find the murderer because she is blamed.
Landis is a veteran writer, and knows how to tell a story with a little romance and a lot of humor. This is not to say that there isn't suspense – there is, and it builds throughout. Readers won't know who-done-it until the very end. There are several cocktail recipes included, and the characters, who are mostly likeable and believable, will tempt readers to pick up the remaining books in the series. Fun! Fun! Fun!
---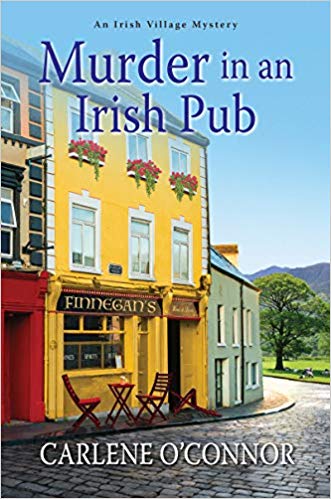 Murder at an Pub
is the third in the Irish Village Mystery series by Carlene O'Connor, and brings back Siobhán O'Sullivan and her five siblings in the small town of County Cork, Ireland. They own a successful restaurant, Naomi's Bistro, and there is a poker tournament in a pub nearby. When the star poker player is found murdered, Siobhán, whose boyfriend just happens to be with the local garda (police force), sticks her nose into the investigation. Siobhán's romance is heating up, and her younger brothers may be connected to the murder.
This series is fun, and really brings out the atmosphere if Ireland. Readers will surely want to visit Naomi's Bistro, and will want Siobhán as a close friend. The O'Sullivan family is typical with down-to-earth and believable challenges, and readers will definitely relate. Regrettably, this series doesn't include recipes, and since Siobhán is famous for her Irish Brown Bread, readers will find themselves searching for a good recipe for it. The books in this series are fast reads and suitable for all ages.
Special thanks to NetGalley for supplying review copies of these novels.


Related Articles
Editor's Picks Articles
Top Ten Articles
Previous Features
Site Map





Content copyright © 2023 by Karen Hancock. All rights reserved.
This content was written by Karen Hancock. If you wish to use this content in any manner, you need written permission. Contact Karen Hancock for details.