Witch-Themed Cozy Mysteries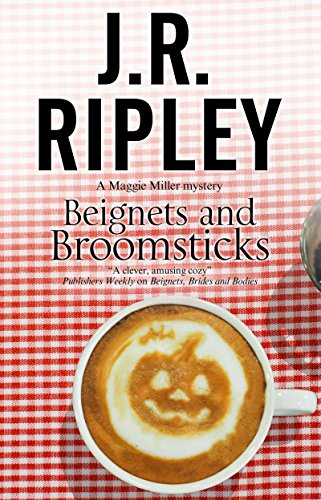 Everyone likes to imagine that there is really magic in this world, and there are dozens of cozy mysteries with lighthearted witchcraft themes. Most of the protagonists are good witches, and other than being magical, are close to what could be considered normal (is anyone really normal?).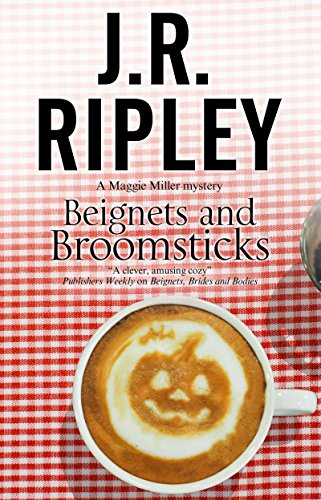 The Maggie Miller Mysteries, set in the small town of Table Rock, Arizona, are great fun, featuring Maggie who is the owner of a small Beignet café. This series is light quite humorous, and the protagonist, Maggie Miller is likeable, albeit a bit pushy and indefatigable when it comes to solving mysteries. The third installment,
Beignets and Broomsticks
features Maggie who, on Halloween night, discovers the body of a regular customer who had been studying witchcraft. As Maggie gets herself in the middle of the investigation, she finds several things that don't quite add up. It is to her benefit to solve the murder, and, as is Maggie's style, she puts her nose into everything.
Maggie and the other characters are well-developed, and even readers who haven't read the previous novels will be able to enjoy this novel. However, this is a fun series and those who enjoy light cozies will definitely want to go back and read everything in the series. This series is great reading for sitting on the beach or traveling on an airplane, and is suitable for all ages since it doesn't contain graphic sex, violence, or profanity. Fun, Fun, Fun!
---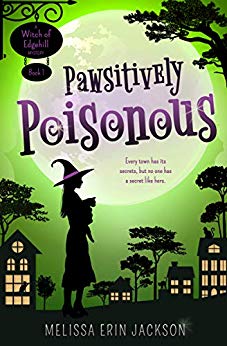 Pawsitively Poisonous
is the first book in a new series featuring Amber Blackwood, who is a good witch, living in the quirky town of Edgehill. Everything in the town has a cat theme (streets, shop names, festivals, etc.). Amber is on the Here and Meow committee with her friend, Melanie. Melanie comes to Amber's shop, The Quirky Whisker, to get one of Amber's tonics for her headache; Melanie has been sick and hasn't been able to get better. Shortly after, Amber learns that Melanie has been found dead. The police chief, Owen Brown, doesn't like or trust Amber, and since Melanie was found with a vial from Amber's shop in her hand, the chief suspects her in the death of her friend. Amber decides she must find who actually murdered Melanie and while doing so, gets herself into several suspicious situations.
Since this is the first book in the Witch of Edgehill Series, it introduces the characters, as well as the small town. Everyone has cats – Amber's are Tom Cat and Alley Cat (clever), who play a part in the story. There are a lot of references to food, and it is disappointing that the book doesn't feature any recipes as many cozies do. However, the book is a fast read and quite clever and humorous. The characters are also well-developed and readers will feel like they can relate to them. The dénouement is a surprise, and the scenario at the very end of the novel will make readers highly anticipate the next installment.
A special thank you to NetGalley for supplying a review copy of these fun novels.


Related Articles
Editor's Picks Articles
Top Ten Articles
Previous Features
Site Map





Content copyright © 2023 by Karen Hancock. All rights reserved.
This content was written by Karen Hancock. If you wish to use this content in any manner, you need written permission. Contact Karen Hancock for details.