Noodle Shop Mysteries by Vivien Chien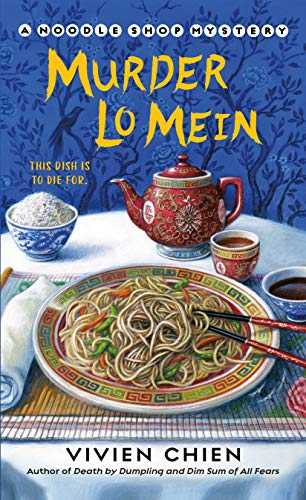 Sometimes it's nice to read a good mystery that is a quick read with minimal violence, and no blatant language or sex. These generally fit into the Cozy genre, and there are dozens of subjects out there that are light, fast reads. A favorite in the genre is the culinary mystery where there are food themes and sometimes recipes for the foodies who like not only reading about food, but also reading a good mystery. These cozies generally have clever titles.
Vivien Chien is the author of the Noodle Shop Mysteries, and introduces characters that belong to a close knit Asian community. The main protagonist, Lana Lee, is the manager of her family restaurant, a job she never wanted, but one that she is very good at. Her parents pushed her into it when she did such a good job while they were out of town, and now, especially because of the Asian culture and the deep respect family members have for each other, Lana knows that she will be in this career forever. That is not to say that family members always get along, and the characters seem real when they have conflict. Although Lana has plenty to do, she considers herself to be an amateur detective, much to her boyfriend's chagrin, since he is a police officer and he and his colleagues are usually investigating. Lana is a bit pushy, and gets herself into tight situations.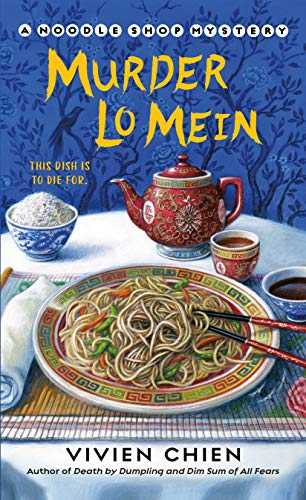 Murder Lo Mein
is the third installment in the Noodle Shop Mysteries. Since Lana is the manager of her family restaurant, she enters the Cleveland's Best Noodle Contest, knowing full well that her head chef, Peter Huang, has what it takes to win. However, one of the judges is not well liked, and after receiving a fortune cookie with an ominous message, is murdered. There is another murder, also with a fortune cookie like the one before, and then Lana receives one also. Lana's boyfriend has asked her to keep her nose out of his investigation, but since she does what she wants, and has a huge suspect list, she keeps on, putting herself and others in danger.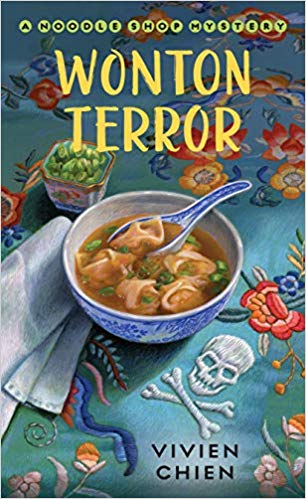 Wonton Terror
is the fourth installment in the series, and Lana Lee is investigating the explosion of a food truck owned by friends of her parents, Ronnie and Sandra Chow while set up at the night market where Lana's restaurant was also taking part. Ronnie was killed in the explosion, and there is enough foul play to suspect that the victim was murdered. It has been rumored that the Chow's were having financial problems and the explosion may have been due to insurance fraud. However, Lana's grew up knowing these people and knows that they are upstanding and honest. Their son, Calvin, is interested in Lana, but Lana is dating her dream man and is only interested in Calvin to get questions answered in her own investigation.
This series is fun, and the food theme makes readers tempted to read the books while enjoying Chinese food at a good restaurant. The biggest problem with this series is that the novels don't contain any recipes, and that is a shame, since almost everyone loves Chinese food and would probably like to try making it at home.
The books are well-written, and the stories flow well. Readers will like the characters and the introduction to Asian culture, which may be foreign to some.
Special thanks to NetGalley for supplying review copies of these novels.


Related Articles
Editor's Picks Articles
Top Ten Articles
Previous Features
Site Map





Content copyright © 2023 by Karen Hancock. All rights reserved.
This content was written by Karen Hancock. If you wish to use this content in any manner, you need written permission. Contact Karen Hancock for details.