Lucy Stone Cozy Mysteries Reviews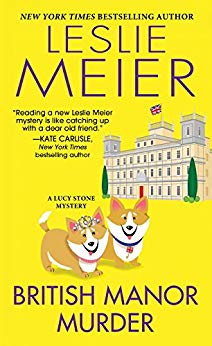 Cozy lovers have enjoyed the Lucy Stone Mysteries for years. The stories are well-written, the characters are well-developed, and most can relate to the small-town problems Lucy and friends encounter. Leslie Meier does a good job of capturing authentic Americana in the tiny town of Tinker's Cove, Maine, as well as the places Lucy travels to in some novels. Lucy is an old friend, and fans enjoy reading as her family matures and things in the town change. Here are two of the later novels.
British Manor Murder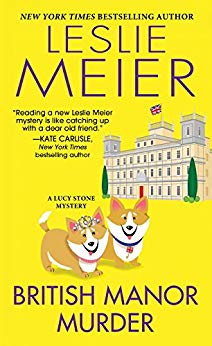 Lucy Stone is depressed, things haven't been going right, she misses Patrick after he left to go back to Alaska, and she needs something new. Lucy's best friend, Sue, invites her to go with her to England where she is helping an Earl she met previously, with a hat display, and while they are there, they discover a dead body in the British Manor where they are staying. Of course Lucy uses her skills to help find the murderer, and her adventures put her and Sue, as well as the Earl's family members in danger.
Fans of the Lucy Stone series will enjoy this novel because the beloved characters are back, and Leslie Meier definitely knows how to tell a good story. This cozy series is lots of fun, as well as well-written and easy to follow. Lucy, et al, seem like old friends, and her adventures are usually quite believable. Meier captures the nuances of British life in this novel, and makes readers want to visit England and see for themselves. Fun! Fun! Fun!
Silver Anniversary Murder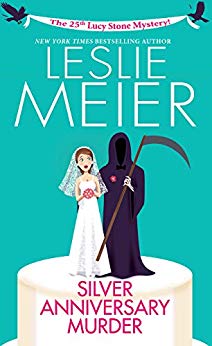 Lucy's best friend, Beth, from childhood has just died – having jumped off a 20+ story balcony - and her death has been ruled a suicide. Lucy flies to New York to attend the funeral and see Beth's son, who she has been close with over the years. While there, Lucy finds it very convenient that Beth committed suicide, since her estranged billionaire husband has been accused of shady dealings and Beth was going to testify against him. Lucy doesn't believe her friend Beth would commit suicide, and neither does her son, so after the funeral, Lucy plans another trip to New York to investigate. This proves very dangerous, especially because Lucy checks out Beth's three previous husbands. During her investigation, Lucy is kidnapped and held captive. She may not get out of this one alive.
Meier goes out on a limb in this fun, fast-moving novel, and the suspense builds throughout. There are some new characters, but Lucy, her husband Bill, and family are still a part of this novel. Because Lucy is in New York on her own, albeit some old girlfriends that grew up with her there, readers will feel a sense of danger because New York is a dangerous city. Meier is able to capture what most of us think of New York in this novel. Enjoyable, and a bit more intense than some of the previous Lucy Stone books.
Special thanks to NetGalley for supplying review copies of these novels.


Related Articles
Editor's Picks Articles
Top Ten Articles
Previous Features
Site Map





Content copyright © 2022 by Karen Hancock. All rights reserved.
This content was written by Karen Hancock. If you wish to use this content in any manner, you need written permission. Contact Karen Hancock for details.