Two Deputy Donut Mystery Book Reviews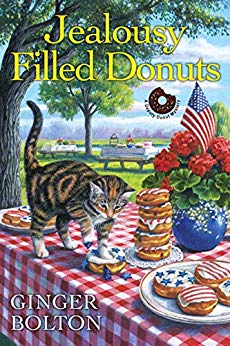 Love Donuts? Ginger Bolton is the author of a series of cozy culinary mysteries where the protagonist is part-owner of a donut shop, called Deputy Donut (named after her cat), in the small town of Fallingbrook, Wisconsin; Emily Westhill is an amateur sleuth, and since she knows almost everyone and has a way about getting herself involved in murders, she uses her skills to get herself and friends off the hook, while searching for the real murderers. These culinary cozy mysteries are fun and light – no graphic violence, sex, or language – and include recipes for what else? Donuts, of course!
Jealousy Filled Donuts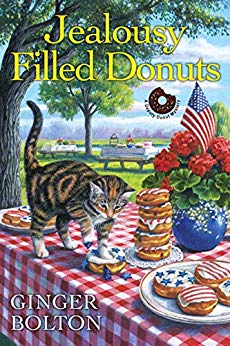 Emily and friends are all ready for the Fourth of July celebration in their town, and while watching fireworks, Emily sees the Queen of the festivities, a spoiled, entitled young woman, get blown up by a firework on the ground. Unfortunately, the firework is in a Deputy Donut bag with a stack of donuts, just like Emily had given to a small boy earlier, and Emily is a prime suspect.
As is usually the case in small towns (at least in cozies), law enforcement is clueless and Emily must put clues together to get to the bottom of the murder because she has to spend time in jail for a crime she didn't commit. There are ups and downs in this novel, and readers will have ideas about who the murderer is – there are lots of young 20ish kids, including Emily's new employee that may be suspects. In addition, there is a cameraman who keeps posting photo-shopped pictures in the town newspaper of Emily that make her look guilty and telling people that he saw Emily throw the firework.
This fun mystery is a fast read. The characters are well-developed, and are typical of just-out-of-high-school kids. The book will keep readers' interest throughout, and there is enough suspense to keep readers on the edge.
Goodbye Cruller World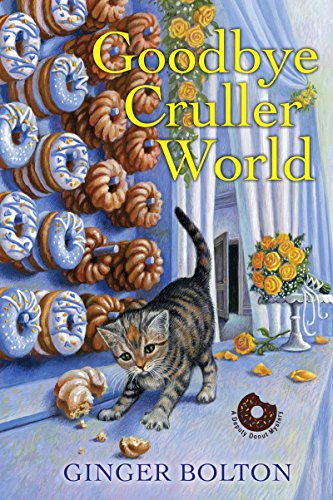 Goodbye Cruller World
is the second in the Deputy Donut Series, and Emily is asked to create a wall of donuts for a wedding reception. After snacking on Emily's scrumptious donuts, the groom acts like he has been poisoned, and when he dies, Emily finds herself as the prime suspect. Getting herself off the hook and saving her business are first on Emily's agenda, and with the help of her friends, she lives to tell about it and solve the murder.
As is Bolton's style, the characters are quite likeable, and there are enough to keep readers guessing who the murderer is. Suspense builds throughout the novel, and as the scenarios play out, it may end up that Emily goes to jail for a very long time. Luckily, the novel is well-written, and by the end, the real murderer is unmasked. This cozy is fun to read and goes fast.
Special thanks to NetGalley for supplying a review copy of these fun novels.


Related Articles
Editor's Picks Articles
Top Ten Articles
Previous Features
Site Map





Content copyright © 2023 by Karen Hancock. All rights reserved.
This content was written by Karen Hancock. If you wish to use this content in any manner, you need written permission. Contact Karen Hancock for details.