Sarah Blair Mystery Series Book Reviews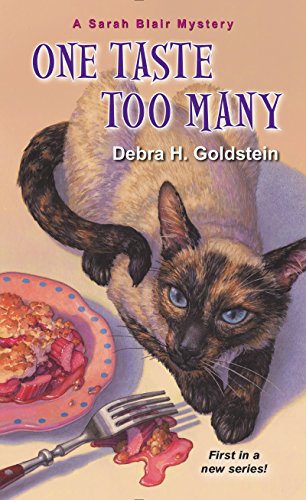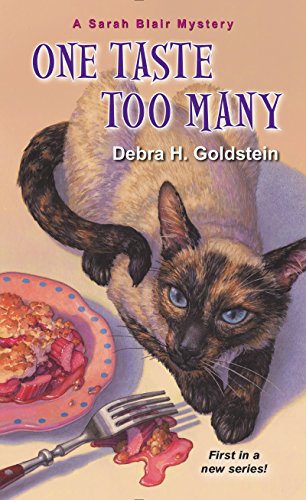 Twin sisters, Emily and Sarah couldn't be more different. Emily is a celebrated chef, and Sarah can't think of anything worse than being in the kitchen. Book 1 of the Sarah Blair mysteries by Debra Goldstein, introduces the twins and other prime characters.
One Taste Too Many
involves a murder, and Emily is blamed because the victim supposedly was poisoned by Emily's rhubarb crisp. Sarah ends up spending a bit of time in the kitchen covering for her twin because law enforcement in their small town is a bit incompetent, and Emily is sitting in the police station being questioned rather than cooking and serving for a special gathering. Everything seems to go wrong, and Sarah must investigate the murder and find the real culprit before Emily goes to jail permanently. Emily's ex-husband is murdered, and his girlfriend spitefully wants Sarah's cat, RahRah. RahRah, of course doesn't want to live with the witch, Jane, who ruined Sarah's marriage, and becomes a cat Jane doesn't want around. Some of the scenarios are a bit humorous, and the storyline will hold readers' interest.
One Taste Too Many
is a fun, fast read. The only drawback is that the recipes that are included are for things most readers won't want to make, and Emily's rhubarb crisp isn't given. Nevertheless, the book is worth reading, and will make readers anticipate the next installment.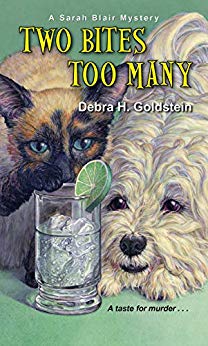 Two Bites Too Many
finds Sarah at the bank, where she and her mother are meeting with the president because he turned down a loan for Emily and her restaurant. Sarah's mother, who insists on being called Maybelle even by her daughters, has plenty of money and is not only guaranteeing the loan, but threatening to take her money to another bank if the loan doesn't go through. Lance Knowlton promises to look at the loan that was actually rejected by his assistant loan officer, Bailey, and when Maybelle checks back in, she discovers that Lance has been murdered. The incompetent police chief refuses to look at any suspects other than Maybelle, so Sarah must find the real murderer. It happens that Sarah is in charge of YipYeow day, a fundraiser for the animal shelter, and her interactions with some of the town's rich and elite put her and her family in danger.
Goldstein knows how to tell a story, and the characters are likeable and well-developed. The scenarios are fun and show some imagination on Goldstein's part, and in this novel, Sarah's cat RahRah is an important character. Once again, the drawback of the novel is the recipes. The ones given are not for anything anyone really will want to make, and Emily's recipes for things readers' would actually like to prepare and eat aren't given.
Special thanks to NetGalley for supplying review copies of these novels.


Related Articles
Editor's Picks Articles
Top Ten Articles
Previous Features
Site Map





Content copyright © 2022 by Karen Hancock. All rights reserved.
This content was written by Karen Hancock. If you wish to use this content in any manner, you need written permission. Contact Karen Hancock for details.