Coconut Layer Cake Murder Book Review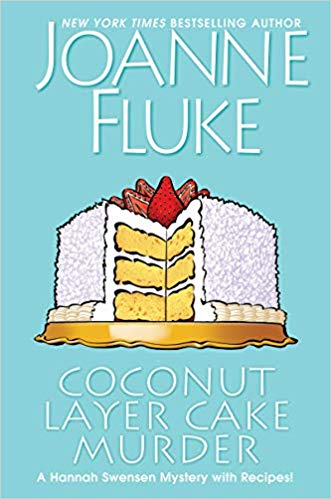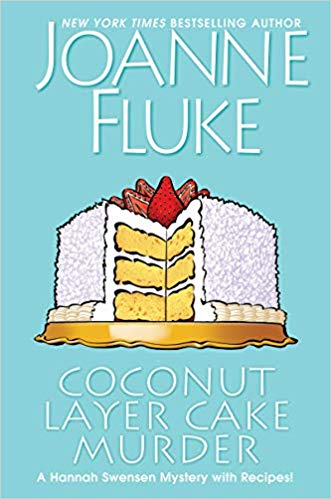 | | | |
| --- | --- | --- |
| | Title: | Coconut Layer Cake Murder |
| | Author: | Joanne Fluke |
| | Published: | February 25, 2020, Kensington |
| | No. of Pages: | 352 |
| | Cover Price: | $27.00 Hardcover, $13.49 Kindle |
---
Book 25 of the Hannah Swenson series by Joann Fluke,
Coconut Layer Cake Murder
, begins when Hannah and her mother travel to California to help one of Hannah's friends move to Lake Eden. Hannah's vacation is cut short when she gets a phone call from Michelle telling her that Lonnie, her boyfriend, is the prime suspect in the murder of one of their old friends. Hannah rushes home to be with Michelle and to, of course, investigate the murder. Book 24 left readers with a cliffhanger, and it's a given that fans will be picking up this soon-to- be bestseller immediately. The cliffhanger isn't even mentioned until the very end, so this one keeps readers on edge wanting more information. As is Fluke's style in telling the story, Hannah and the other characters, who have become part of our hearts, spend all their days drinking coffee, baking and eating cookies (never gaining an ounce), and investigating. Nobody in this make-believe town ever seems to need to do housework, take out the garbage, go to meetings, or be busy. It's fun, though to put ourselves in this make-believe world. We think of these characters as ageless, never seeing the effects of drinking 20+ cups of coffee a day and the leathery skin that comes from it, or being unhealthy from a diet mostly of cookies and sweets.
Because there are dozens of books in this series, readers are aware that Hannah, et al, are naive as to the outside world, since Lake Eden is such a small town, but Fluke should do a little research to keep up with the times. At the beginning of the novel, Hannah and her mother travel to California for a vacation and to help one of Hannah's college friends move. While on the plane they talk about the "stewardess" and show the world that they are definitely country bumpkins. Having personally been a "flight attendant" for over 20 years, that term is not only outdated, but it is absolutely Neanderthal. And the "stewardesses" certainly don't serve coffee on descent (an FAA thing). Even in the tiny town of Lake Eden, people go on vacation (Hannah did it on her honeymoon) and should know about airline travel since it's been around for some time (the Wright brothers started it back in 1903); our beloved Hannah isn't stupid. One of the charms of this series is the innocence and make-believe life in Lake Eden and the fact that Hannah and her family aren't of the real world, but "stewardess" takes it a little far. The recipes are also written for anyone who has never seen a kitchen before or even boiled water, which is an insult to those who possess even an ounce of intelligence or cooking experience.
So why are these books bestsellers? Who knows? But they are, and I'm always at the front of the line to get the next one and read what is happening with Hannah next. And, of course, this novel is highly recommended albeit the fact that Hannah doesn't live in a real world. The recipes, once one gets past the drivel and hyperbole, are also excellent.
It's time to run out and pick up this latest book, which gets five stars from me and from most Hannah Swenson fans because that's just the way it's done.
Special thanks to NetGalley for supplying a review copy of this book.


Related Articles
Editor's Picks Articles
Top Ten Articles
Previous Features
Site Map





Content copyright © 2022 by Karen Hancock. All rights reserved.
This content was written by Karen Hancock. If you wish to use this content in any manner, you need written permission. Contact Karen Hancock for details.