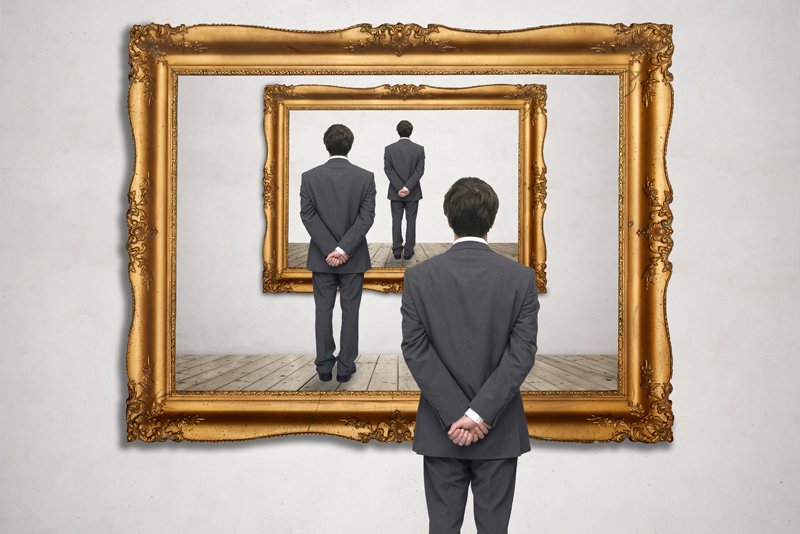 'Trompe l'oeil' is perhaps the best known of this art technique, although surrealism and holography are other methods. I will discuss art considering the philosophical question: what is an illusion, what is reality?

Like a magician, the artist's use of 'trompe l'oeil' or 'trick of the eye' is perceived as a three-dimensional (3D) object or scene.

Dating back to ancient Greece, a talented artist named Zeuxis is said to have painted still-life in a trompe l'oeil fashion. In Italy, frescoes in the House of Vetti at Pompeii give us the impression of windows and doorways.

The Studiolo from the Ducal Palace in Gubbio, Italy can be viewed at the Metropolitan Museum of Art, NY. It was built in 1478-1482 from thousands of wood pieces consisting of walnut, beech, rosewood, oak, fruitwoods in a walnut base. It is worth seeing when visiting the museum.

During the Renaissance, artists painted illusionistic ceiling murals by using perspective and techniques such as foreshortening to create the 'impression' of greater space. The Italian phrase 'di sotto in su' literally means 'from below, upward' and applies specifically to ceiling paintings.

The ceiling of Sant' Ignazio in Rome and the oculus in the Ducal Palace in Mantua were painted to give the illusion of depth.

The Surrealists were a group of artists who translated dreams and the unconscious into visual works of art, intentionally meant for the viewer to question its validity.

Rene Magritte had an interest in philosophy, and he translated it into art. His "The Treachery Images" (1928-1929) is an image of a pipe with the caption "This is Not a Pipe." Other artists from the same period who created visual illusions are Giorgio de Chirico and Salvador Dali.

In 18th c America, artist Charles Willson Peale painted "Staircase Group" (1795) based on 17th c Europe. Its trompe l'oeil style was said to have even fooled George Washington himself.

Irish American artist William Harnett is best known for his paintings of trompe l'oeil still life of ordinary objects. His "Still Life - Violin and Music" (1888) look very realistic with the instruments and torn sheet music.

American 19th c trompe l'oeil is an American genre and has links to 20th c art, especially influencing pop artists Andy Warhol and Roy Lichtenstein.
Trompe l'oeil has been used for set designs in stage theater to create the 'illusion' of deeper space.

In the realm of public art (which I find essential for the health of any society), chalk artists have delighted and surprised many observers.

Contemporary American artist John Pugh paints large scale wall murals that appear realistic, and Belgium-based chalk artist Julian Beever uses the technique 'anamorphosis' to create the optical illusion of 3D.

Is it science fiction? Used in movies, holography is a photographic technique that presents an object in 3D. The hologram is commonly used on our bank cards.

I will leave you with this thought: American art critic and philosopher Arthur Danto stated, "When philosophy first noticed art it was in connection with the possibility of deception."

Note: In every newsletter I recommend a product from Amazon. Simply click on the item below, shop the Amazon site as you normally would to purchase your favorite products. It's that easy!

You can own a wall art print of Rene Magritte's "The Treachery of Images," available here from Amazon.com.




Related Articles
Editor's Picks Articles
Top Ten Articles
Previous Features
Site Map





Content copyright © 2022 by Camille Gizzarelli. All rights reserved.
This content was written by Camille Gizzarelli. If you wish to use this content in any manner, you need written permission. Contact Camille Gizzarelli for details.