Mirrors and Vanity in Art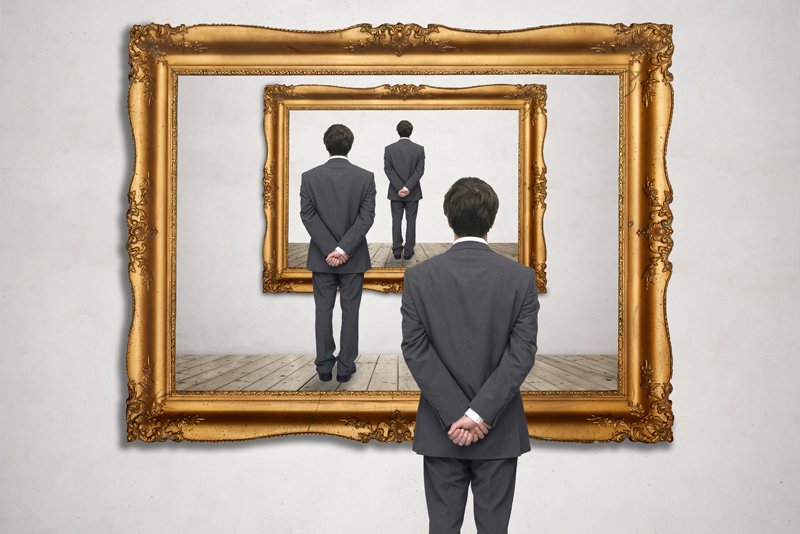 A mirror is a symbol of human vanity and gazing at one's reflection can be found in Greek mythology, as well as Renaissance and Baroque art. I will discuss artists' portraits of self and ego.

From the Bible, Ecclesiastes 1:2, is the verse: "Vanity of vanities; all is vanity."

In Greek mythology, we find Narcissus, poster boy for the selfish and egotistical, having fallen in love with his own image, reflected in a pool of water.

Caravaggio painted "Narcissus" in 1600 and John William Waterhouse painted "Echo and Narcissus" in 1903.

Medusa in Greek mythology was the only mortal of three sister monsters. It was believed that if you looked directly at her, you were turned into stone. However, you could safely view Medusa in the reflection of a mirror.

From the 1st c AD, Pliny the Elder speaks of a woman artist who traces her lover's silhouette not with a mirror, but by the light of a lantern. The artist remains anonymous, she is known only as the daughter of the Greek potter Butades.

This story was the subject of Joseph-Benoit Suvee's painting, "The Invention of Drawing" (1791).

The female Roman artist Iaia of Cyzicus (AKA Marsha) is best known for being one of the first self-portraiture in "Marsha Painting Herself" (1404).

Pliny writes of Marsha, "She knowingly painted a portrait of herself with the aid of a mirror." [a bronze mirror would have been popular at that time]
Marsha was mentioned in Boccaccio's book, "On Famous Women" (1402).

Two paintings from the Renaissance where a portrait of the artist can be seen in the reflection of the mirror are: Jan van Eyck's "Arnolfini Wedding Portrait" (1434) and Parmigianino's "Self-portrait in a Convex Mirror" (1524).

It should be mentioned that the Dutch artist Rembrandt may have used mirrors or lenses for his proliferation of self-portraits.

Early Netherlandish artist Hans Memling's "Tryptic of Earthly Vanity and Divine Salvation" 1485-90 presents Vanity, a n*de woman with a mirror in the central panel. Round glass mirrors were commonplace and affordable in the 15th century.

This painting can be seen at the Musee des Beaux-Arts of Strasbourg, France.
In Baroque art convex mirrors were replaced by crystal balls or glass spheres.

Perhaps the most recognizable and beloved deity from Roman mythology is Venus, goddess of love and beauty. Appropriately, she gazes at herself in Titian's painting of 1555, "Venus With a Mirror."

Vanitas is a genre that reminds us that despite wealth, power, or knowledge, death awaits us all. Dutch artist Pieter Claesz painted, "Vanitas with Violin and Glass Ball" (1628).

French academic artist Guillaume Seignac painted "Admiring Beauty" from the 19th century is of an idealized female in a classical setting where a beautiful maiden admires her reflection in a mirror.

American painter and illustrator Norman Rockwell's painting "Triple Self-Portrait" (1960) for the Saturday Evening Post refers to the history of art with repros of four self-portraits of Rembrandt, Durer, Picasso, and van Gogh in this painting.

You can own a framed giclee canvas print "Venus with a Mirror" by Titian, available here from Amazon.com.



Related Articles
Editor's Picks Articles
Top Ten Articles
Previous Features
Site Map





Content copyright © 2022 by Camille Gizzarelli. All rights reserved.
This content was written by Camille Gizzarelli. If you wish to use this content in any manner, you need written permission. Contact Camille Gizzarelli for details.