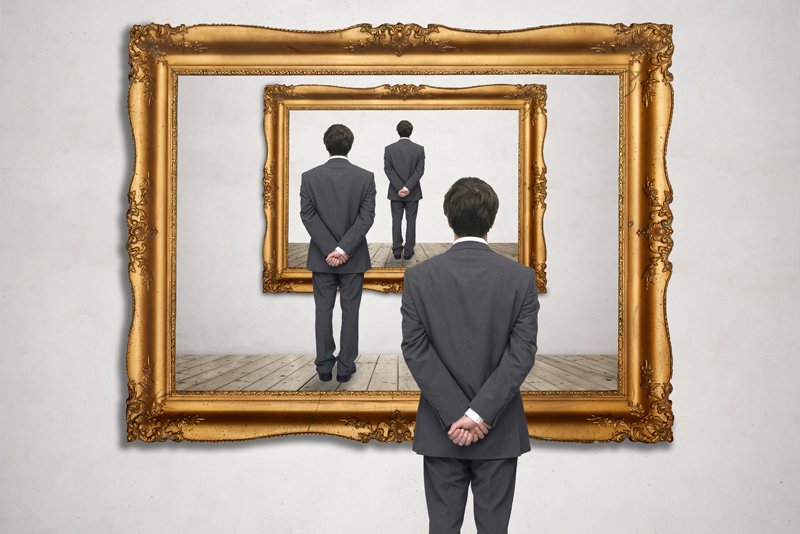 The surrealists are perhaps best known for portraying the unconscious, but artists of the 19thc preceded writings by Sigmund Freud and his influence on 20thc cinema and art.
French artist Gustave Moreau's painting "The Apparition" or "Dance of Salome" (1874-1876) shows a vision of the stepdaughter of Herod the Great where her request for the head of John the Baptist on a plate perhaps comes to fruition. John vehemently disapproved of the marriage between Salome's mother Herodias (a Jewish princess) and Herod.
German artist Max Klinger's etching and aquatint "The Philosopher" (1885-1900) from the series "On Death II" is a dream (referencing mirror of the soul) where a philosopher touches his reflection in a mirror.
Sigmund Freud's book "The Interpretation of Dreams" (1899-1900) was extensively read and the surrealists' fascination in silent movies and detective stories subsequently led to references of popular culture in their work.
French post-impressionist artist Henri Rousseau's "Sleeping Gypsy" (1897) is a dream of a place where man and nature can peacefully coexist.
Italian artist Giorgio de Chirico greatly influenced surrealist artists such as Salvador Dali, Rene Magritte, and Max Ernst with his self-proclaimed 'metaphysical painting' by experiencing reality on different levels (combining the space of the artist's studio with the outer public space).
A fine example by de Chirico is "The Melancholy of Departure" (1916), cubist in nature, painted during a difficult time in his life, having moved from his native Greece to Italy, and suffering a nervous breakdown.
De Chirico's sense of mystery, nostalgia, and melancholy was a precursor to the surrealist movement (despite never joining), painting ten (10) years before Andre Breton's "First Surrealist Manifesto."
Belgian artist Rene Magritte's "Key to Dreams" series (1927) pairs words and images, mostly misnaming objects except for 'valise'. Written in English (unusual for the artist) as it was produced for his first solo show in 1936 in NY.
Spaniard Salvador Dali named his hyper-real artistic technique 'concrete irrationality'. Perhaps the most well recognized surrealist painting is his "Persistence of Memory" (1931) which Freud agreed it represented the unconscious. (Andre Breton threw Dali out of the Surrealist group.)
The dream sequence in Alfred Hitchcock's "Spellbound" (1945), created by Salvador Dali, shows 'curtains decorated with eyes' and an unidentifiable person wearing a face covering.
Some women Surrealists include Frida Kahlo, Dorothea Tanning, and Leonora Carrington.
Mexican artist Frida Kahlo painted "El Sueno" or "The Dream" (1940) AKA "The Bed" where she incorporates sleep, death, and dreams.
American artist Dorothea Tanning painted "Birthday" (1942) a self-portrait (partially clothed), an unidentifiable creature at her feet, and endless hallways with open doors. Quite nightmarish!
One of my favorite female artists across all genres is British born Mexican artist Leonora Carrington. Her "And Then We Saw the Daughter of the Minotaur" (1953) is a magical imaginary setting with a seated cow and green moth. Or is it a flower?
Swedish psychologist and psychoanalyst Carl Jung encouraged American painter Jackson Pollack during his Jungian analysis in NY to draw his dreams. This is evident in an abstract self-portrait alongside a black and white depiction of bodies in "Portrait and a Dream" (1953).
With the beginning of WWII and the Nazi occupation of Paris, writer
Andre Breton, artists Max Ernst, Yves Tanguy, and others fled to the US, influencing modern art.
The Persistence of Memory' Art Print - Salvador Dalí | Art.com


Related Articles
Editor's Picks Articles
Top Ten Articles
Previous Features
Site Map





Content copyright © 2023 by Camille Gizzarelli. All rights reserved.
This content was written by Camille Gizzarelli. If you wish to use this content in any manner, you need written permission. Contact Camille Gizzarelli for details.