German Baumkuchen or Baumtorte Recipe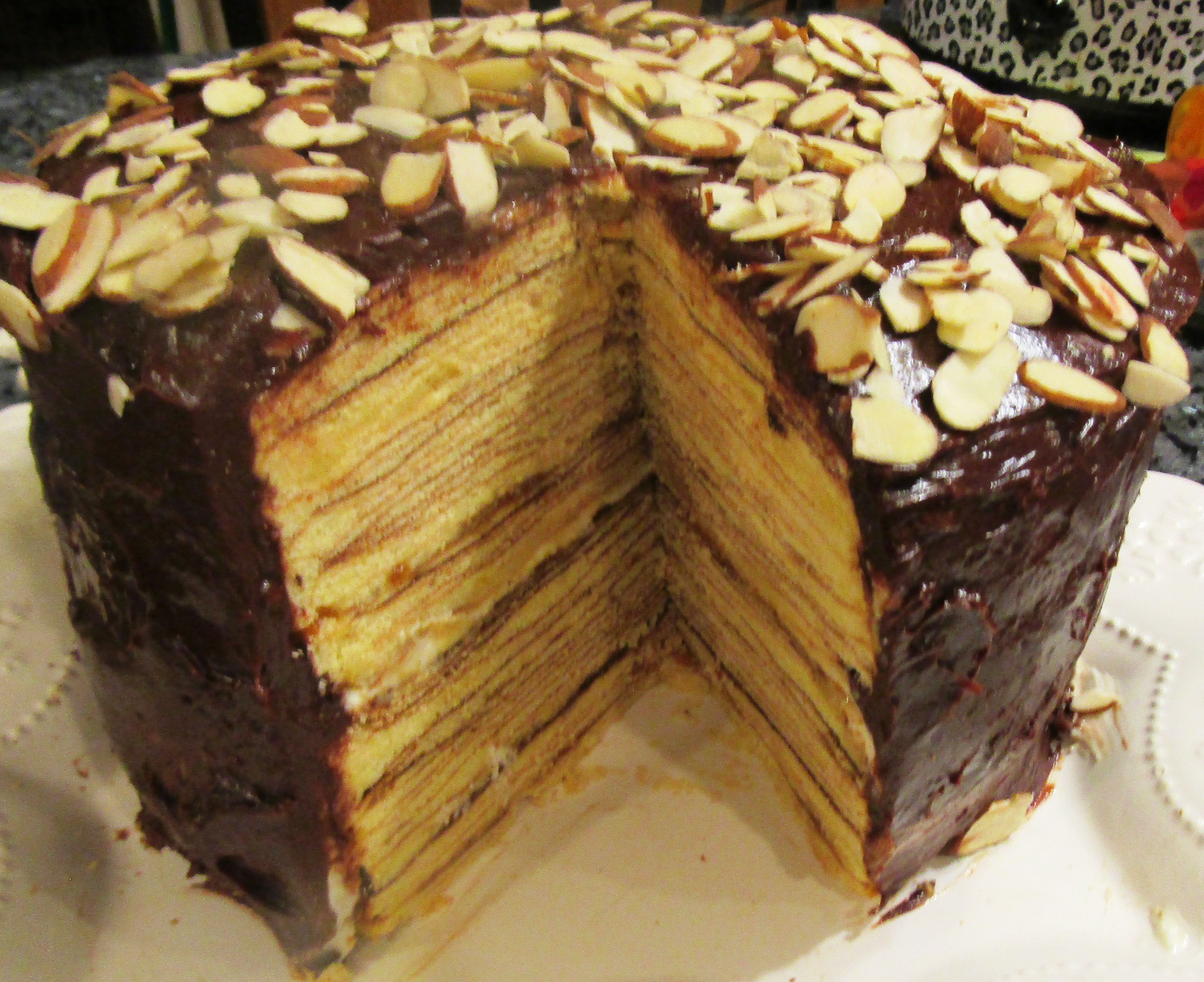 Since the Christmas Tree and the traditions associated with it originated in Germany, it's only right that the following
German Baumkuchen or Baumtorte
(which means German tree cake because it resembles the age rings in a tree trunk) would be a much-loved German delicacy that is served throughout the Christmas holidays. This is not a cake that is made often at home, but with this recipe, it is not difficult, and is well-worth the time spent. Your guests will utter oohs and aahs as they not only see how beautiful it is, but also as they devour it as soon as they get a chance.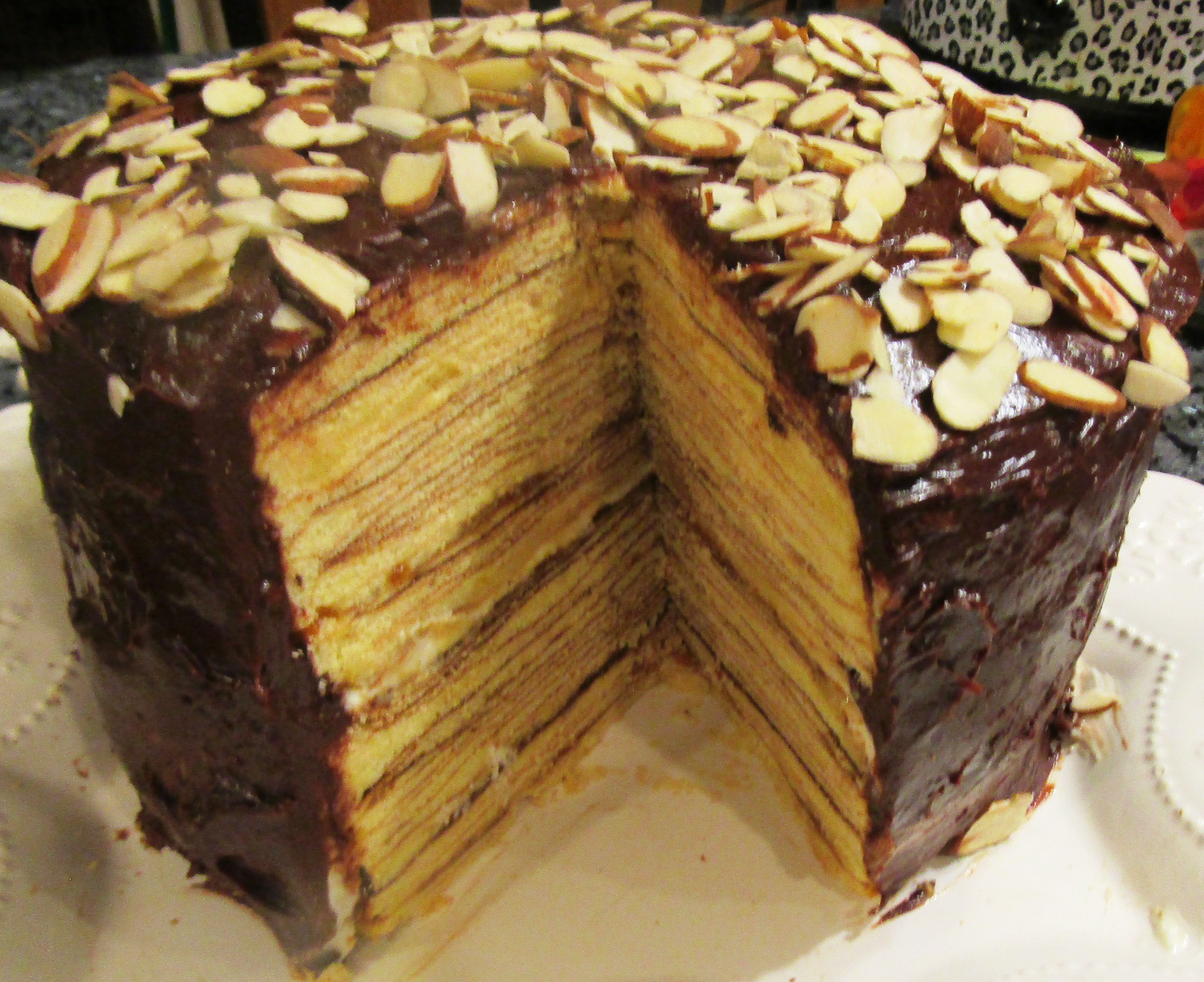 I made a German Baumtorte many years ago from a recipe in a magazine, and it was a showstopper. I made it again the next year, but in the ensuing years, forgot about it. When I saw a recipe for this torte in an old Cuisine Magazine (December 1981) I decided to make it again (not realizing that this wasn't the one I had made before) and doubled the recipe since the previous one hadn't had enough batter for the number of layers that I wanted. This was a major faux pas, since four hours and 60 layers later I realized a single recipe was all that was needed and I had enough delicious cake for an army. I did remember that there was a sour cream filling layer in the previous cake, so I have added it in between layer 15 and 16, and it is delicious and adds a moistness in addition to the apricot jam layers. This cake may be a labor of love, but it is not difficult and won't take you four hours to complete because you won't be making a double batch. It keeps for several days, so you can make it well ahead of Christmas and the busy time. I'm serving mine on New Year's.
24 Servings
This recipe makes about 30 layers
Non-stick spray with flour
2 cups apricot preserves
1 1/3 cups almond paste, (13 ounces)
6 tablespoons half and half
14 tablespoons softened butter
2 tablespoons fresh lemon juice
1 teaspoon vanilla
1 teaspoon grated lemon zest
10 eggs, separated
2 cups cake flour
1 cup sugar, divided
1/4 teaspoon salt
Filling:
3/4 cup sour cream
1/3 cup sugar
Ganache Glaze:
2 cups semisweet chocolate, chopped
1 cup heavy whipping cream
Sliced almonds, for garnish
Run the apricot preserves through the food processor until smooth; alternately, press through a fine sieve; set aside.
Place the almond paste in the bowl of a large food processor; process until broken up.
Add the half and half and process until it resembles mashed potatoes.
Add the butter and process until smooth.
Add the vanilla, lemon juice, and lemon zest; process until smooth.
Meanwhile, separate the eggs, placing the yolks in a large mixing bowl and the whites in another mixing bowl.
Add 1/2 cup sugar to the yolks and beat until light and lemon colored.
Place the cake flour in a fine strainer set over the egg mixture and shake through.
Mix on low speed until combined.
Scrape the almond paste mixture into the egg yolk mixture; mix on low speed.
In a separate bowl, beat the egg whites until frothy; gradually beat in the remaining 1/2 cup sugar and salt; continue beating until stiff peaks form.
Fold in the cake batter mixture until no egg whites remain.
Heat the broiler to the high setting and place a rack about 6" below the heat source.
Line a 9" springform pan with parchment, and spray the parchment with non-stick spray.
Place a scant 1/4 cup batter in the springform pan; use a pastry brush (silicone works best) to spread the batter to the edges of the pan.
Broil until lightly browned, about 1 minute.
Repeat for 3 more layers; spread the fourth layer with apricot preserves, then repeat until you have done 15 layers.
Once you have done 15 layers, mix the filling ingredients and spread over the top layer.
Broil until brown and bubbly. Carefully spread the next layer of cake batter over and repeat with scant 1/4 cups batter spreading with the pastry brush and spreading apricot jam every fourth layer.
When the batter is used up, place the springform pan on the counter and release the side of the pan. If the sides are irregular, use a sharp knife to trim.
Spread the remaining apricot jam evenly over the top of the cake. Place cake in a cold place, preferably the freezer while you make the glaze.
Glaze: Place the glaze ingredients in a microwave-safe container; microwave 3 minutes.
Remove from the microwave and let sit 5 minutes, then whisk until smooth and thick.
Let the glaze sit until room temperature.
Spread the glaze over the top and sides of the cake. Sprinkle with sliced almonds. Refrigerate until serving.
Amount Per Serving
Calories 471 Calories from Fat 241
Percent Total Calories From: Fat 51% Protein 7% Carb. 42%
Nutrient Amount per Serving
Total Fat 27 g
Saturated Fat 12 g
Cholesterol 125 mg
Sodium 133 mg
Total Carbohydrate 49 g
Dietary Fiber 1 g
Sugars 11 g
Protein 8 g
Vitamin A 12% Vitamin C 2% Calcium 0% Iron 10%


Related Articles
Editor's Picks Articles
Top Ten Articles
Previous Features
Site Map





Content copyright © 2022 by Karen Hancock. All rights reserved.
This content was written by Karen Hancock. If you wish to use this content in any manner, you need written permission. Contact Karen Hancock for details.