Does it Matter How a Yarn is Made?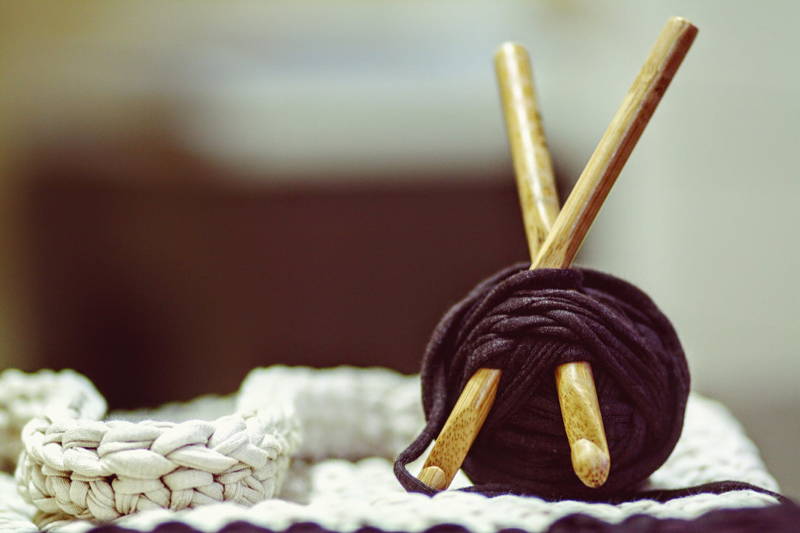 Most yarns are made by introducing twist into fibers. This was originally done on spindles, then with the use of spinning wheels, and with the advent of the industrial revolution, in mills using the same techniques, but on a grander, more mechanized scale.

What does this have to do with the average crochet artist? Well, the techniques and fibers used for making your yarn determine the texture of it, and the resulting texture and durability of your finished project. Let's explore some of the yarns available based on the way they're made.

1. Plied yarn: Most yarns you'll find are plied in some way. Many are a group of up to seven plies of the same fiber or blend of fibers, twisted individually, then twisted together to make your yarn. Some yarns will have a large ply twisted together with a smaller thread. It's also common to ply two different fiber types together, such as silk and wool, giving a texture that changes in a spiral manner. Plied yarns are easy to find in most hobby stores, online and in boutique shops. They come in a variety of weights, from crochet thread up to super bulky weight.

2. Lopi spun yarn: We have Iceland to thank for the term "lopi spun." It really means making a yarn out of a single ply of fiber, with just enough twist in it to keep the fibers together. It gives a soft and lofty yarn that lends itself well to projects in which you want to show off stitch texture, such as cabling. Lopi spun yarns are easily available through manufacturers online, such as Drops, Istex and Custom Woollen Mills.

3. Art yarn: Non-traditional spinning techniques can give beautifully textured yarns. Many handspinners create lovely art yarns using all sorts of techniques and materials. I have seen everything from the inclusion of sequins and beads to using long locks of wool to create shaggy yarns, to plying in "beehives." Etsy is a great place for find art yarns, as are local sales by the weavers and spinners guilds in your area.

4. Felted yarn: There are some beautiful felted yarns available in a variety of weights. I have only seen them from independent suppliers, although that may change with added popularity. Felted yarns can be spun or unspun, and the degree of felting varies. These will always be animal fibers, as only animal fibers are feltable. Felting makes these yarns a bit more dense than unfelted, and more durable.

5. Unspun yarn: Roving or combed top is unspun ropes of fiber. It is available in a variety of sizes, from very thin pencil rovings to large ropes. It has become popular to use the large ropes of wool to make oversized blankets, scarves, and sweaters. These can be delicate, but are deliciously soft and bulky. This type of yarn can be found from a variety of suppliers, and is easily found on Etsy.

6. Non-traditional yarn: Things like T-shirt yarn, or yarn you've made yourself out of strips of cloth may or may not have twist added to them. Or you may choose to think outside the box and use rope or i-cord. Really, anything that is longer than it is wide can be used as yarn for crocheting.

The sky really is the limit when it comes to creative options for yarns. I personally love exploring different yarn options, and creating several versions of the same pattern using different yarns. It's fun for me to see how a single pattern can be changed, simply by changing the yarn used. Have you done something completely original with your yarn choices? I'd love to hear from you. Drop me a line on the contact page!

You Should Also Read:
Online Yarn Shopping


Related Articles
Editor's Picks Articles
Top Ten Articles
Previous Features
Site Map





Content copyright © 2022 by Holly Messenger Aamot. All rights reserved.
This content was written by Holly Messenger Aamot. If you wish to use this content in any manner, you need written permission. Contact Holly Messenger Aamot for details.