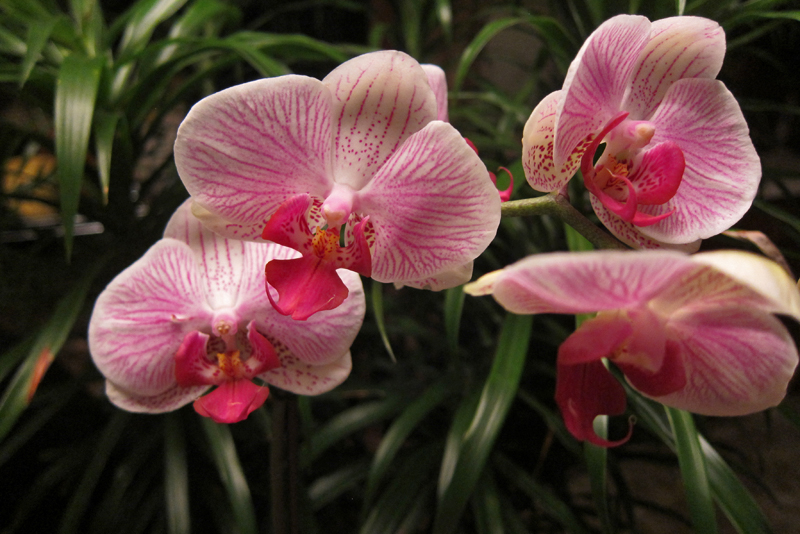 Our miniature orchid for this month is completely different from those presented previously. Native to Central Africa and especially numerous in Cameroon, Uganda and Gabon,
Angraecum distichum
or the Two-Rowed Angraecum is named for its distinctive arrangement of bright green, triangular, fleshy leaves. Many hobbyists grow the plant more for its lovely leaves and form than for the flowers. The stems are reminiscent of a braid – similar to
Lockhartia
– about 1" wide. As the plant matures branches will appear at the base of the plant. Unlike most orchids, these branching pieces can be broken off and potted and will grow into new plants. The ½ inch (6 cm) fragrant flowers appear throughout the year on new growth and are star shaped and sparkling white with a nice fragrance. They are held on a quarter-inch stem growing out of the leaves all along the branching stems.
Angraecum distichum
is an extremely slow growing plant, although easy to grow. Most will only get to be 6 inches (15 cm) tall and will form into a very nice clumping shape. It needs low light, high humidity and temperatures on the warm side of intermediate (70-90 degrees Fahrenheit). It is best grown on mounts or in baskets, although they will do well if grown in sphagnum moss and a loose bark mix in pots. Several sources have indicated that they seem to dislike having their roots disturbed, so be careful when transplanting or mounting. They prefer to be kept fairly moist. Since this species is so slow growing, it should be fertilized only once a month. Generally they will not flower until the plant has at least three growths.
This plant is a member of the
Angraecum
genus which has some 200 species mostly from Africa and Madagascar. In general the plants have an upright growth habit with white or green star-shaped flowers which are highly fragrant in the evening and at night. Most are pollinated by moths which explains the color and fragrance – white flowers show up best at night and the fragrance will alert possible pollinators to the location of the flower before it can be seen. An interesting historical note is that
Angraecum sesquipedale
from Madagascar which is a member of this genus is the orchid made famous by Charles Darwin. When he saw the orchid he postulated that it was pollinated by a moth which had the capability to reach the bottom of the fourteen inch spur. He never actually saw the moth,
Xanthopan morganii praedicta
, which was finally identified many years after he had predicted its existence – thus the "praedicta" in the moth's name.
Here is a listing of some vendors who provide seed grown species. Of course, not all species are always available. If you're interested in something, talk to some of these vendors to see if there's another variety that is close. Often the only difference would be 8 inches tall versus 6 inches or a different colored flower. Also, please mention that you are calling as a result of seeing them recommended on BellaOnline Orchids.
Andy's Orchids
Bergstrom Orchids
Carter and Holmes
First Ray's Orchids
Miranda Orchids
Neptune Orchids
Norman's Orchids
Oak Hill Farm
Parkside Orchids Nursery
Tropical Orchid Farm
You Should Also Read:
Rodriguezia lanceolata
Miniature Orchid Series
Dendrochilum filiforme


Editor's Picks Articles
Top Ten Articles
Previous Features
Site Map





Content copyright © 2021 by Susan Taylor. All rights reserved.
This content was written by Susan Taylor. If you wish to use this content in any manner, you need written permission. Contact Anu Dharmani for details.