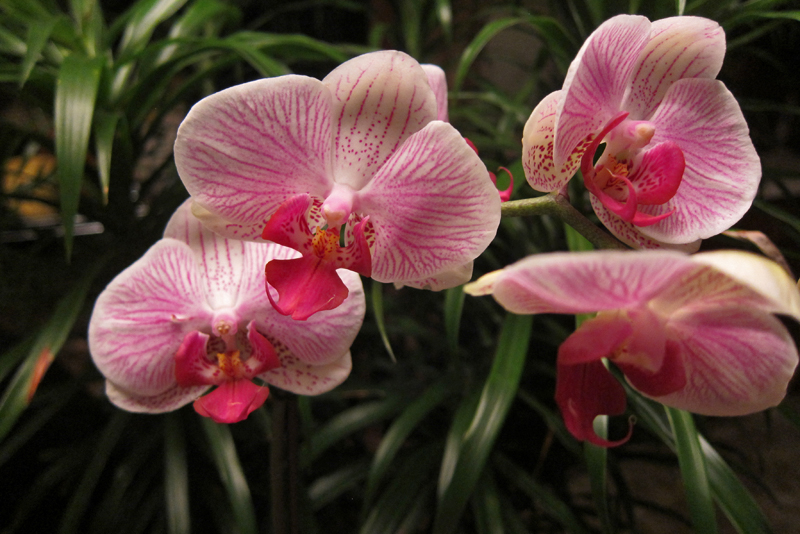 We had a guest editor, Terri Lewin who provided us with a couple of really good articles on miniature orchids. Since there were so many people who have been looking at these articles and sending emails, I decided to continue the series on my own.
In researching the subject, I decided to limit the inquiries into a relatively manageable size. There are literally thousands of orchids that would fit in a "miniature" category. By determining certain criteria, I hope to give you a good cross section of species miniatures which will provide years of enjoyable growing.
The criteria I chose were:
• Miniature size, less than 6 inches or 15 cm in height, not including inflorescences.
• Most are not white, there are many, many white miniatures, and this will provide a much more colorful mix.
• Either successive flowerings, or flowering for quite a long period of time.
Unless one has an extensive series of greenhouses or basement lighting areas, it is almost impossible to be able to grow all these orchids, so I do not necessarily have direct experience with them. Any species I originally chose that were in any way listed as "picky" were removed from my list. I hope that you will try some of these plants and that they do well for you. If you have a wonderful miniature that you would like showcased or need information on one you've heard about, let me know. I would love to hear from you!!
As far as quality suppliers of species orchids I've put together a list of companies who provide quality plants only produced from seed. Seed produced plants grow better in captivity and eliminate the destruction of species in the wild. All these vendors provide reliable service and good plants. The listing is in alphabetical order and a website link is provided. I have personally purchased from these vendors, or know people who have.
Andy's Orchids
Bergstrom Orchids
Carter and Holmes
First Ray's Orchids
Hoosier Orchid Company
Miranda Orchids
Neptune Orchids
Norman's Orchids
Oak Hill Farm
Parkside Orchids Nursery
Quarter Acre Orchids
Tropical Orchid Farm
Of course, not all species are always available. If you're interested in something, talk to some of these vendors to see if there's another variety that is close. Often the only difference would be 8 inches tall versus 6 inches or a different colored flower. Also, please mention that you are calling as a result of seeing them recommended on BellaOnline Orchids.
You Should Also Read:
Equitant Oncidiums or Tolumnia
Cischweinfia pusilla, The Tiny Cischweinfia
Rodriguezia lanceolata


Editor's Picks Articles
Top Ten Articles
Previous Features
Site Map





Content copyright © 2021 by Susan Taylor. All rights reserved.
This content was written by Susan Taylor. If you wish to use this content in any manner, you need written permission. Contact Anu Dharmani for details.