Masdevallia saltatrix, The Dancer Masdevallia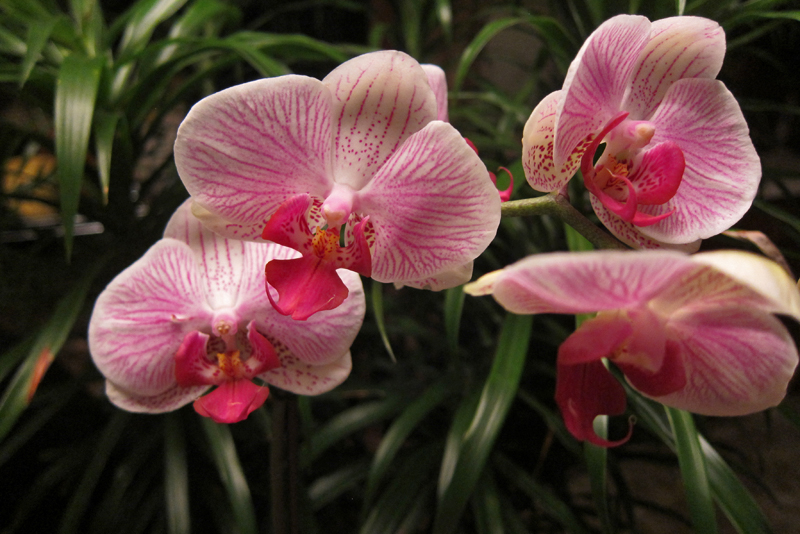 Masdevallia saltatrix
was fancifully named The Dancer Masdevallia for its unusual shape. This little plant is a true miniature ranging from 3 to 4 inches tall (7-11 cm) with the red and yellow 1 ½ inch (4 cm) flowers held on erect stems. The flowers are dark shiny red and the tips of the sepals terminate in the bright yellow tails that characterize the
Masdevallia
. They flower throughout the year with one flower per inflorescence.
These are true intermediate to cool growers as they come from the cloud forests of the Andes in Columbia. They must be kept under 80 degrees Fahrenheit (27 C) during the day and receive cool night temperatures at a minimum of 52 degrees (11 C) at night. If you live in the warmer areas of the country you will need to grow this gem indoors and provide good air circulation with the cool nights. The resulting flowers will be worth the extra effort. They need to be kept moist at all times in well draining medium and should be watered every day. Humidity is also important for good growth and is best if kept at 60-90%. As with most
Masdevallia
these little plants need indirect low light conditions, they burn easily. This is a good plant to grow in terrarium conditions if you can provide the cooling night-time temperatures necessary.
Masdevallia
(pronounced mas-de-VAL-lee-ah) is a member of the
Pleurothallid Alliance
which is one of the largest in the orchid world with at last count more than 4,000 species. The
Masdevallia
genus, one of the most recognized sections of the alliance, has approximately 350 species found throughout Mexico to southern Brazil. The genus is known for its many miniature and medium sized epiphytic and lithophytic plants which are extensively grown and hybridized. They flower throughout the year and provide a wonderful range of colors and cute little flowers. Most are cool to intermediate growers and require high humidity and moisture, cool nights, and low light.
Further information on
Masdevallia
can be found at
Masdevallia Pages
very interesting scientific information on the Pleurothallid Alliance the Masdevallia in particular;
Masdevallia Pages
from Lynn O'Shaughnessy, newsletter editor for the Pleurothallid Alliance; and
Masdevallia
from the Canadian Orchid Congress.
Here is a listing of some vendors who provide seed grown species. Of course, not all species are always available. If you're interested in something, talk to some of these vendors to see if there's another variety that is close. Often the only difference would be 8 inches tall versus 6 inches or a different colored flower. Also, please mention that you are calling as a result of seeing them recommended on BellaOnline Orchids.
Andy's Orchids
Bergstrom Orchids
Carter and Holmes
First Ray's Orchids
Miranda Orchids
Neptune Orchids
Norman's Orchids
Oak Hill Farm
Parkside Orchids Nursery
Tropical Orchid Farm
You Should Also Read:
Miniature Orchid Series
Growing Orchids in a Terrarium or Wardian Case
Orchid Conservation Primer


Editor's Picks Articles
Top Ten Articles
Previous Features
Site Map





Content copyright © 2021 by Susan Taylor. All rights reserved.
This content was written by Susan Taylor. If you wish to use this content in any manner, you need written permission. Contact Anu Dharmani for details.