Italian Beef and Vegetables Stew Recipe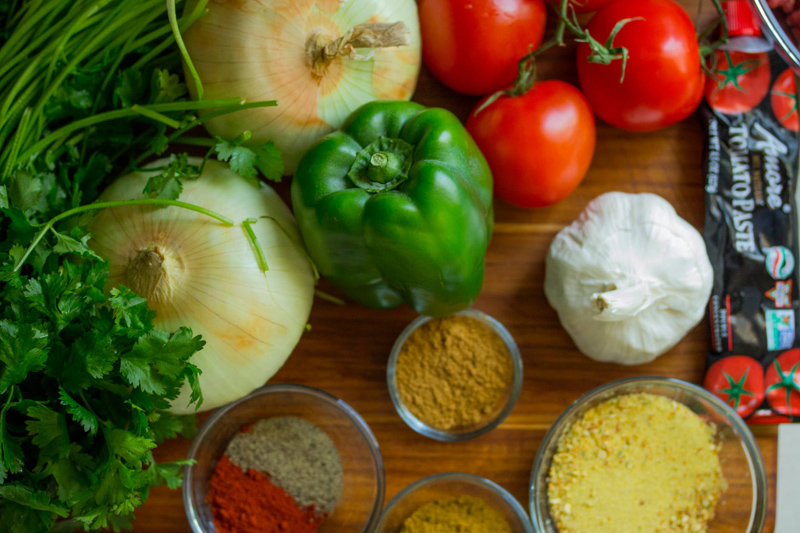 Beef and vegetables stew in Italian is called "
stufato di manzo con verdure
" and it is an easy way to prepare a great dinner with a single dish that anyone in the family will enjoy. It is also a great way to get the kids to eat their vegetables.
For the best Italian beef stew – as well as for many other dishes – always remember to use the
trio
, carrot, celery and onion as a flavor base; then feel free to add any other vegetable you like. Always choose fresh and in season veggies for best results and not just potatoes or tomatoes, but also zucchini, bell peppers, mushrooms, broccoli, peas. Any combination of these will add color and taste to your stew.
To add my little signature touch to this recipe, I used sundried tomatoes and basil. I hope you will enjoy it.
Ingredients and Instructions (serves 6):


2 pounds of beef stew meat


2 tablespoons of extra-virgin olive oil


2 cloves of garlic


1 large onion


2 carrots


2 sticks of celery


1 red bell pepper


3 medium potatoes


1 and 1/2 cups of peas


1 cup of sundried tomatoes, packed in oil


Fresh basil (dry can do)


Sea salt and ground black pepper


1 cup of white wine


3 cups of water or vegetable stock


(Note: in the 1st of the following steps, make sure you use a separate cutting board or surface. For sanitary reasons, never use the same cutting board for meat and vegetables. Best is to use a different board each for meat, fish, poultry and veggies)


Rinse the beef meat under cold water, pat dry then cut in about 1 inch thick cubes Wash and peel the carrots and then slice them, about 1/2 inch thick. Do the same with the celery sticks.


Cut off the poles of the onion, peel the papery layers then cut in half lengthwise. Slice and chop rather coarsely. Peel and chop – finely, this time – the garlic cloves.


Clean and dice potatoes and bell pepper, about 1 inch size.


Wash and cut the fresh basil leafs in ribbons.


Drain the sundried tomatoes from their packing oil, rinse and chop finely.


In a large pot, brown the meat over medium heat with the extra-virgin olive oil and the garlic.


Add the carrots, onion and celery, a pinch of salt and ground black pepper (best if freshly ground), stir and cook until the veggies are slightly browned as well.


Add the wine, stir and simmer for a couple of minutes to reduce slightly and let the alcohol evaporate.


Add the potatoes and bell pepper, the basil, then the water or vegetable stock. Stir, bring to a gentle boil, reduce the heat to low, cover and let simmer for about 45 minutes.


Add the peas, and let cook for an extra 5 minutes, until all the veggies are tender. Add salt and pepper to taste.


Serve warm with slices of artisan bread, toasted and slightly rubbed with garlic.


This dish gets even better if prepared few hours in advance or the previous day. After cooking, let the pot cool off, then store in the refrigerator until time to serve. Warm up on low heat, adding a little water as needed.
Note on the wine
: contrary to the common "red meat-red wine" rule,
as a cooking wine for this recipe
, I prefer a white, since the intense tannins of a red wine to me can overshadow the flavors of the vegetables.
As pairing wine for this Italian Beef Stew
,
however, I would serve a full bodied red, such as Chianti, Barbera or Brunello. International and equally good wine choices would be Shiraz, Cabernet or Merlot.
Buon appetito!
You Should Also Read:
Entrees: Beef & Pork
Pork Scaloppine with Marsala Recipe


Related Articles
Editor's Picks Articles
Top Ten Articles
Previous Features
Site Map





Content copyright © 2022 by Cinzia Aversa. All rights reserved.
This content was written by Cinzia Aversa. If you wish to use this content in any manner, you need written permission. Contact Cinzia Aversa for details.