Hamster Bonding and Health Issues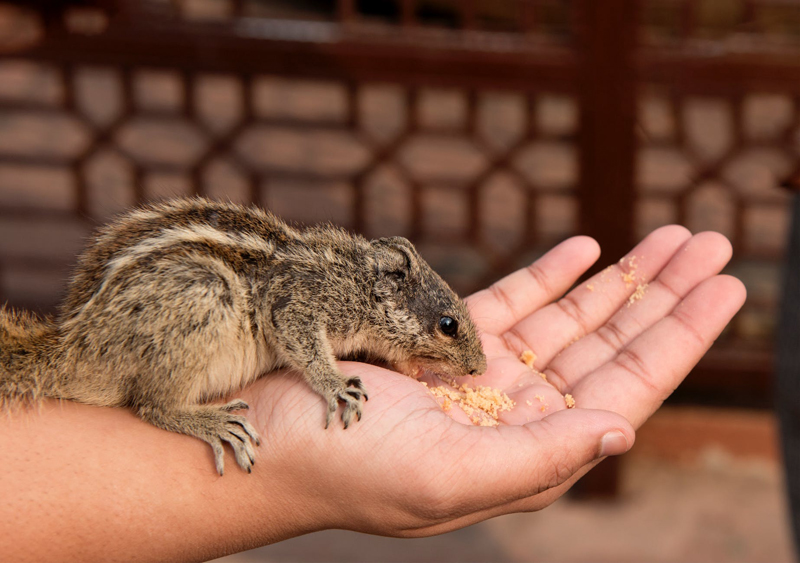 Talk to your hamster calmly as you are bringing him or her home. Put him in the cage and let him relax and adjust to his environment. The next day begin handling your hamster. It is much easier to tame them when they are babies. Talk to him frequently. Offer him healthy treats in his cage. This will allow him to get use to your hand. Leave your hand in the cage while he is eating. At this point begin leaving the food in the palm of your hand. He will climb up into your hand. Now you can get your hamster used to being picked up. Cup him gently in your hand. Play with him close to the ground in case he happens to fall. Have him walk to one hand and then to the other. Like a set of stairs. Handling him and playing with him will increase both yours and his confidence. You will form a trusting bond.
What to do if you hamster gets away
Put the cage in the room where you think he might be hiding. Put food in the cage he may return to the cage at night because he is hungry. If you don't know where he is hiding place food in various rooms and check to see what food is missing. Now take a bucket or can making sure it is tall enough so that he can't jump back out of the can. Place a wood ramp up to the top of the can or bucket. Place treats and foods in the can or bucket. He will get in the bucket to eat and won't be able get back out. Sometimes leaving flour on the floor will lead you right to your little hamster's hiding spot. Just follow his little footsteps.
Health Issues
Keeping your hamster safe and his cage and accessories clean and disinfected are the best ways to extend your little hamster's life.
The following ailments are the leading causes of death.
Wet Tail - Symptoms are excessive soft droppings. Wet Tail is a disease that is stress related and caused by unclean and poor living conditions. Wet Tail is a bacterial infection in the stomach and/or intestine. The disease can be fatal. It is important to seek veterinary care immediately.
Diarrhea - The symptoms are very similar to Wet Tail. Diarrhea is fatal if you do not have it treated immediately. The animal will become dehydrated and could be fatal within 24 hours.
Aspergillis Fungus - Symptoms are blood in the urine, excessive soft droppings, severe lethargy and wheezing. Aspergillis Fungus develops in the area of the cage where the hamster urinates. Fungus grows in the urine and releases spores. In advanced stages you can actually see the spores. Prevent Aspergillis Fungus by cleaning and disinfecting his cage with a disinfectant that also contains an anti-fungicide. This fungus can also grow in rotting vegetables and fruits. Always clean up all uneaten food quickly. Other hamsters in the house can be infected by airborne spores. All hamsters will need to be treated. Please seek out veterinary care quickly, this illness can be fatal if not treated immediately. The hamster will be treated with both an antibiotic and an anti-fungal medication.
Bladder and Kidney Infections - Symptoms are too much thirst, extreme urination and you will see blood in the urine. They may squeal because of the pain and burning when they urinate. They may be listless. Keep the little hamster warm. Place a protected heating pad under one third of the cage only. Make certain the heating pad is under the cage; do not put the hamster directly on the heating pad. This will give the hamster a chance to get away from the heat if he becomes too hot. Give him plenty of fresh water. He will require veterinary care and will be treated with antibiotics. This illness can be prevented by keeping the cage and accessories clean and disinfected and providing plenty of fresh water. Diets high in fat can cause alkaline in their urine making the hamster more prone to bladder and kidney infection.
Keep your hamsters cage and accessories clean. Feed them a variety of nutritious foods. Give him plenty of fresh water. Watch out for dangers, falls, and toxic substances. Watch the hamsters stress levels. Supervise young children with the hamster for both the child's and the pet's safety.
Beginning of the Hamster article!
***
Hamsters - How to house, feed, and care for the pet hamster
Subscribe free
to the exotic pets newsletter. It is quick and easy Just glance to the right or scroll a bit to the bottom and subscribe. I will only bug you once a week :) Be the first to be in the know! Your information is always private!
I am also the Bird editor if you enjoy pet birds subscribe to the Birds newsletter.
Birds BellaOnline
Diana Geiger Exotic Pets Editor
on
Training Your Pet Hamster
Super Pet Chew-Proof Hamster Cage, 2-Story, Blue





Ferrets: A Complete Guide available in paperback, PDF, and Kindle. By Diana Geiger (me:) Five star reviews!



src="https://www.assoc-amazon.com/e/ir?t=exoticpets-20&l=as2&o=1&a=1468026054" width="1" height="1" border="0" alt="" style="border:none !

important; margin:0px !important;" />



Ferrets: A

Complete Guide - Paperback

Ferrets: A Complete Guide - Kindle

PDF Version Ferrets: A Complete Guide (Access to free PDF Reader)
Ferrets: A Complete Guide







This site needs an editor - click to learn more!

You Should Also Read:
Exotic Pet Site Map
Ferrets - A Complete Guide Paperback and Kindle
Exotic Pet Shopping (the safest for your pets)




Related Articles
Editor's Picks Articles
Top Ten Articles
Previous Features
Site Map





Content copyright © 2022 by Diana Geiger. All rights reserved.
This content was written by Diana Geiger. If you wish to use this content in any manner, you need written permission. Contact BellaOnline Administration for details.