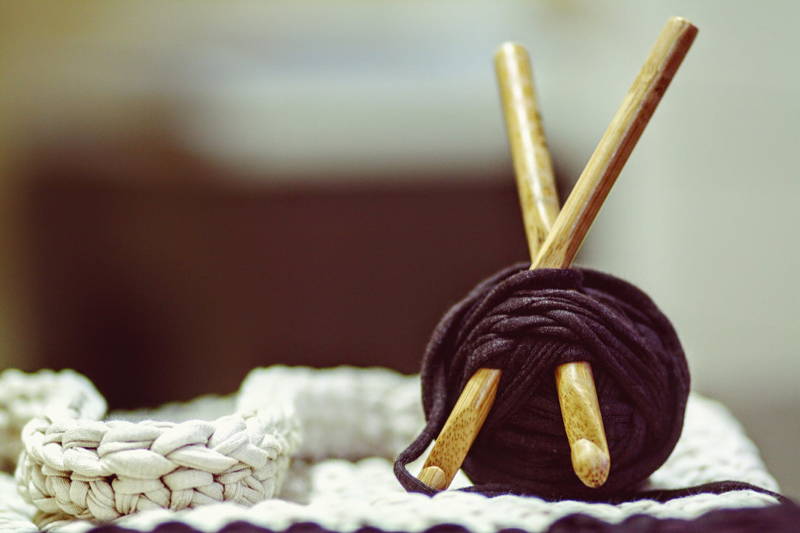 Have you ever completed a purse, sweater, wrist cuffs, etc., and felt it was still lacking; maybe that it needed a little something extra for it to be just right? Perhaps you loved the picture on the pattern but your finished item isn't as appealing? Usually, this is because a yarn was substituted for the type/color that the pattern calls for. There's no shame in substituting. Most of us have done it at least once in our lifetime. The reason, most likely, is that the yarn called for in the pattern can't be found in our local yarn shop. Or, if we find it, they don't have the same color specified.

While yarn companies have accomplished a lot, and come a long ways towards incorporating embellishments within the fibers-via textures, color, color blends, base materials, and mixing various types of materials-sometimes we want something more. Thus, embellishments come into play. These embellishments are not meant to distract from the fibers of which the item was created, but to give the said item an enhancement-the icing on the cake…the pista de la resistance.

Embellishments come from many resources. This can include a number of stitches in the same thread, a contrasting thread or color, charms, homemade 'jewelry for the fiber', beads, gemstones or whatever the mind can create. There are no limits-only a limited imagination.

An inexpensive length of chain can be strung through homemade 'belt loops' to decorate the top of a purse, tote or bag. A simpler version might be to weave a length of yarn (or chained stitching) through the length of the chain and wear it as a belt; clasping the ends together with a large decorated alligator clasp. A charm could be fastened to a plastic or leather wrist strap and attached to a crocheted iPod, cell phone, or other portable electronic device. A gigantic flower might be crocheted, with a small amount of matching yarn run through it, to tie onto a hat. If using a simple shoelace bow tie, the flower can be exchanged with another of a different color to match your wardrobe; thus making your hat and flower collection as much needed as a basic black dress.

I hope these ideas will get you to thinking on how you might be able to 'dress up' your crocheted (or otherwise handmade-or not) items to display a bit of the 'inner you'. At the same time, you will be showing others your imagination, creativity and skills; as well as making your wardrobe unique to anyone else's.



Related Articles
Editor's Picks Articles
Top Ten Articles
Previous Features
Site Map





Content copyright © 2021 by Beverly Elrod. All rights reserved.
This content was written by Beverly Elrod. If you wish to use this content in any manner, you need written permission. Contact Holly Messenger Aamot for details.