Temptation of a Wine Lover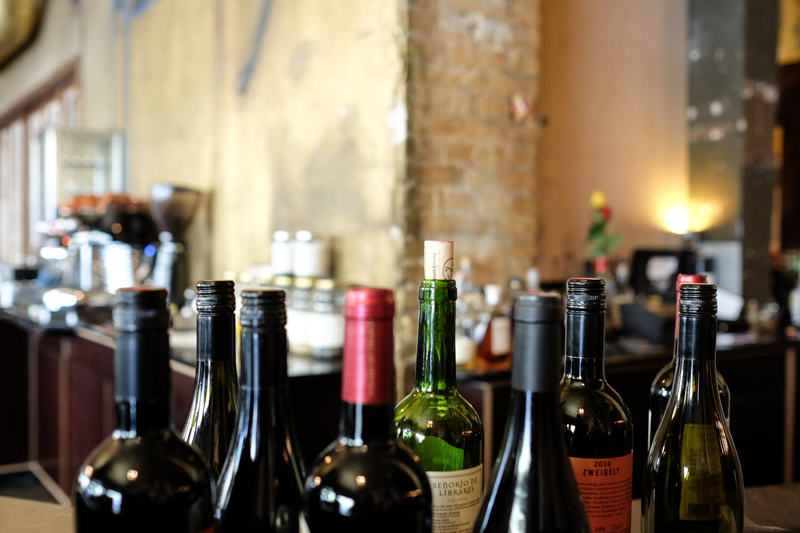 I met lunch my niece for lunch at a flat in London's Knightsbridge, just around the corner from Harrods' department store. The penthouse flat is owned by my niece's employer who spends most of the year living in Paris, France and he offers my niece the use of it as he want doesn't like to leave it totally unoccupied for months at a time. My niece visits regularly to collect mail and to keep an eye on the property.
As she was cooking lunch my niece told me that her employer had said that she was welcome to open any of the wines in his rack, and once everything was bubbling nicely away she showed me them. The rack was fixed to the wall just under the ceiling and too high for me to reach, but she could by standing on tip-toe.
I could see from the colour of the capsules there were three different wines, about two dozen of one, half a dozen of another and one solitary bottle of the third. The first wine was Château Argadens 2008, a red Bordeaux Supérieur. The second was a southern French red.
My niece then pulled out the solitary third bottle, glanced at the label and made to push it back.
"I don't know anything about wine," she said, "but I think this is too old."
"What is it?" I asked.
She handed me down the bottle and my mouth gaped open and, frightened of dropping it, I gripped the bottle firmly.
"It's Château Lafite-Rothschild 1986!" I said. Her blank look showed that the name meant nothing to her.
"It's worth around £1,000. For just one bottle," I added, but I think she thought I was exaggerating. "We can't possibly open this, it's a special bottle."
"Just as well you told me," she murmured. "I would have used it to cook with as I thought it was too old to drink."
We opened Château Argadens 2008 and it was delicious. In the afternoon we took her children to the Science Museum and then to see the Christmas lights in Oxford and Regent Streets from the top of a double-decker red bus.
The following day I looked online to find out the price of Château Lafite-Rothschild 1986. Fine wine specialist Roberson Wines, located just 2 miles from the flat, are selling the 1986 for £1,750.00 ($2,870), and the 2008 vintage for £1,650 ($2,700.00) both prices are for just one bottle.
Château Argadens 2008, which we enjoyed drinking, costs £10 ($16.40) a bottle.
So what makes one wine worth 165 times as much as another made from the same grapes grown in the same year and in the same region?
There are around 2000 chateaux in Bordeaux. Each one's production is limited to the amount they can grow in the own vineyards – they cannot increase production by buying in grapes – so there is limited production. Château Lafite was bought by Baron James de Rothschild in 1868. He appended his surname to the name and the property has been owned by the same family ever since. It was already famed as one of the very best estates in Bordeaux when Emperor Napoleon III had the best Bordeaux wineries rated for the Exposition Universelle de Paris of 1855. Fifty-eight estates were rated split into 5 levels. The top level listed only four, and Lafite was one of them.
It has maintained its prominence, and because the wine is long lived – that 1986 is expected to be at its peak until at least 2030 – it is prized as an investment.
So, it is a prestigious product of limited numbers, with demand greatly exceeding supply and bought by investors, and that is why it costs 165 times as much as a similar, but ordinary wine.
My niece's generous employer had offered us the choice of his wine rack, but he surely did not mean to include that bottle of Château Lafite-Rothschild. Perhaps he assumed that anyone who drank wine would recognise it—but that isn't necessarily so. I couldn't abuse his hospitality by opening it, and having alerted my niece, he won't now return from France to find it was used to cook coq au vin.
Talk about wines on our
forum
.
Peter F May is the author of
Marilyn Merlot and the Naked Grape: Odd Wines from Around the World
which features more than 100 wine labels and the stories behind them, and
PINOTAGE: Behind the Legends of South Africa's Own Wine
which tells the story behind the Pinotage wine and grape.


Related Articles
Editor's Picks Articles
Top Ten Articles
Previous Features
Site Map





Content copyright © 2023 by Peter F May. All rights reserved.
This content was written by Peter F May. If you wish to use this content in any manner, you need written permission. Contact Peter F May for details.