Mini-Slipper Paphiopedilum Orchids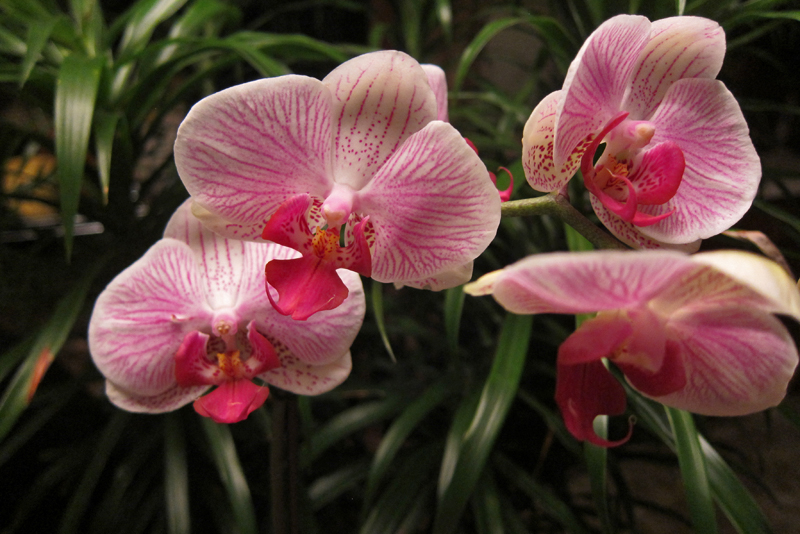 One of the newest trends in orchids today is mini-Paphs. They are the result of line breeding down standard Paphs to produce tiny flowers on tiny plants such as has been done for Cattleyas and Dendrobiums. The great increase of hobbyists who grow under lights or on window sills has driven the breeding of smaller plants with either large flowers or flowers that match the size of the plant. The beauty of the flowers has not been compromised by the reduction in size and has made it much easier to grow one or many in the space that a standard Paph takes.
The intent of the breeding programs is to produce small plants that will mature in two-inch pots and produce flowers in proportion to the plant's size. Another feature is that these little plants generally seem to bloom faster than the standard size so it's possible to buy immature plants and have them bloom in a couple of years. Many standard Paphs become quite large and difficult for home growers to keep once they are mature. The small plants will give more hobbyists the chance to grow these wonderful and different orchids.
The breeding for the minis started with the naturally smaller species Paphs such as
P. barbigerum, charlesworthii, fairrieanum, henryanum, and helenae
. There were several earlier attempts at this that produced small Paphs, but failed mostly because of lack of interest among growers. Today there are more people attempting this breeding and of course, more people interested in trying these unique little plants. Some of the early successes were from Ratcliffe Orchids then doing business in Kissimmee, Florida, and the UK.
Ratcliffe
is now only doing business in the UK with a few of the mini-slippers available. The only businesses I could find online mentioned by others for breeding the small Paphs are
Woodstream Orchids
which sells to the public and can tell you if they have anything available at the moment;
Paphanatics
which sells flasks only; and Orchid Zone which primarily sells only wholesale. You should try contacting your favorite orchid vendor to find out if they have any of the mini-slippers.
Paphs are among the easiest of orchids to grow for the indoor hobbyist. They will grow well with Phalaenopsis under low light conditions and in temperatures similar to those normally found in households.
The American Orchid Society
has basic information on growing Paphs in their culture sheets.
AnTec Labs
, though they do not appear to be selling a great deal still has some of the best information on Paphs I've found on the web. There are also whole forums dedicated to only slipper orchids which have great information and very helpful people who will answer questions on almost any topic to do with growing them. Check out
The Slipper Orchid Forum
and
Slippertalk Orchid Forum
for more information and communities that are dedicated to Paphs.
You Should Also Read:
Miniature Orchid Series
Paphiopedilum or Slipper Orchids
Orchid Name Tags


Related Articles
Editor's Picks Articles
Top Ten Articles
Previous Features
Site Map





Content copyright © 2021 by Susan Taylor. All rights reserved.
This content was written by Susan Taylor. If you wish to use this content in any manner, you need written permission. Contact Anu Dharmani for details.