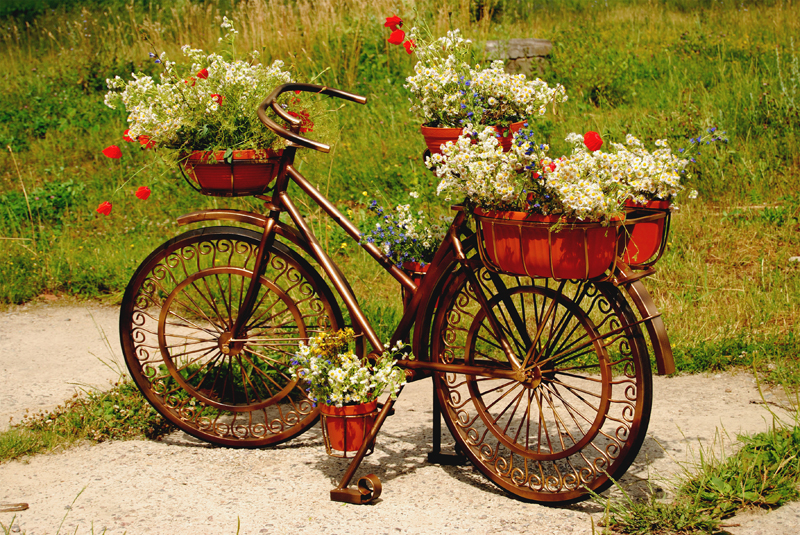 A wide variety of vegetables suitable for container growing will do well in winter if you have a protected area or your winters are fairly mild. Once you choose a cold hardy variety, your main concern is protecting your plants from frost. Container gardens are especially well-suited for this, as your garden in portable. If needed, you can even bring your garden indoors if a hard frost is expected at night, then move the containers back out during the warmer days.

You can start your plants from seed or select four-or-six-packs from your local nursery. Remember that, during the cold days of winter, seed germination times will be longer than during the spring and summer. You can speed up germination by starting your seeds indoors or by building a small plastic-covered area in your patio or garden to act as a green house.

Also remember that due to the colder temperatures your plants will take longer to mature than during warm weather. Add roughly 1/4 to 1/3 of the number of growing days to get your expected harvest dates. For example, a plant with 45 days-to-harvest during the summer will take 56 to 60 days in the winter.

Be sure to protect your garden from extreme cold, and never let it freeze. You can cover it at night with plastic or a cold frame, just be sure to remove the cover during the day so you don't cook your vegetables before you are ready to harvest them!

Here is a list of some vegetables best suited for a winter garden:

ASPARAGUS: these grow from roots over a several year period. It is best to not harvest any stalks the first year after planting to allow the plant to grow a strong root system. You can start harvesting the second year.

ARUGULA: a leafy green which grows easily. Great added to salads with baby lettuce leaves and spinach.

BEETS: these will do well in containers if you give them enough root space. Depending on your winter temperatures they may grow very slowly, with first harvest in the spring. Tops may be harvested (sparingly) by snipping a leaf or two off with scissors throughout the winter.

BOK CHOI: a great plant for containers. These can be harvested any time after they reach 3 inches in height or more.

BROCCOLI: Some varieties are more cold hardy than others – check your seed packets. They can be harvested before the heads are fully mature and the entire stalk used – it is especially tender at this stage.

CABBAGE, CHINESE CABBAGE, and NAPA CABBAGE: these do especially well in containers. If you like, harvest by cutting the head from the root just above ground level, then cover with mulch for the rest of the winter. In spring, new, small cabbage heads will grow in a ring around the base.

CARROTS and PARSNIPS: will do well in containers, especially the short varieties. Carrots do not transplant well, so sew seed directly in your containers.

CAULIFLOWER: like broccoli, some varieties are better suited to cold temperatures than others. Can also be harvested young for especially tender stalks.

FAVA BEANS (BROADBEANS): will do well in cold weather if kept from freezing. Enjoy them steamed or boiled by themselves or on your salad, or add them to stews, soups, and vegetable dishes.

KOMATSUNA or MUSTARD SPINACH: with a taste somewhere between cabbage and mustard greens, this green can be grown year-round. Harvest leaves young for a special treat!

LETTUCE, head and leaf: Grow leaf varieties for harvesting of young leaves for salads. Sew the seeds close together in your container and cut with scissors when leaves reach 3-4 inches in height. Head varieties will do well, but grow slowly in the cold. Great to grow in winter for an early spring harvest.

MUSTARD GREENS: another great salad vegetable, can be harvested young or let fully mature.

PEAS – SNAP and SNOW: will do very well, especially the powdery-mildew resistant varieties. Most will need poles or a trellis, especially if your garden gets some wind.

RADISH: will grow slowly, but both tops and root can be used. Like most root crops, radish do not like to be transplanted so sew directly in your container.

SPINACH: some varieties are quite cold hardy. Harvest young leaves or let the plant grow to maturity; either way fresh spinach is a treat during the winter.

TURNIPS: like beets, these will grow slowly but you can harvest a few of the leaves from time-to-time during the winter, then be rewarded with fresh turnips in the spring.


You Should Also Read:
Juliana Grow-Rack Mini-Greenhouses - Product Review
Potting Soil Specialized Recipes
Winter Container Garden Care


Related Articles
Editor's Picks Articles
Top Ten Articles
Previous Features
Site Map





Content copyright © 2022 by Jessica Carson. All rights reserved.
This content was written by Jessica Carson. If you wish to use this content in any manner, you need written permission. Contact Lestie Mulholland for details.