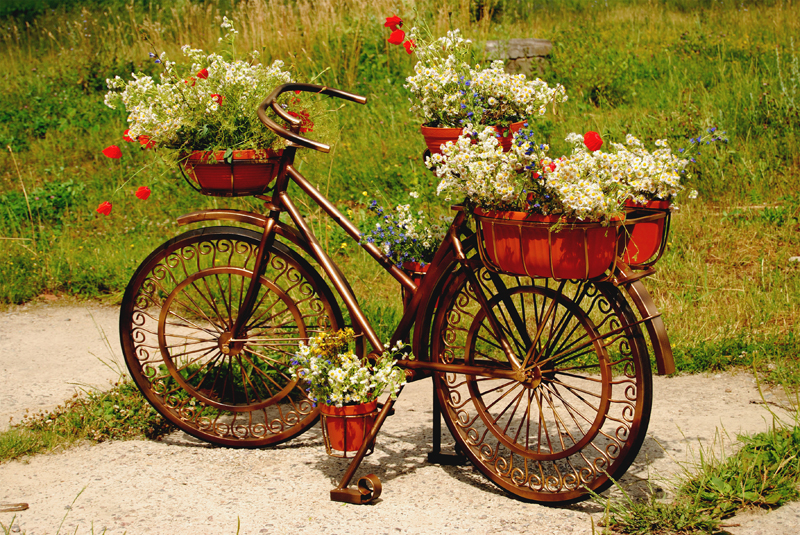 So what is MOON GARDENING? Come to think of it, the logic in this method of gardening is actually straight forward. We already know that the moon has an affect on the ocean tides, it has an affect on weather patterns and it even influences fishing yields and good catch times. Human behaviour seems to respond to the changing moon so why not include the plant world too? And this is what we do. Essentially, moon gardening is allocating garden tasks and planting according to the different states or phases of the moon in any one calendar month.

The Moon has four phases or 'quarters' (five if you count the 'three' days of the full moon like I do); each phase lasts from six to eight days and it is a real example of what goes around comes around, for the moon goes through all its phases every 29 or so days. Now, for moon gardening purposes, each phase affects plant growth in either a positive or negative way; though I am not sure that the use of these words is correct; after all, there are two sides to everything and both have their places in our lives. Perhaps increasing and decreasing would be better words to use?

A single phase of the moon refers to the shape we see from earth (new moon, full moon or quarter, half or three quarter moon) and when we get into tune with nature thus, results and activities are much more fruitful and yields far better. Many suggest that it is not an exact science but it has worked since mankind started tilling the ground. Those early 'farmers' noticed that different plants just grew better when planted during the different moon phases; and through the rising and the falling of the moisture in the ground and the sap in the plants they started to record and hand down this knowledge from generation to generation.

The four (five) phases are:

The NEW MOON starts the first phase to the FIRST QUARTER moon: It is the first phase at the beginning of the lunar month (the dark o'th'moon) and it is also the start of the waxing phase when the water table rises and seeds germinate and grow faster, seedlings respond well, plants take up more nutrients and it is an ideal time to plant those ABOVE ground leafies like cabbage, spinach, lettuce, celery and many herbs. Although the moon is not visible, the increasing light creates a balanced growth of leaves and roots. It is therefore also the time for planting crops like those that produce seeds outside the fruit such as grains, broccoli and cauliflower. This is also a time to maintain your garden.

This is followed by the SECOND QUARTER moon (say week two of the month) and also the time best used for transplanting above the ground crops. The gravitational pull of the moon is slightly reduced but additional light of the increasing moon aids the growth of leaves above ground. Plant vegetables that form their seeds on the inside, such as beans, peas, tomatoes, squash, melons, chillies and peppers etc. now. It is also the quarter when the moisture in the vegetables should at the highest level, therefore the best time to watch out for destroy and spray pests. In general growth is stimulated at this time.

As you see above, the FIRST and SECOND quarter phases (i.e. between the new and full moon) are the best time for tasks, chores and actions that need growth, fertility and strength. The first, second and full moons are the WAXING time. Light gets brighter, sap is high, moisture is full, growth is encouraged and things are breathing IN. The size and the shape of the moon increases and growth is encouraged at this time

The FULL MOON is at the mid month (I count the day before and the day after as 'full') but that is just me as far as I know; you'll find that your local nurseryman will tell you there is only one night of full moon. This I know too, but in my garden this important middle-point of the lunar month is given three days by me, the gardener and maybe you the gardener. Who's boss? (Do you remember Miranda Richardson as Queen Elizabeth 1 in Black Adder?) I do and I smile.

I use full moon time for the plants to establish themselves, settle in and get used to where they have been planted. Roots start spreading and your plant gets to say hi to its neighbours and its new home. For me, this is a favourite time; a generally static time. A still time. A steady, stable and watchful time. A gathering of momentum time in order to wane time. It's also my most enjoyable time to sit-and-think in the garden time.

The THIRD QUARTER moon (say around week three of the month) is best used for planting BELOW the ground root crops. It is a time when the water table drops and things start slowing down. All vegetable root crops do best planted in this phase (examples include potatoes, radish, peanuts, carrots, onions and beetroot). Biennial and perennial flowers, bulbs, shrubs (like berries) and trees also do well in the third quarter.

It is also a time to prune and cut back and trim as 'wounds' are less likely to weep or lose moisture and your plants will not be shocked or as traumatised.. At this time too, the gravitational pull draws more moisture down into the soil, and the light of the moon weakens daily. These conditions strongly promote active root and root crop growth. And by the way canning and preserving – if you do this with your produce is best done around now and through into the fourth quarter.

And last is the FOURTH QUARTER moon (around the fourth week of the month) where the moon 'moves' towards the dark moon that starts the cycle again at the beginning of the upcoming month. And the fourth quarter is a time to harvest and then to take a break; to let plants rest. Do not plant, no pruning, trimming or transplanting at this time.

Shift your attention and focus instead onto weeding and other tasks in your garden, mow grass now to retard growth; finish off mulching, do ground and soil preparation, build a compost heap, do your cleanups, finish projects, prepare all for anything in time for the start of the new month (even maintaining and replacing your tools or tidying out your gardening shed etc) After harvesting, this is also a good time to spray for pests before the sap rises in your plants (as it will do during the upcoming first quarter moon phase).

The third and fourth quarter moons to the new moon are the WANING time. Light gets dimmer, the size and the shape of the moon decreases, sap lowers, soil moisture drops and things are breathing OUT. At this time growth is discouraged, reduced or slows down. Cut firewood now, it will dry better, mend posts and turn the sod as they say.

Flexibility rules okay. Of course you can pick strawberries or tomatoes throughout the month – even though the main harvesting time is an end of month task. But if you go into this moon gardening full time though, you will find that your garden and containers will start to respond and your best harvest will indeed be at the end of the month when the fruits and veges are ripe and ready and most delicious.

Is there a downside to Moon gardening? Well if you are good at keeping notes and observations and records, then you will love keeping your journal year to year on what you grew and what was particularly successful and what not. I started off like that but found it took up too much of my gardening time. When planning your moon garden calendar, make sure you factor in the time you can spend in your garden. Please learn from this auntie; just do what you have time to do, grow what you have time to tend properly. The moon will certainly help you and you will indeed reap what you sow with little if any disappointment.

Breathe in. Breathe out. Month after month. Ah! It is such a pleasure to be in the garden.

What do you want your container garden to do?

P.S. For another insight into Moon Gardening and practices please go to the GERMAN CULTURE site in the Travel and Culture channel on BellaOnline and read another article on this subject titled MOON GARDENING IN GERMANY - extend your knowledge!

................................................................................

CASUAL VISITOR … and just browsing? Why not sign up to the Container Garden newsletter? It won't matter what space or how many pots you have or even how much time you have to spend in your container garden; what will matter is that you get our reminders and good advice and ideas all in one interesting article.

You Should Also Read:
Moon Gardening in Germany
Growing a container Rose


Related Articles
Editor's Picks Articles
Top Ten Articles
Previous Features
Site Map





Content copyright © 2022 by Lestie Mulholland. All rights reserved.
This content was written by Lestie Mulholland. If you wish to use this content in any manner, you need written permission. Contact Lestie Mulholland for details.